When Police Go To Prison: Walter Scott Ruling 'Very Rare,' Expert Says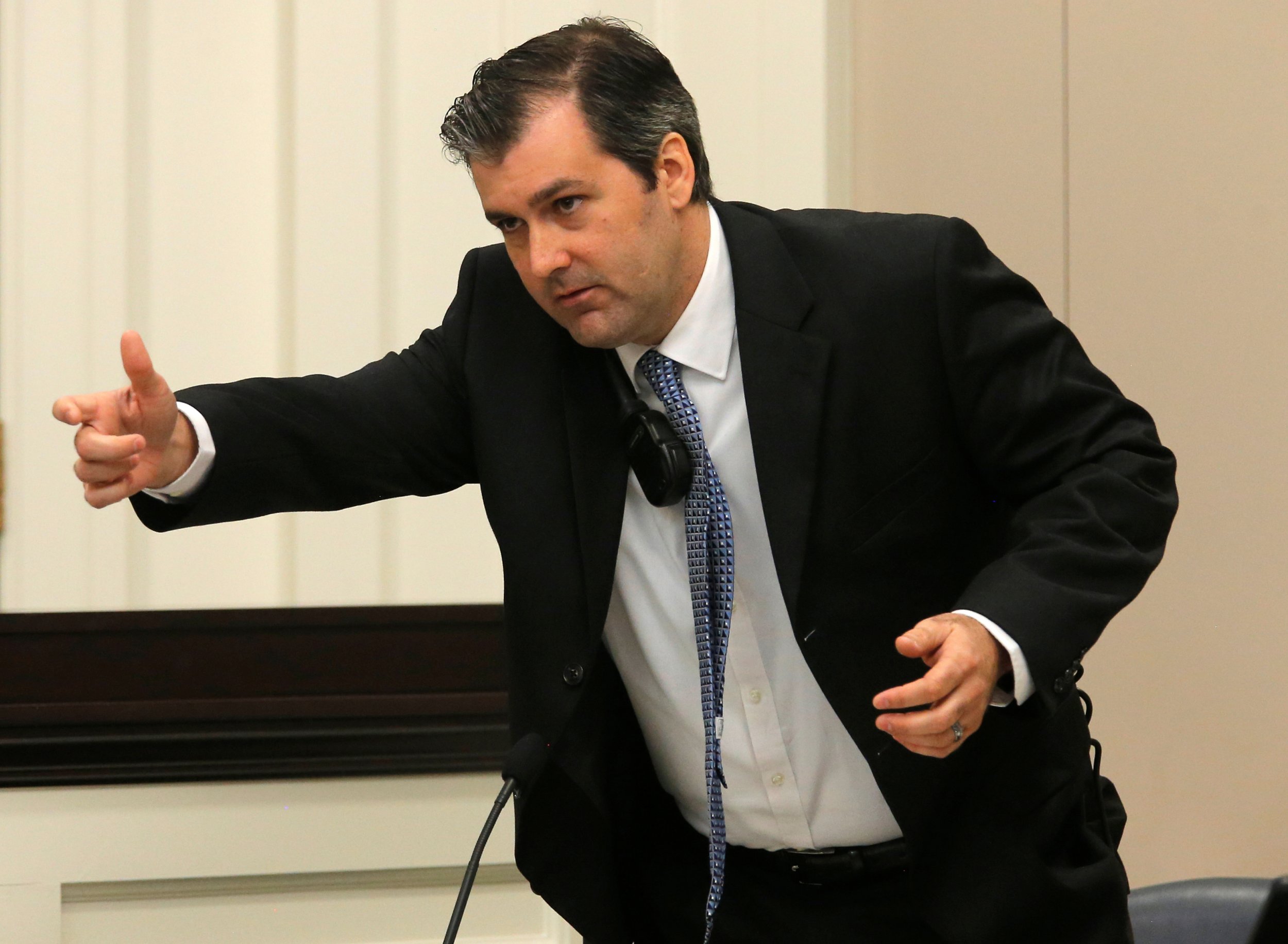 UPDATED | Video evidence helped seal the fate of a white former police officer who will spend two decades in prison for a crime that law enforcement is rarely held accountable for—the killing of an unarmed black man.
A federal judge on Thursday sentenced ex-South Carolina patrolman Michael Slager to 20 years in prison for the shooting death of Walter Scott in April 2015. Outside the courthouse, Scott family attorney Chris Stewart hailed it as one of the longest sentences ever for a police shooting, calling the decision "historic."
Officers are seldom convicted for on-duty shootings, and a judge's ruling that Slager will serve two decades is even more unheard-of, according to a criminology expert.
"It is very rare that an officer is convicted in one of these cases and their sentence is in the range of 20 years or so—that's rare," Philip Stinson, an associate professor of criminal justice at Ohio's Bowling Green State University, told Newsweek. Stinson keeps a database tracking police misconduct.
In May, Slager pleaded guilty to a federal civil rights violation, and state murder charges were dropped. In setting his sentence, U.S. District Judge David Norton had to decide whether the officer was guilty of manslaughter or second-degree murder. Slager technically was not convicted of murder, but the judge ruled that the shooting was murder and that Slager had committed obstruction of justice, as well.
Only one patrolman in the past decade has been convicted of murder for killing someone while on duty: James Ashby, a white cop who killed an unarmed Latino man in 2014.
Since 2005, 84 officers across America have been arrested on murder or manslaughter charges for on-duty shootings. Only 30 have been convicted of a crime resulting from those cases, Stinson said.
It is even rarer for an officer to be convicted for murdering a black person—the last time this happened was in 2009, when three cops were convicted of manslaughter and sentenced to five to 10 years for the death of Kathryn Johnston, an elderly black woman whom they killed when they fired 39 shots at her after she shot at them with a pistol in self-defense.
In the case of Scott, Slager was caught on video firing at the 50-year-old man while he was running away from him. Scott was hit in the back five times.
Slager argued that he shot Scott in self-defense after a scuffle for his stun gun, but a video recorded by a bystander clearly showed the officer firing at the man while he was running away. After the shooting, Slager put his stun gun next to Scott, which prosecutors argued was an attempt to strengthen his self-defense story.
It is these types of stories that are the reason why so few officers end up being punished for shootings, Stinson said. "When a cop gets on a witness stand on their own defense at a trial and said, 'I feared for my life,' a jury is very reluctant to second-guess an officer's split-second life and death decision."
This was evident in the Scott case, when a judge was forced to declare a mistrial in December 2016 after a Charleston jury was deadlocked on whether to convict Slager of manslaughter. They had previously dismissed the murder charge after deciding he showed no evidence of malicious intent, reports said.
In the past, juries were hesitant to convict an officer because of a lack of evidence in the shooting. But the introduction of body cameras and video footage now allows juries to make their decision after seeing how the events unfolded, Stinson said. A cellphone video was integral to Thursday's ruling, he added.
"Michael Slager would not be in federal court today facing this sentencing but for the video," Stinson said.
While a lawyer for the American Civil Liberties Union (ACLU) commended the judge for his ruling, she cautioned that there is much more work to be done to ensure police officers are punished if they commit a crime.
"It's a step in the right direction, I wouldn't so much call it a 100-percent victory," Shaundra Scott, executive director for the ACLU of South Carolina, told Newsweek. "It should be seen as a step toward holding police officers accountable for inappropriate police practices and unncessary victimization and murder for people in the community."
Correction: An earlier version of this story incorrectly identified the location of Michael Slager's trial—it was Charleston, not Cincinnati. It also previously stated that charges against police for the death of black citizens are rare; it has been updated to read that convictions are rare.
This article was updated to include comment from the ACLU.