Today's Google Doodle celebrates Wanda Rutkiewicz, the third woman and the first Polish person to reach the peak of Mount Everest. Rutkiewicz achieved this feat 41 years ago, on October 16, 1978.
The first woman to reach the summit was Japanese mountaineer, Junko Tabei, and the second was Phanthog, a Tibetan mountaineer. Both women climbed Mount Everest in 1975.
Rutkiewicz was born on February 4, 1943, in the village of Plungiany—which is now a part of Lithuania—to Polish parents. She studied electrical engineering at the Wroclaw University of Technology.
Rutkiewicz began climbing aged 19 when her motorcycle ran out of fuel and the person who stopped to help invited her to climb the Falcon Mountains.
By 1978, Rutkiewicz had climbed Mount Everest. Ten years later, Rutkiewicz climbed K2, also known as Mount Godwin-Austen or Chhogori, which is the second-highest peak after Mount Everest. She climbed without supplemental oxygen and suffered severe frostbite to her face, arms and legs. Two fellow climbers died on the descent.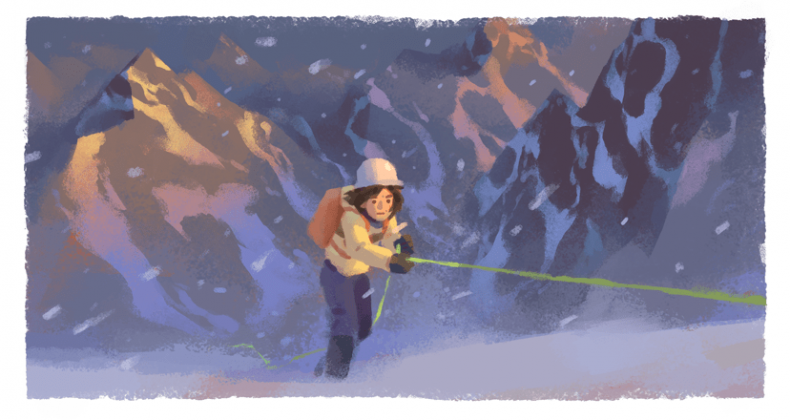 According to ExplorersWeb, Rutkiewicz attempted to climb K2 multiple times before reaching the summit. Once, after breaking her thighbone, Rutkiewicz hiked more than 60 miles to the base of K2 with a metal implant in her leg and on crutches.
Rutkiewicz completed seven more 8,000-meter-plus climbs, meaning that she completed eight out of the world's 14 8,000-meter-plus summits. She published books and produced documentaries about her climbing experiences.
However, male climbers would be condescending, despite Rutkiewicz's achievements. According to The New York Times, a man stole her sleeping bag on Everest, and a group abandoned her on Annapurna. They doubted that she reached the summit until her film footage proved otherwise.
This inspired Rutkiewicz to advocate for women's climbing and resulted in Rutkiewicz's leading women-only expeditions.
She remains one of the most accomplished female mountaineers in history. In December 2018, a mural honoring Rutkiewicz was unveiled in Wroclaw, as part of Poland's "Women on Walls" campaign, according to the Polish climbing news site Wspinanie.
In her journal, Rutkiewicz wrote: "I adored the physical movement, the fresh air, the camaraderie, and the excitement". Her love of climbing was her life's work, but ultimately, her demise.
Rutkiewicz died on May 13, 1992, aged 49, while climbing Kanchenjunga, the third-highest mountain in the world. Her body was never found, so it is not known whether she reached the summit. If she did, Wanda Rutkiewicz would have been the first woman to reach the three highest summits in the world.