'WandaVision' Episode 7 Has a Post-Credits Scene and Here's What it Could Mean
We're nearing the end of this season of Disney+ and Marvel Studios' WandaVision, and the plot is really ramping up. The character reveal and story progress in the most recent episode upped the ante for many viewers.
However, we're not here to talk about those spoiler-y plot points. Instead, we'd like to point out the post-credits scene at the end of the episode, which fans will definitely want to check out.
This is the first post-credits scene in the show's short life, even though those types of teasers have been a staple of Marvel Studios' movies. It's not exactly a surprise that Wandavision got in on the action, but it's still a nice treat.
SPOILER ALERT! The following will spoil the events of WandaVision episode 7.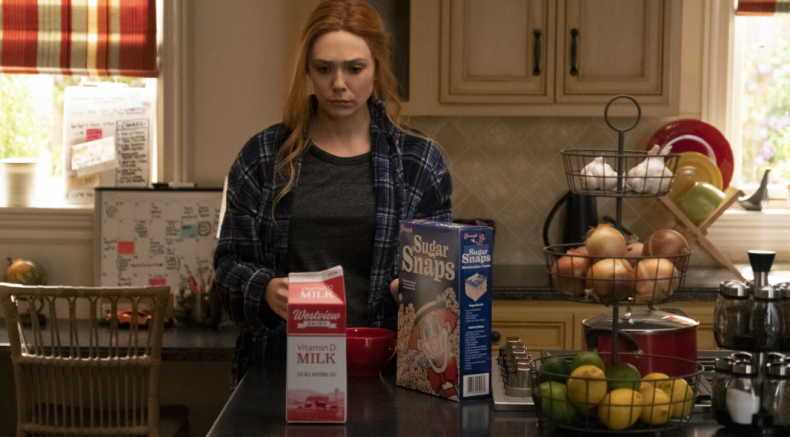 So, about that post-credits scene.
After revealing that Agnes the neighbor is actually Agatha Harkness, the villain who has been manipulating Wanda this whole time, fans get the usual "please stand by" credits. A short scene eventually follows featuring Monica Rambeau.
Earlier in episode 7, which is titled "Breaking the Fourth Wall," Monica returns to Westview. As Darcy warned her would happen in the previous episode, going through the Hex border changes her genetic structure, and that's what fans see. Monica pushing her way back into Westview causes her to gain powers similar to the ones that she receives in the comics.
After a short argument with Wanda that almost pits the two super-powered beings against each other, Agnes pulls Wanda away and into her home.
Wanda goes to Agnes' basement to see a dungeon of sorts, where Agnes reveals herself to be Agatha Harkness.
In the post-credits scene, Monica opens up a storm door into someone's basement. Though it's unclear whose basement it is, she sees vines growing inside with purple energy emanating from them—the same purple energy that Agatha wields.
It's likely that Agatha's powers have begun taking hold of Westview through the basements of people's homes and may be what's keeping the townsfolk under control. Before the scene ends, Monica is surprised when Pietro (Evan Peters) shows up behind her and says, "Snooper's gonna snoop."
What makes this bit important is that Pietro is not in his Quicksilver attire or even in the clothes he wore in episode 6. This likely means that this Pietro isn't really Wanda's brother, but a person who lives in Westview who just happens to look like Quicksilver from Fox's X-Men films.
During the Agatha Harkness reveal sequence, we see her using her powers to make Evan Peters' character look like Pietro and likely give him Wanda's brothers memories.
Like with the purple vines, we'll have to wait for the next episode to get more clarity, but the plot continues to thicken as we're finally beginning to understand what is going on in Westview.
What did you think of the latest episode of WandaVision? Let us know in the comments section.