'WandaVision' Trailer Clue Sparks House of M Fan Theories
Marvel fans were treated to a new look at upcoming series WandaVision during the Emmys last night and the Easter Egg speculation has already gone into overdrive.
The series is quite unlike anything we've ever seen before and its plot has been pretty much shrouded in mystery from the get-go—but with the new promo, fans finally have something to work with.
One such Easter Egg is related to the Hose of M theory, which got a rather prominent nod in the trailer.
WandaVision stars Avengers stars Elizabeth Olsen as Wanda/Scarlet Witch and Paul Bettany as Vision, but it takes place in some sort of alternate universe. The trailer seems to confirm the show is set after the events of Infinity War.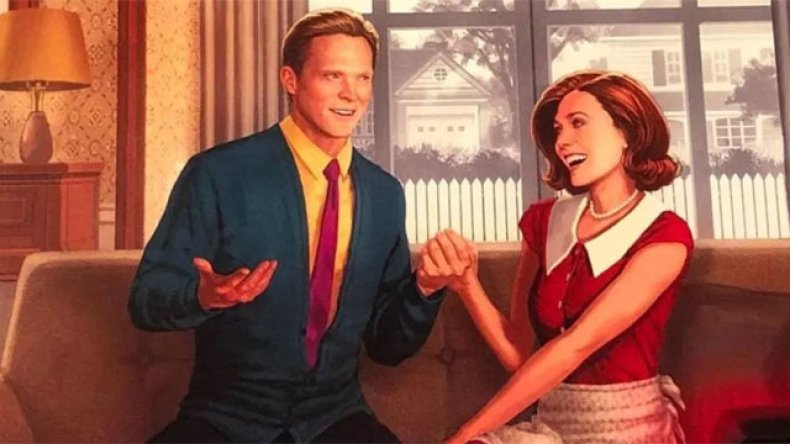 House of M is a 2005 comic book story centered around Scarlet Witch, who suffers a grief-stricken mental breakdown which causes her to alter the fabric of reality.
During the new trailer a wine bottle bearing the name 'Maison du Mepris' a.ka. 'House of M' can be seen. Translated from French this means 'House of Contempt.'
In WandaVision, it looks like maybe Scarlet Witch is experiencing an alternate reality, one in which Vision has not been killed by Thanos.
One Reddit user speculates: "A consequence of Wanda changing reality could be the realization of her deepest desire: a new iteration of Vision, hence the events of Age of Ultron and her subsequent romance with him. However, now that this new iteration of Vision has died (as did the previous iteration) via the events of Infinity War, Wanda finds herself back at square one and subconsciously reverses reality back to its original state, in which mutants already existed."
A similar theory suggests that WandaVision is a sort of reverse House of M concept.
As one fan put it on Reddit: "Probably Wanda having some sort of break after the events of endgame and creating an alternate reality where Vision never died, and going a little crazy. We also know that the events of WandaVision will have major implications for the MCU, specifically affecting Dr. Strange 2."
Whatever the plot ends up being, it's looking likely that WandaVision will be an integral part of the Avengers timeline.
The YouTube caption for the WandaVision promo hints: "The series is a blend of classic television and the Marvel Cinematic Universe in which Wanda Maximoff and Vision—two super-powered beings living idealized suburban lives—begin to suspect that everything is not as it seems."
WandaVision is coming to Disney+ in December 2020.