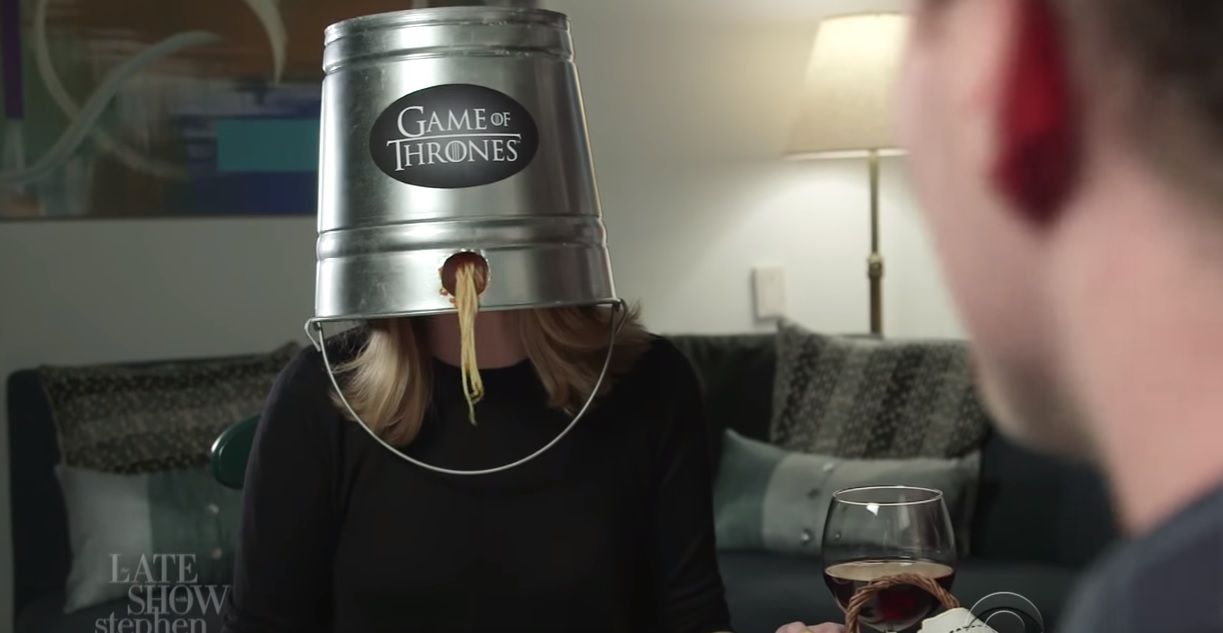 Trying to avoid Game of Thrones spoilers over the course of the next month—as Season 7 ramps up to its climax—is going to require some Olympic-level discipline.
But on Wednesday's Late Show, comedian Stephen Colbert came up with an ingenious idea: Introducing the Game of Thrones Spoiler-Proof Bucket.
As advertised in a spoof commercial, the Spoiler-Proof Bucket is the perfect deterrence to avoid being spoiled by coworkers and friends.
"Place the device on your head and let the soundproof bucketness block out the noise," said Colbert in a voiceover.
"This patented device uses the latest in bucket technology to defend your eyes and ears against unwanted fight scenes and incest spoilers."
Related: 'Game of Thrones' Euron Greyjoy has a new rock-star look and attitude—here's who might have inspired it
Some uses, Colbert suggests, include "the gym and even romantic evenings," cutting to a woman eating spaghetti through a hole. Yeah, really romantic.
As all Game of Thrones fans know, the threat of spoilers is a real dilemma and can ruin your day like Arya Stark at a Frey dinner party.
" Game of Thrones spoilers" is one of the most-searched terms about the cult hit phenomenon on Google, attracting nearly 8 million search results.
Now, I'm not at all disputing the merits of Colbert's Spoiler-Proof Bucket (in fact, Stephen, if you're reading—how about I write a product review?) but there are some other, more practical ways to avoid GoT spoilers, particularly online.
Here's how:
Listen to music, a lot
It's Monday morning and you haven't watched last night's episode yet. Do not take the risk of being spoiled on your subway journey. Get yourself some noise-canceling headphones and download the latest Calvin Harris album (it's very good) and drown out any chatter on your ride to work.
Repeat this at your desk if you have fellow GoT fans in the office, on your subway journey home and in the grocery store to pick up your dinner, before heading home and watching the latest episode.
Mute these keywords on Twitter
A great way to keep up with the latest tweets from Chrissy Teigen and, you know, the news in general, while avoiding GoT spoilers, is to use the mute function.
Use Twitter's how-to guide for your browser of choice, whether on a computer or a smartphone, and then type in some of the common search terms below:
Game of Thrones
GoT
#GameofThrones
#GOT7
Jon Snow
Daenerys Targaryen
Cersei Lannister
Use a nifty Chrome extension
GameofSpoils is what the internet was made for. This GoT -themed Google Chrome extension adds a filter to your web browser that blocks you from seeing any spoilery articles or social media posts about the show.
"Detects and blacks out any posts on Facebook or Reddit, tweets on Twitter, or stories on Google News that mention Game of Thrones or many other GoT -related terms, such as 'Winterfell' or 'Targaryen,'" says the product description.