Want to Make Telemedicine Work? Get Rid of State Medical Licensing | Opinion
For a few months, the pandemic afforded a glimpse into an alternate reality: a health care system where doctors like us could evaluate patients via telemedicine from all over the country who sought our opinions as experts in our fields. Patients found that they did not have to board a plane or book rooms in a hotel overnight just to find out if they were good fits for a clinical trial in another state. Others could check-in on video and have their prescriptions updated rather than wait weeks for an appointment without medications.
Well, the jig is up.
At the start of the pandemic, regulations on providing care to patients strictly within the state where the physician is licensed were waived by emergency orders in many states. As COVID wards were overwhelmed during the pandemic's first wave, states appealed to providers across the country to come travel to their aid. But even as we languish through our second pandemic summer, those orders are rapidly expiring, leaving our patients hapless and helpless without access to the physicians they had come to rely on. The flaws in the U.S. medical licensing system have reared their ugly heads again.
The U.S. is one of few countries in the world that requires state-by-state licensing for most health care workers. Further, the process to obtain a state medical license is unduly onerous, expensive and inefficient. It is easy to understand why the vast majority of providers maintain a license to practice medicine only in one state. These regulations are in stark contrast to how medicine is actually practiced in this country. Every doctor must pass a national standard, the United States Medical Licensing Exam, prescribe treatments as approved by the U.S. Federal Food and Drug Administration and train in programs regulated at the federal level. And when you look closely, each states' requirements are essentially the same. This is no surprise because, unlike other professions such as law, medical care is based on universal tenets of knowledge and is typically not bound by local statutory restrictions.
The current system dooms the groundbreaking potential of telemedicine to an early demise by state boundaries. Because of it, many patients cannot afford the cost or time to travel to see a specialist. Those that do will risk their health and that of others by traveling amid the precipitous rise of the Delta variant.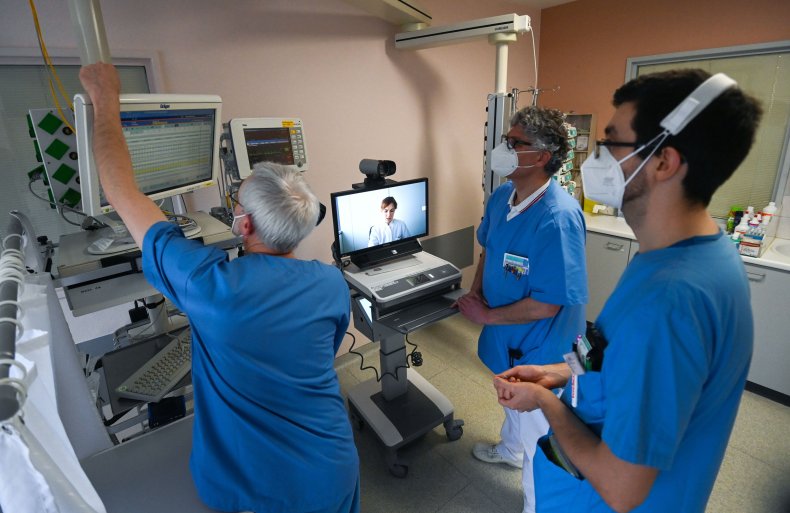 Beyond telemedicine, our licensing system also creates other problems for physicians, particularly those with expertise in uncommon conditions. Many patients come to these physicians from remote states and undergo extensive testing and trials of treatments, even after they return home. This presents a legal double jeopardy: if physicians continue to offer advice or prescribe medications, they could be violating state laws, but if they do not, they are at risk for "patient abandonment," a form of medical malpractice. The only current way to avoid this is by finding an expert in the patient's state who can take over the care. This is an absurdly circular logic: the patient would not have sought the help of the out-of-state physician in the first place if such expertise was readily available nearer home.
So why do we insist on doing it this way? The current medical licensing system was born shortly after the Civil War, a time when America was a largely rural country, and many lived and died without stepping outside the few square miles where they were born. Medicine had yet to firmly establish its roots in science and struggled with the antebellum legacy of deep suspicion toward medical expertise (as opposed to "popular wisdom") and proliferation of multiple "sectarian" practices like homeopathy and eclecticism, as nicely detailed by David A. Johnson and Humayun Chaudhry in their book Medical Licensing and Discipline in America: A History of the Federation of State Medical Boards. In that chaos, local medical societies—and eventually states—began taking on the responsibility of regulating the profession.
Today, the practice of medicine is regulated by states (unlike most other forms of commerce in the country) because it is a matter of health and safety. States also have a vested interest in maintaining this system as they derive a significant revenue from licensing fees. However, state licensing laws that prevent uniform access to medical care anywhere in the country may be considered as "trade barriers" to inter-state commerce. If so, the federal government has the authority to legislate their removal. We would not tolerate this situation for almost any other form of commerce. Can you imagine only being able to buy a product from Amazon if you were physically inside the warehouse from where it originated?
American medicine is revered worldwide for our innovation and sub-specialty care. For even the rarest of diseases, someone in our country has dedicated their entire career to understanding it better and to treating the patients it afflicts. American citizens should have access to all that is best in American medicine including the ability to make it to their (virtual) door without the cost and hassle of traveling across the country. There is no reason why patients should continue to bear the ill effects of a fossilized system that is no longer responsive to the needs of the day. It is up to state and federal bodies to heed that cry for help.
Trisha Pasricha is a master of public health candidate at the Harvard T.S. Chan School of Public Health, and neurogastroenterologist at Massachusetts General Hospital. Her writing has appeared in The Washington Post, CNN and the Los Angeles Times.
Pankaj Jay Pasricha is a professor of medicine and neuroscience at Johns Hopkins University School of Medicine, professor of innovation management at the Johns Hopkins Carey Business School and a faculty member of the Hopkins Business of Health Initiative.
The views expressed in this article are the writers' own.