Want to Work in Paradise? Barbados Proposing Long Stays for Remote Workers
Barbados Prime Minister Mia Amor Mottley has proposed a 12-month 'Barbados Welcome Stamp' program. If implemented, it will allow U.S. citizens a whole year of remote working in the country.
Mottley said the initiative would allow "persons to come and work from here overseas, digitally, so that persons don't need to remain in the countries in which they are".
With travel limited, coronavirus has drastically affected markets reliant on tourism. Around 40 percent of Barbados' GDP is usually garnered from tourism. The new scheme may help combat a drop in revenues from the sector and boost the economy. It could also support the workers, as 30 percent of the island's workforce is employed by the travel industry.
The Bajan PM is suggesting that people who are finding it difficult to travel, due to new restrictions, simply stay longer—up to a whole year, if they wish.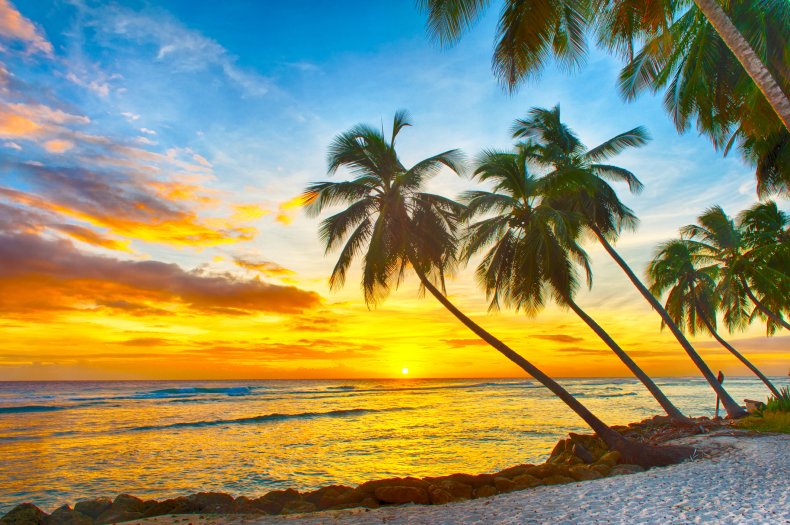 "You don't need to work in Europe, or the US or Latin America if you can come here and work for a couple months at a time; go back and come back," said Mottley, who said she is committed to working on concepts such as the 12-month Barbados Welcome Stamp.
Barbados is a tropical island where temperatures fluctuate on average around 76 F to 87 F. It's famous for beaches, palm trees, turquoise bays and Unesco World Heritage sites.
U.S. travel advice is currently to not travel and "avoid all international travel." Barbados is considered a 'level 1' travel advisory, the lowest out of four levels.
Level 1 requires travelers to "exercise normal precautions," whereas level 4 advises "do not travel." China, the first country to record a case of coronavirus, is considered a level 4 country as per government advice.
There are fewer than 100 coronavirus cases in Barbados, and seven deaths due to the disease, making it one of the least-hit countries in the world. Barbados closed its borders to slow the spread of coronavirus, but with more than a month of no new coronavirus cases it plans to reopen its borders to international travel on July 12. Bars, shops, hotels and restaurants have recently reopened after a lockdown.
Jet Blue is tentatively set to return to the island on July 25, with four weekly flights out of JFK airport in New York, and on August 5 American Airlines will resume flights out of Miami.
People traveling to Barbados will have to have had a PCR antigen COVID-19 test within 72 hours of boarding their flight. Each passenger will need to show their certificate proving they do not carry the virus before they enter the island.
It is not yet known when international travel restrictions in the U.S. will ease.