War Between President Trump and North Korea's Kim Jong Un Is Talk of Art World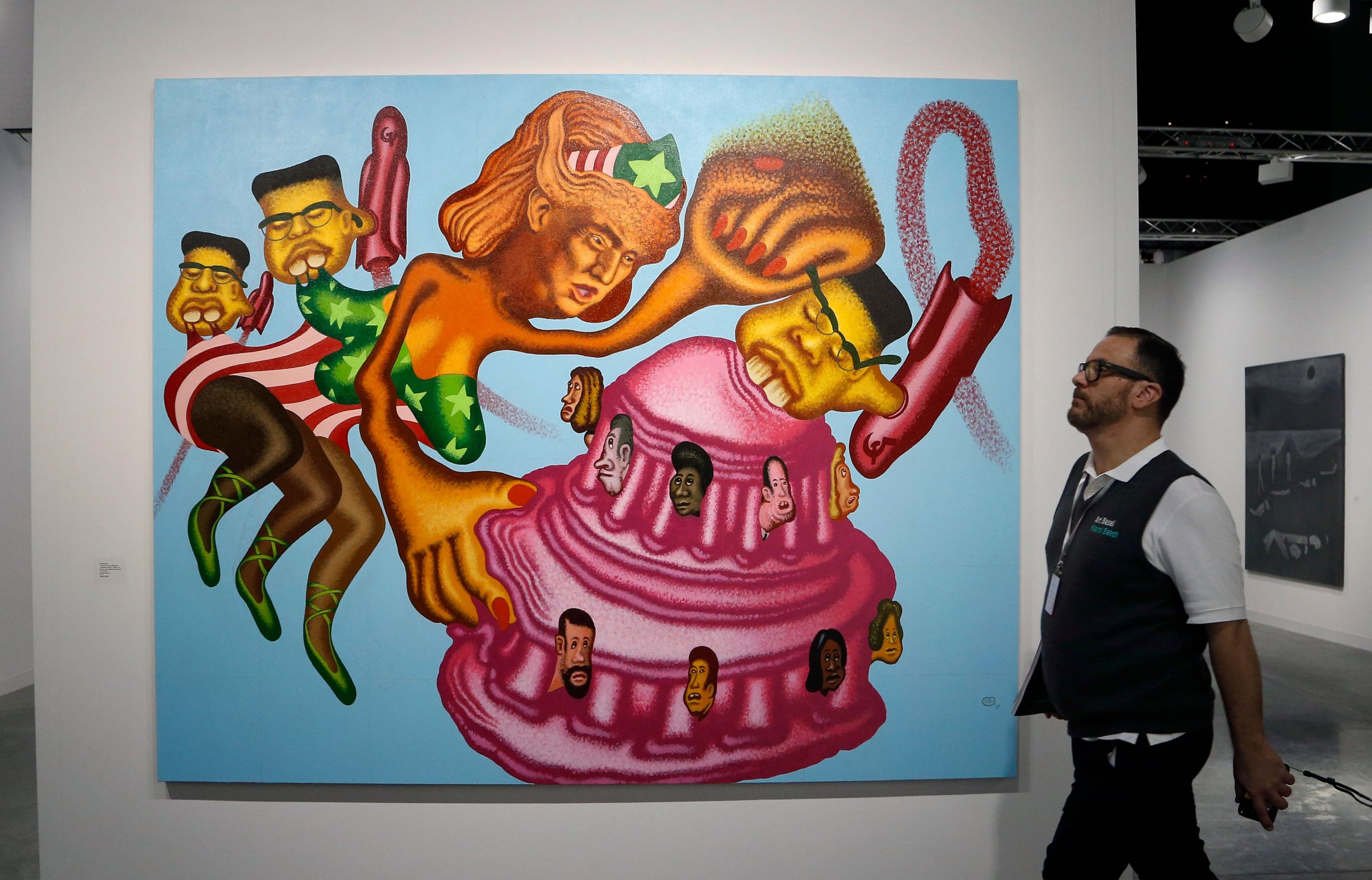 The painting sparking a buzz this week at the Art Basel festival in Miami has a name that sounds like an unholy mashup of all things 2017. It's called: "President Trump Becomes a Wonder Woman, Unifies the Country and Fights Rocket Man."
The painting by artist Peter Saul features neon colors and disfigured images of North Korean leader Kim Jong Un and President Donald Trump, who is dressed up as—you guessed it—Wonder Woman. The three-legged Wonder-Woman-Trump is bashing the floating head of Kim while holding the U.S. Capitol building. In case it wasn't already clear, the painting is odd and surreal.
Agence France-Presse (AFP) reported the parody piece, a 6.5-by-9-foot work that is acrylic on canvas, "was one of the top works at a private viewing." While it's generating buzz it's not expected to come close to the most expensive piece at Art Basel. Paul Gray of the Richard Grey Gallery told AFP that honor belonged to a 1979 painting by the Netherlands' Willem de Kooning that is valued at an eye-popping $35 million. Of course, a Leonardo Da Vinci piece—which even had questions raised about its authenticity—just sold for some $450 million, so $35 million isn't even close to how crazy art prices can get.
The Saul piece will likely remain topical for a while as the Trump/Kim fight continues to play out in the real world. Tensions have grown amid a flurry of rocket tests from Kim and increasingly aggressive rhetoric between the two world leaders. War feels just over the horizon, especially as the North has displayed improvement in its weapons technology. Its most recent rocket test late last month showed its intercontinental ballistic missile (ICBM) had the ability to strike any target in the United States. Trump's continued provocations could lead the U.S. into another Korean war, experts have warned.
"We're getting close to military conflict because North Korea is marching toward marrying up the technology of an ICBM with a nuclear weapon on top that can not only get to America but deliver the weapon. We're running out of time," Senator Lindsey Graham, a member of the Senate Armed Services Committee, said on CBS' Face the Nation.
It seems reality is growing a bit darker than the pastel world imagined by Saul.