War on Ivory Trade: Army Trains Rangers to Fight Poachers With Tactics Used Against the Taliban
The British army is sending a specialist team of two dozen troops on a mission to East Africa to train local park rangers to fight poachers hunting elephants and black rhinos.
The soldiers, drawn from a variety of army units, will work alongside the rangers. The latter will be trained in such areas as "tracking and counter insurgency tactics," which the soldiers learned on the battlefield in countries like Afghanistan, where the U.K. is fighting against the Taliban insurgency, the Defense Ministry said in a statement Tuesday.
The U.K. began sending troops to train African rangers in Gabon and Malawi last year. "The training has allowed them to cover far larger distances as they attempt to find criminals who shoot the elephants and rhinos for their valuable ivory," the statement says.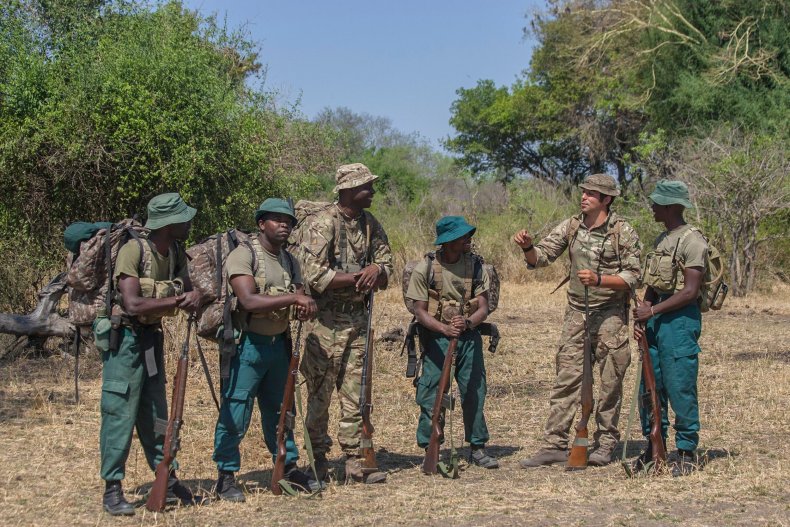 "This evil trade is worth £17 billion [$22.5 billion] and poses an existential threat to the planet's most majestic mammals—it is our duty to preserve them for future generations," Defense Secretary Gavin Williamson said in the ministry's statement.
Earlier this year, the U.K said it would introduce one of the world's strictest regulations against the trading of ivory, which is responsible for the poaching of one elephant in Africa every 26 minutes, or around 55 a day, according to the World Wide Fund for Nature.
The U.K. has banned ivory sales on items of all ages, with a maximum penalty of five year-imprisonment. There are narrow exemptions, however, for museum artifacts and musical instruments and items with only a small percentage of ivory in them.
The U.S. federal ban on ivory trade exempts items older than 100 years, as well as those with up to 50 percent ivory content. In a move seen as a blow to the country's efforts to fight illegal wildlife trading, President Donald Trump's administration reversed an Obama-era ban in March on the importation of elephant sport–hunted trophies from certain African countries. The decision prompted more than a million people to sign a petition urging the president to reinstate the ban on the ivory trade.