The last American troops have left Afghanistan.
The news cameras have turned to other more pressing issues around the world.
But for the roughly 38 million Afghans who remain, and the 130,000 or so who managed to leave, the war is far from over.
Omaid Sharifi is president of ArtLords, a grassroots art movement based in Afghanistan. He was evacuated with his family to Abu Dhabi, where he has spent the last month in a refugee camp, awaiting resettlement into the United States.
"From the life I've lived for 34 years," he told Newsweek, "I could only get one T-shirt, a pair of trousers and my laptop. I lost everything else in this chaos."
Unfortunately, Sharifi's case is far from unique.
"Refugees are people that have been forcibly uprooted from their homes and have had to flee violence and persecution on a large scale, often with nothing — none of their possessions," Chris Boian, senior communications officer of the United Nations High Commissioner for Refugees (UNHCR), told Newsweek.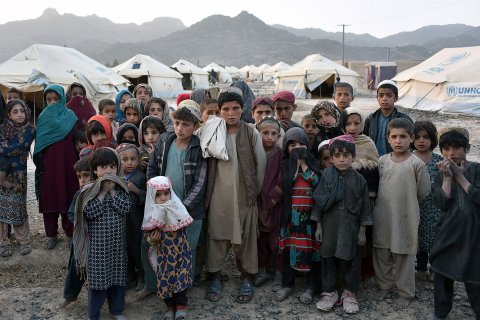 As of October 12, 2021, more than 11,000 Afghans have been matched with resettlement agencies and affiliates to join communities across the country, a State Department spokesperson told Newsweek, and they will receive initial resettlement services through the Afghan Placement and Assistance (APA) Program.
"We anticipate up to 65,000 Afghans will be assisted in coming to U.S. military bases this fall, including many who have already arrived," the State Department said. "Up to 30,000 additional Afghans over the following 12 months may also be relocated and resettled to the United States."
While those individuals, currently housed at U.S. military bases across the country, face a number of weeks before their settlement in U.S. towns, for those abroad the expectations remain far more uncertain.
Sharifi was in Kabul as the Taliban took the capital.
"It was August 15. We were in the heart of Kabul city," he told Newsweek. "Around noon, we saw a lot of people panicking and running around, and that's the moment we asked what was happening. They told us the Taliban was in the city."
After trying for a week without success to find a way to evacuate, he received help from Qatar's embassy.
"In the middle of the night, around 3 a.m., we were put on a bus," he said, "and there was a Taliban car and a Qatar car escorting us to the airport."
When his family boarded the plane they were not told where they were going. Once they finally arrived in Abu Dhabi he was filled with a sense of relief.
As other Afghan refugees await word on the next steps in their journey, many feel that they have left the hell of Taliban rule only to enter the limbo of an overwhelmed American bureaucracy.
"It has been a month now," Sharifi told Newsweek. "We came here with the promise that the Americans are going to take care of us. I hope this promise is going to be committed to. We hope to arrive in the United States and resettle."
Sharifi and his family are among the very few fortunate refugees — not just those from Afghanistan, but worldwide.
"It's important that people understand that most refugees in the world are never resettled anywhere," Boian said. "Less than one-half of 1 percent of refugees around the world are ever resettled to any other country. It's a solution that is available only to a very, very tiny fraction of refugees."
As instances of political and civil unrest have grown in the last decade, millions find themselves living in fear and under threats of violence or persecution as they await asylum processing.
"The rising number of refugees is a tragic effect of the seeming inability or lack of will of governments and of humanity to choose peace over conflict," Boian said.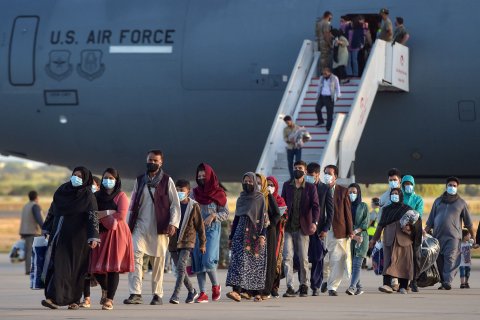 The problem is exacerbated due to an asylum process that is typically long and arduous.
For example, during the Trump administration, hundreds of small changes were made to U.S. policy on asylum and refugee resettlement. Definitions of "asylum" were altered to exclude specific protections, and refugee admissions were slashed to an all-time low.
The U.S. committed to resettle only 15,000 refugees in 2021, down from 80,000 in 2010.
"The typical process for receiving refugees is that either the U.S. Embassy or the United Nations will identify people in need of resettlement," Beth Broadway, president of Interfaith Works of Central New York, told Newsweek. "They'll be deemed people who are unable to return to their country and are eligible to be resettled someplace else, at which point they start processing their case, to be able to come to another country."
Many Western nations limit the number of refugee cases that can be accepted each year. In the United States, this number has recently risen to 62,500, which is considerably less per-capita than the limits established by U.S. allies.
In addition to the lengthy processing times and hard quotas, other barriers include high costs, unreliable access to transportation, insufficient proof of identity and lack of language skills.
"It's all done in English," Robyn Barnard, Senior Advocacy Council for Refugee Protection for Human Rights First, told Newsweek. "The vast majority of asylum speakers don't speak English as a first language, so that can be really complicated."
And that's just for the basic application.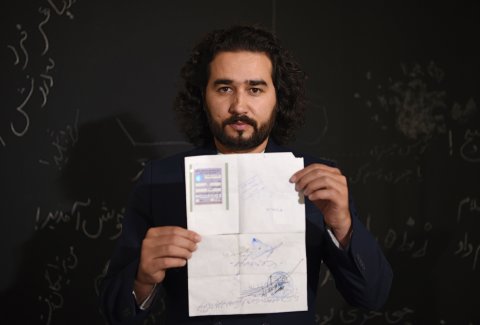 "You also have to provide a lot of evidence to prove your case," Barnard said. "And if you think about the conditions that some people flee...for example, the Afghan refugees who are being evacuated were told to get to the airport and only allowed one small piece of hand luggage."
In such chaotic conditions, critical documents of identification are often forgotten, lost, confiscated, stolen or destroyed.
In addition to logistical barriers, many legal obstacles are also in place, including the denial of basic access to legal counsel.
"Right now, there is no guarantee for legal counsel for anyone who's gone through this process to seek asylum," Barnard said. "Some legal systems guarantee that you can get appointed counsel if you cannot afford to hire someone yourself, which does not exist in immigration or refugee law."
That inequity exists worldwide.
"[Refugees] often find themselves in a land that is not their home, a land where they do not necessarily have the same rights or the same treatment as other people in the society," the UN's Boian said.
Women are particularly disadvantaged in their attempts to seek asylum in the U.S.
"The refugee definition doesn't include gender as a protected ground for Refugee Protection," Barnard said. "What that means is that women, girls or others who are fleeing gender-based violence or persecution, have to prove their refugee case by curating the prosecution to one of the other protected refuge grounds."
Obstacles like these limit or prevent many people who are in need from receiving the full protections guaranteed to them by the UNHCR 1951 Refugee Convention and its 1967 Protocol. Without these protections, millions will have to remain where they are and continue to live under the persistent fear of persecution or death.
Even for those refugees to manage to achieve some sort of protected status, the road forward is daunting.
"There are three scenarios," Boian said. "One is returning to your own country when it's safe, two is integrating into the society where you found safety, and the third is resettlement."
The wait can last decades.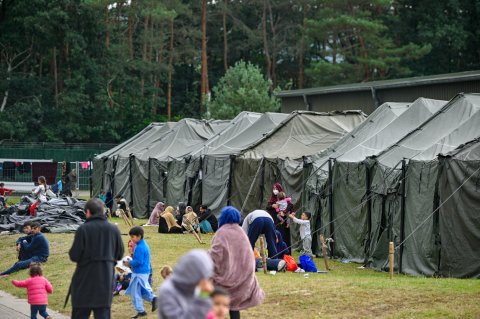 "The average time now for being refugees is approaching 20 years on average, worldwide," Boian said. "So it's not always something that can happen in a matter of weeks or even months."
When Sharifi finally does make it to the United States, like those who came before him, he will receive a one-time payment of $1,250 to start his life in America. From there, he and his family will be solely responsible for finding shelter, food, and a stable source of income.
"It is frightening to come to a new country, coming with a background of trauma after you've lost everything," says Amarra Ghani, Founder of Welcome Home Charlotte. "Coming to a country with nothing, where you don't speak the language and you don't really know anyone is scary."
Inspired by the Pakistani heritage of its founders, the nonprofit primarily serves families from Afghanistan, Syria and Myanmar. It began as an operation working out of a garage in Charlotte, North Carolina, created to try to help refugee families adjust to life in a new city in a new country.
The volunteer-based organization now operates a food bank, teaches English learning classes and provides other support services.
Ghani emphasized that her organization is nonsectarian.
"We're not a Muslim organization," she said, "but all of our refugee families are Muslim."
Ghani said her religious faith inspires her work.
"As a person who understands the story, who knows the history and has a lot of love for the Prophet," she said, "I can see that our own Prophet was a refugee."
As its name indicates, Interfaith Works is also a faith-based organization, though it is comprised of representatives of multiple faiths.
"We draw upon a large base of different faith traditions," Broadway said. "Whether its a Muslim mosque or a Jewish temple, whether its Catholic, Protestant or Buddhist, they're all together at a roundtable of faith leaders, to get to know each other and work together on humanitarian issues."
The organization is currently coordinating with state and federal officials to resettle 248 Afghan refugees to central New York. It is a complex process that involves meeting families at the airport, providing them with housing and food, assigning a case manager, helping them apply for public benefits, and remaining present as a resource for families to ask questions.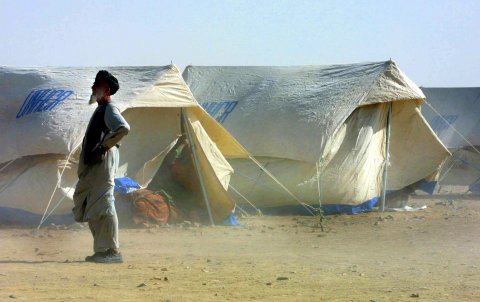 The task is even more complicated for recent refugees from Afghanistan who have not yet begun the formal asylum process.
"The biggest challenge is finding the support for them that is typically provided for refugees," Broadway told Newsweek. "People coming from Afghanistan will not have those benefits. And it's impossible to do that for a large number of people without the federal government's support in our county."
The role of the local community is critical in the resettlement process, the U.N.'s Boian said.
"Support for integration into their new communities is extremely vital," he said. "Resettlement works best, in the long term, when the people that have been resettled have that kind of support right away from the beginning, just to help them get on their feet and learn how things are done."
Ghani of Welcome Home Charlotte told Newsweek that citizens of countries faced with an influx of refugees need to understand the causes of the migration in order for the process to work.
"If Western countries have infiltrated a country, and because of their infiltration refugees have been created, then you cannot tell them they are not welcome to the same country that infiltrated them," she said. "If we don't want refugees, let's stop creating refugees."
Sharifi experienced that reality firsthand.
"We made our fair share of mistakes, but the international community also had their fair share of mistakes in Afghanistan," he said. "There's lots of blame to go around. I take my share of the blame and I hope the global community does the same."
Despite the hardship, Sharifi remains deeply committed to his country and his people.
"I feel hopeless. I'm exhausted. My heart is broken a thousand times," he told Newsweek. "But at the same time, I'm not giving up. I am trying to make sure that we use our voice and become the voice for the 38 million Afghans silenced under the Taliban."