Nigeria's Military Says It Didn't Call Biafra Separatists Terrorists, Days After Doing Just That
Nigeria's conflict with separatists calling for an independent state, known as Biafra, has escalated in recent months.
The leader of the main pro-Biafra group, Nnamdi Kanu, was released on bail in April after being held in detention without trial since October 2015. Since Kanu's release, calls by his organization—the Indigenous People of Biafra (IPOB)—for a referendum on independence from Nigeria have intensified, as have clashes between IPOB members and Nigerian security forces.
The Nigerian military appeared to have taken a controversial step on Friday: In a statement, a spokesman for Nigeria's defense headquarters said that the armed forces categorized IPOB as a "militant terrorist organization" and urged residents of southeast Nigeria, where IPOB is based, to desist from joining the group.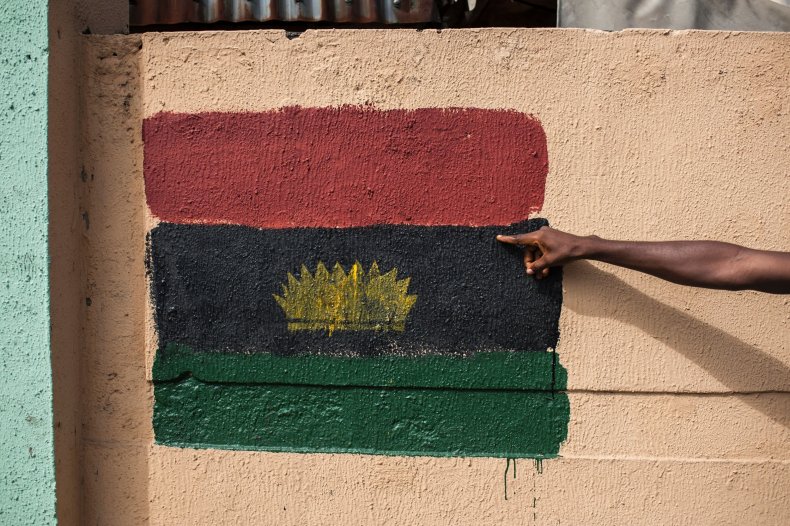 But at a press conference on Monday, the head of Nigeria's armed forces backed away from the declaration, calling it a "pronouncement" rather than an official designation.
"You have to get it very clear. First of all, what the defense headquarters did was to make [a] pronouncement. It wasn't a declaration per se," said General Tukur Buratai, Nigeria e-newspaper Premium Times reported.
Related: "There's no easy way out." Nigeria's ex-president Obasanjo tells Newsweek of his fears over Biafra
The announcement by the defense headquarters had sparked criticism from some in the Nigerian government. The president of Nigeria's Senate, Bukola Saraki, said that the military's decision to designate IPOB as a terrorist group was "unconstitutional and does not follow due process."
But Buratai denied that the military had overstepped its authority. "We are still within the limits. And I [assure] you that what the military said was to set the ball rolling and to bring the awareness to the public that this is what this organization is all about."
A U.K.-based spokesman for IPOB, Emma Nmezu, told Newsweek on Friday that the designation was being used by the military "to justify the killings of unarmed people."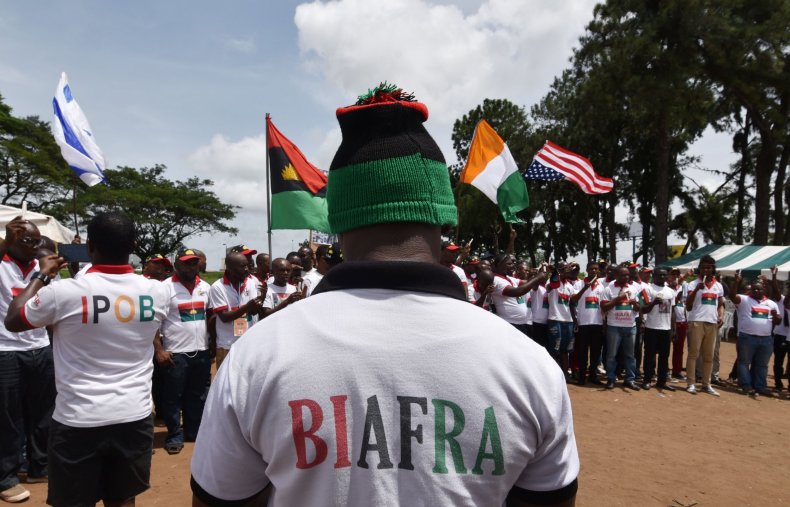 Nigeria endured a two-and-a-half-year civil war between 1967 and 1970 after a disaffected military officer declared the independence of a region of southeast Nigeria, which he called Biafra. The region was largely populated by members of the Igbo, one of Nigeria's biggest ethnic groups.
At least 1 million people died in the civil war, which ended when Biafran forces surrendered and the republic was reintegrated into Nigeria.
But secessionist fervor has risen in recent years, led by IPOB leader Kanu, a British-Nigerian dual national who has proclaimed that Nigeria faces a choice between "Biafra or death." He is facing charges of treason at a trial due to commence in October.
Nigerian President Muhammadu Buhari fought on the Nigerian side during the civil war and has dismissed the recent agitations.
But the former president of Nigeria, Olusegun Obasanjo—who fought alongside Buhari against Biafra—told Newsweek last week that Buhari should sit down with Kanu to discuss the grievances of Biafra supporters, who claim to have been marginalized by the federal government in Nigeria.
Rights groups have criticized the Nigerian military for heavy-handedness in dealing with IPOB. An Amnesty International report in November 2016 said that the military had killed at least 150 IPOB members or supporters since August 2015. The military denied the allegations and accused IPOB members of using violence against soldiers.