Nigeria is Putting Biafra Leader Nnamdi Kanu On Trial, But He's Been Missing for Weeks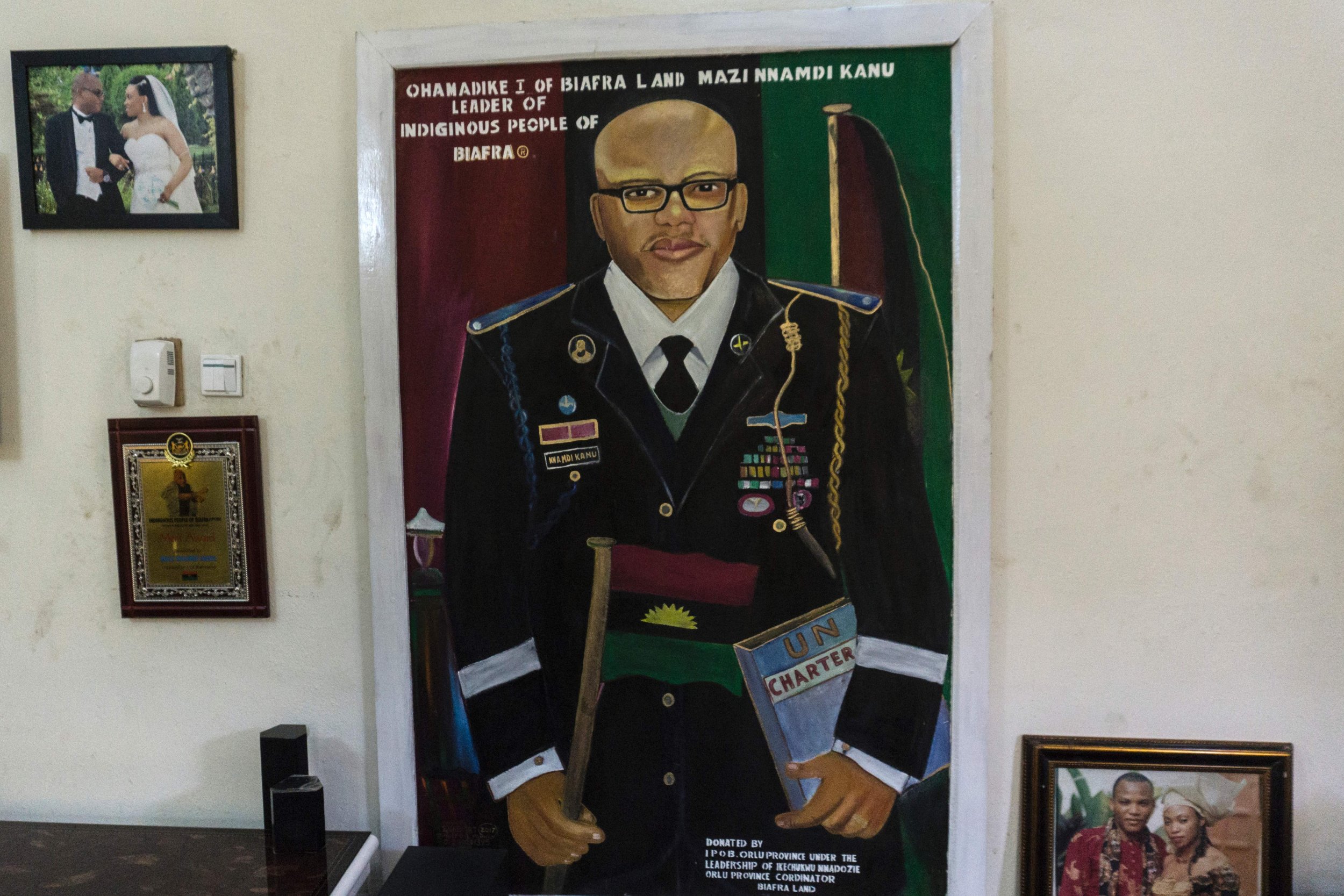 One of Nigeria's most eagerly anticipated trials was finally due to reconvene on Tuesday. The only problem was that the main defendant was nowhere to be seen.
Nnamdi Kanu—a separatist leader calling for an independent state of Biafra in southeast Nigeria—was due to appear at the high court in Nigeria's capital Abuja to face charges of treasonable felony.
But Kanu, who heads the Indigenous People of Biafra (IPOB), has not been seen in public since a purported raid by Nigerian security forces on his home in mid-September. And those close to him fear the worst.
Kanu's wife, Uchechi Okwu-Kanu, wrote to Newsweek earlier in October to say she was sure that her husband had been killed and that the Nigerian government was covering up his death. The separatist leader's lawyer, Ifeanyi Ejiofor, said on Tuesday that he did not know whether his client was dead or alive and had not seen him since the alleged raid on Kanu's home in Umuahia, southeast Nigeria, the BBC reported.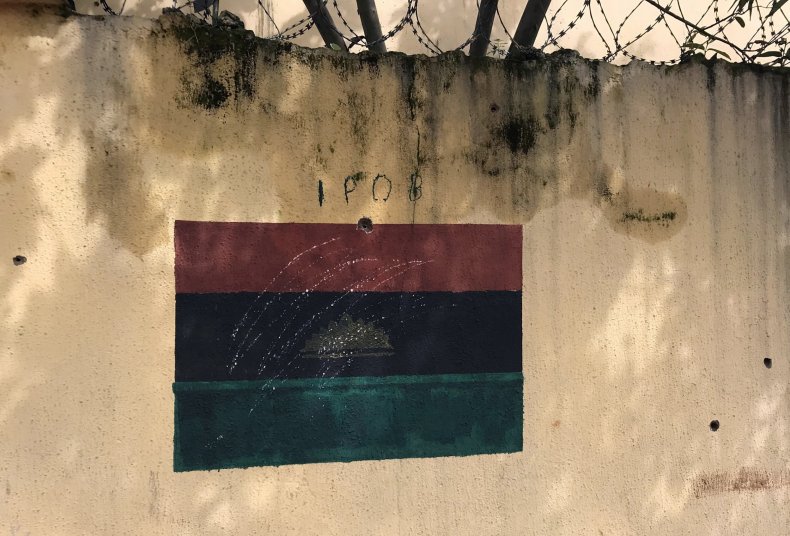 The Nigerian military denied that the raid—which Kanu's supporters say happened on September 14 and resulted in some 20 IPOB members being shot dead—ever took place and have said that Kanu is not in their custody.
The trial has been adjourned until November 20, with the court ordering Kanu's team to produce him on that date. But the IPOB leader's continued absence is threatening to escalate tensions in southeast Nigeria, where Kanu's biggest support base resides.
Read more: Nigeria's ex-president Olusegun Obasanjo tells Newsweek of his fears over Biafra
Kanu—a British-Nigerian dual national—was arrested in October 2015. The IPOB leader had built a reputation as a firebrand on Radio Biafra, a U.K.-based station run by IPOB to call for Biafra's secession from Nigeria.
IPOB's ambitions hark back to the Nigerian civil war, which erupted in 1967 after an ex-military officer, Odumegwu Ojukwu, declared an independent republic of Biafra in southeast Nigeria. The annexation of Biafra—which was largely inhabited by members of the Igbo ethnic group, one of Nigeria's largest ethnicities—followed pogroms against Igbos in other parts of the country.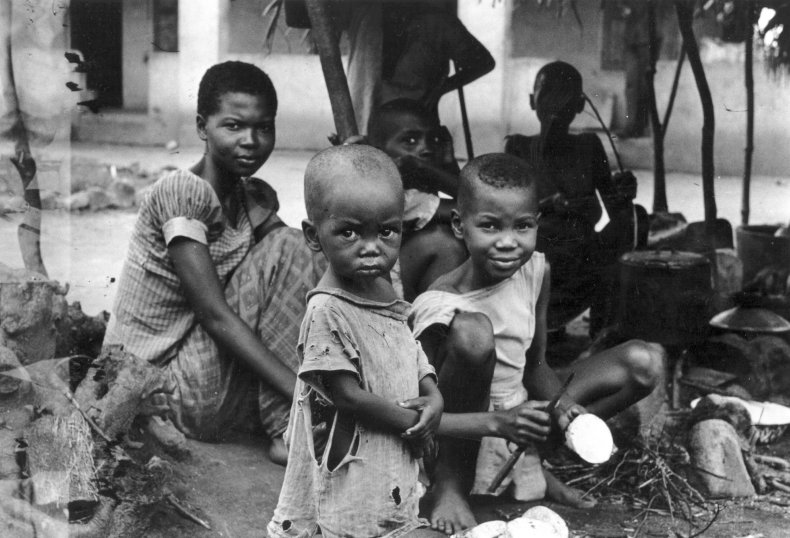 But the decision led to a three-year civil war that resulted in more than 1 million deaths, many due to starvation as Nigeria blockaded Biafra's borders. In 1970, the republic was subsumed back into Nigeria, but Kanu's popularity is evidence that the secessionist sentiment has never fully dissipated in the West African country.
Kanu was charged with treasonable felony—which can carry a death sentence in Nigeria—and was held without trial for almost two years, with Nigerian President Muhammadu Buhari describing him as a flight risk. The IPOB leader was freed on bail in April but had tight restrictions on his activities.
Animosity between IPOB and the Nigerian government has reached new heights in recent months. The military deployed soldiers to the region in a mission known as Operation Python Dance, which has been seen as a provocation by IPOB. Later in September, the Nigerian government designated IPOB as a terrorist organization, discouraging anyone from joining the group and notifying banks and foreign missions not to engage with its members.
IPOB has consistently said it is non-violent, despite having allegedly formed its own national guard and secret service. Amnesty International said in November 2016 that Nigerian security forces had killed at least 150 pro-Biafra supporters since August 2015, many by extrajudicial execution.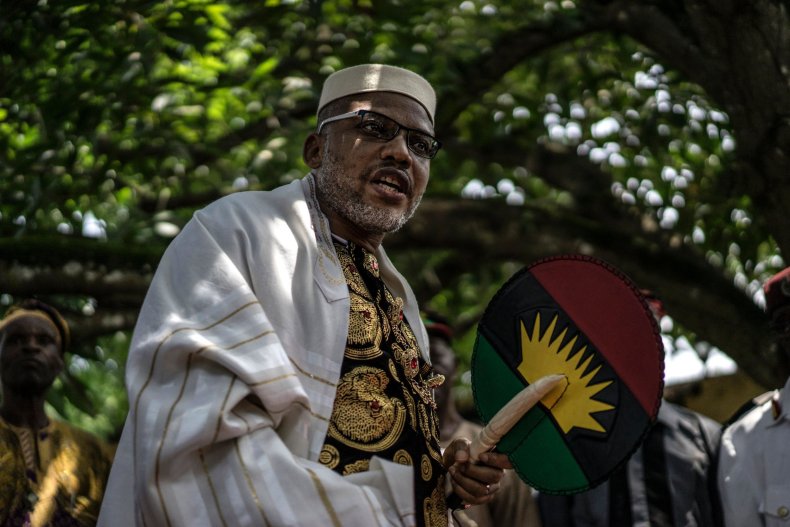 But experts have warned of the risk of radicalizing the group if Kanu were to be killed or die in police custody. A similar situation occurred with the Islamist insurgent group Boko Haram in 2009, when its founder Mohammed Yusuf died while being held by police. The group went on to take up arms against the Nigerian government and have killed more than 20,000 people in an eight-year insurgency.
"[Kanu's death] would likely transform IPOB precisely into the terrorist organization the military claims it already is," Malte Liewerscheidt, a Nigeria expert at global risk consultancy Verisk Maplecroft, told Reuters.
As Kanu's whereabouts continue to be unknown, neither side is backing down. The Nigerian government prosecutor asked the court to revoke Kanu's bail, while IPOB threatened ahead of the court sitting that there would be an "inevitable confrontation on a scale the human mind cannot imagine" if Kanu was not produced by the government in court. The saga of one of Nigeria's most drawn-out and controversial trials in recent years looks set to continue.