Do Americans Want War with North Korea? Majority of U.S. Public Is Against Military Interventions, Poll Says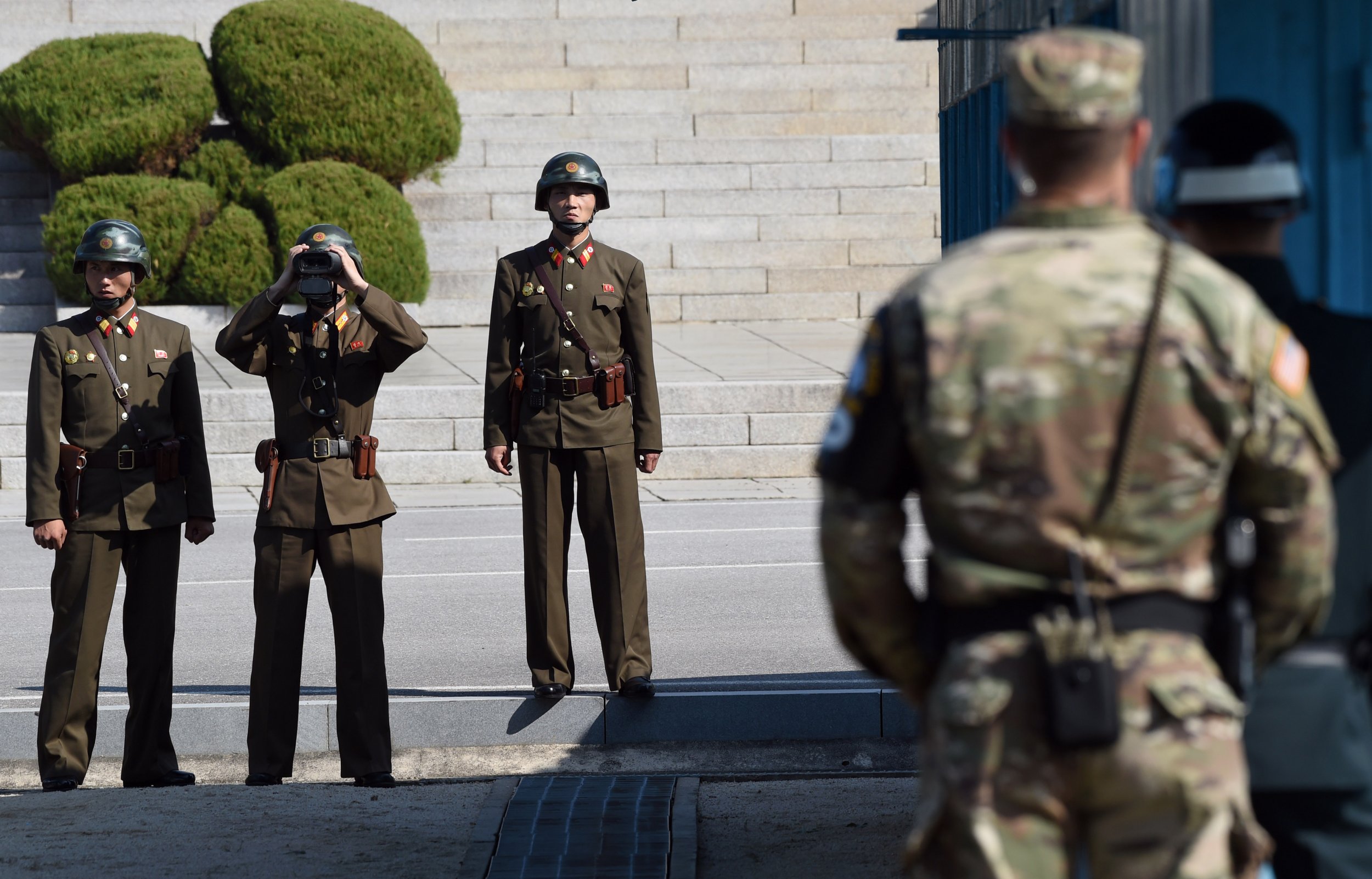 A strong majority of the American public is opposed to military interventions abroad, according to a new poll, even as the Trump administration reportedly mulls whether to make good on its veiled threats of a military strike against North Korea.
The J. Wallin Opinion Research survey of 1,000 Americans, conducted in November and released last week, found 86.4 percent of U.S. voters believe the U.S. military should only be used as a last resort. Roughly 57 percent feel the billions of dollars spent on providing weapons and military aid to countries like Saudi Arabia is "counterproductive" and doesn't actually improve national security.
Nearly 71 percent said they believe Congress should pass new legislation that would restrain military action overseas through the enforcement of three policies:
"Clearly defined goals to authorize military engagement overseas, including a timeline and what will constitute victory."
"Oversight and accountability from Congress in regards to where troops are stationed and what is being accomplished abroad."
"Any donation of military funds or equipment to a foreign country must be matched by a pledge from that country to adhere to the rules of the Geneva Convention, which are designed to protect civilians from harm during combat."
The survey also found approximately 67 percent of U.S. voters disapprove of Congress permitting the involvement of U.S. forces in conflicts overseas without formal approval.
This poll comes as the U.S. military is active in an array of theaters across the world and following a year in which U.S. troops were killed in combat in multiple countries, including Niger to Afghanistan. Under President Donald Trump, the number of U.S. military deaths in combat zones rose for the first time in six years –– 33 U.S. soldiers were killed war zones in 2017. There has also already been a U.S. combat death in 2018: Army Sgt. 1st Class Mihail Golin of Fort Lee, New Jersey was killed in Afghanistan on New Year's Day. Since the U.S. invasion of Afghanistan in October 2001, nearly 2,300 U.S. soldiers have died in Afghanistan, according to data from the Pentagon.
Meanwhile, the Trump administration is reportedly considering a strike against North Korea amid tensions over its nuclear program, The Wall Street Journal reported Tuesday. The aim would essentially be to hit North Korea hard enough that it would understand the consequences of continued provocations, while at the same time not sparking a full-blown conflict on the Korean Peninsula. This is reportedly being referred to as the "bloody nose" strategy and it would not come without risks, especially for South Korea, whose capital city of Seoul rests just 35 miles from the demilitarized zone that separates the North and South.
The J. Wallin poll did not ask about North Korea or any other potential conflict. Polls from last year indicated that Americans may indeed favor military action against North Korea in particular. A Gallup Poll from September, for example, said 58 percent would support a strike if the U.S. cannot achieve its goals by peaceful means.
Even as tensions with Kim Jong Un's empire keep spiking, the North and South held talks on Tuesday — the first time diplomats from the historic enemy states met to speak in roughly two years. The two Koreas agreed to allow North Korea to participate in next month's Winter Olympics in Pyeongchang, a major development that comes after the U.S. and South Korea agreed to hold off large-scale military exercises until after the games. Pyongyang routinely paints such exercises as rehearsals for an invasion of North Korea, likely making the temporary cessation beneficial to the diplomatic process. In this context, a military strike against North Korea from the U.S. in the near future could completely derail any hopes for peace on the Korean Peninsula, warned Abraham M. Denmark––the former Deputy Assistant Secretary of Defense for East Asia.
"It is unlikely... a strike would work as planned," Abraham M. Denmark, former deputy assistant secretary of defense for East Asia, wrote in an op-ed for Foreign Affairs on Tuesday. "It would have no guarantee of successfully destroying North Korean capabilities, and Kim may well feel compelled to respond to even a limited attack. Any strike would thus risk igniting a full-blown war on the Korean Peninsula that would endanger millions of lives and ultimately diminish U.S. power and influence in the Asia-Pacific."
The Trump administration has often claimed it prefers a diplomatic approach to Kim Jong Un's regime, but it has also made a point of reminding the rogue state a military option is always available. During an interview with CNN on Friday, Secretary of State Rex Tillerson stated, "I think the rhetoric that North Korea understands is that while it is our objective, and the president's been very clear, to achieve a denuclearization through diplomatic efforts, those diplomatic efforts are backed by strong military option if necessary." Last week, President Donald Trump also boasted in a tweet the "nuclear button" on his desk is far larger than Kim's, seemingly referring to the fact that the U.S. has a far more advanced nuclear arsenal than North Korea.
Trump campaigned on a non-interventionist platform, often falsely stating he never supported the Iraq War despite evidence to the contrary. During his "America First" foreign policy speech in April 2016, Trump said, "I will never send our finest into battle unless necessary, and I mean absolutely necessary, and will only do so if we have a plan for victory with a capital V. The world must know that we do not go abroad in search of enemies."
"Our goal is peace and prosperity, not war and destruction," Trump added.
But since Trump entered office, the U.S. has conducted a record number of air strikes in the Middle East and drastically increased the number of troops it has on the ground in the region. In Afghanistan alone, Trump increased the U.S. troop presence by several thousand, bringing the total number to roughly 14,000. The U.S. military has also expanded its involvement in Africa, conducting air strikes against the Islamic State militant group (ISIS) there for the first time in November. Trump has also rolled back restrictions his predecessor, former President Barack Obama, put in place to protect civilians. Barely seven months into Trump's presidency, the U.S.-led coalition fighting ISIS had already killed more civilians than under Obama. In a single U.S. air strike in Mosul, Iraq in March, more than 100 civilians were killed.