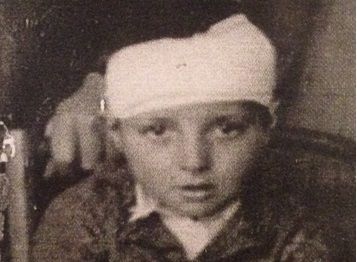 In 1939, Vicente—who was about five years old and had lost his father on the war front, and had his mother hospitalized—was being sheltered in a refuge for orphaned children managed by the government of the Spanish Republic.
This shelter for orphans was called "Colonia Miaja" (Miaja is the last name of a general loyal to the democratically elected Republican government) and was located in the Ametller Mansion in Cabrera de Mar, north of Barcelona.
Vicente was evacuated when the Catalan front collapsed during the Spanish Civil War. He was part of an expedition of war orphaned children to Belgium. In Catalonia he left aunts, uncles and cousins. The key of this story is one of his aunts, who had sheltered him in the refuge to be able to work during the week, and had been going to visit him on Sundays.
But one day she went to visit him and there was no trace left. There had been an announcement about the evacuation in a newspaper, but she never saw it.
Soon after, a boy called Vicente was adopted in Belgium, and his new name became Vincent. He was unable to remember his past life before his adoption. His young age, a head contusion he may have suffered before or during his exodus, and the emotional impact after losing his parents in the war, could have led him to suffer a form of amnesia of his personal identity.
For a long time, Vicente and his aunt in Spain were searching for each other, but the pieces of information were scarce. Vicente just had a picture showing his head contusion, and a piece of paper with his first name and father's last name written on it—with a misspelling to make the puzzle even more difficult to solve.
Unable to remember his past life in Spain, Vicente sent handwritten letters to some major cities in Spain requesting for help. In Barcelona, his aunt asked for help from the Spanish authorities shortly before the evacuation. But the connection was not an easy one to make.
Now, after more than 70 years, Vicente has been able to recover his identity—a feat accomplished through a combination of tenacity and some luck.
The breakthrough came when one of these "message in a bottle" letters was received by two people in the Spainsh city of Bilbao. These two woman decided to help Vincent/Vicente voluntarily, in their spare time. They did almost all the identification procedures, except for the genetic test. They made several trips between Bilbao and Barcelona and found the name of Vincent's aunt, but the name was not enough to find her.
But their fortunes changed when the aunt was awarded the Commemorative Medal from the Catalan Government for turning 100 years old. This personalized medal is a recognition to all residents of Catalonia who have reached 100 and it is engraved with the name of the person.
With the medal, the full name of Vincent's aunt was published. This was like finding a needle in the haystack. The two women from Bilbao contacted both families and asked them about the details they remembered about the evacuation of Vicente.
Everything matched. By this point, the aunt had died, but the family in Barcelona was still missing a boy called Vicente who was evacuated in 1939. 'Vincent' knew that his previous name was Vicente. The misspelling of a single letter in the last name was easy to solve. The only thing remaining was the need for genetic identification.
Our group (GIG) from the Cell Biology and Medical Genetics unit of the Universitat Autònoma de Barcelona (UAB) was selected to carry out the identification test. From a genetic point of view, it was an easy case.
Mitochondrial DNA is transmitted by maternal inheritance. If Vincent and the son of Vicente's aunt belonged to the same family, they would share the same mitochondrial DNA because both would have a common mitochondrial ancestor—their maternal grandmother. If 'Vincent' wasn't the boy evacuated in 1939, the mitochondrial DNA profile wouldn't match.
As we expected, both mitochondrial DNA profiles were identical. In addition, the mitochondrial profile of both samples turned out to be highly specific, which helped to confirm the hypothesis. Thus, the mitochondrial DNA analysis allowed the genetic identification of Vincent as Vicente, the missing boy evacuated in 1939.
As a result, Vincent recovered his identity and his family in Spain after more than seventy years—an accomplishment I am proud to have been part of.
Pere Puig, PhD in Biology (Genetics), is a founding member of the Genetic Identification Group, an organization set up to help the relatives of the missing people of the Spanish Civil War.
Views expressed in this article are the author's own.