War of Scallops Erupts at Sea as France and U.K. Fishermen Fight for Prized Seafood
French and British fishermen have clashed in the English channel, allegedly hurling smoke bombs and rocks, in a row over access to a prized seafood delicacy.
The incident, already labelled "the war of the scallops" by the media, took place around 12 nautical miles off France's Normandy coast this week. As a group of around five British boats sailed near the Bay of Seine, 35 French vessels assembled in protest of British fishing in the area and ambushed the visitors and chased them away.
"The French went to contact the British to stop them working and they clashed with each other," Dimitri Rogoff, Normandy fishing chief said, playing down the extent of the hostilities. "Apparently there was stone-throwing, but no injuries."
British boats, Golden Promise and Joanna C, had damaged windows when they returned to Brixham harbor, the BBC reported, while local broadcaster France 3 Normandie showed footage of boats ramming each other and crew members pelting vessels with stones.
The French fishermen also yelled insults at the British and threw smoke bombs, according to Sky News.
The French vessels sailed in protest of what they perceived as double standards, since Paris enforces a very strict scallops season between 1 October and 15 May, however London allows British fishermen to continue work year-round.
"For the Brits, it's an open bar," Rogoff said. "They fish when they want, where they want, and as much as they want."
The dispute goes back 15 years, however there is no legal restriction preventing British fishermen from accessing the resource. The Scottish White Fish Producers Association's chief has already condemned the clash, calling it "clear piracy."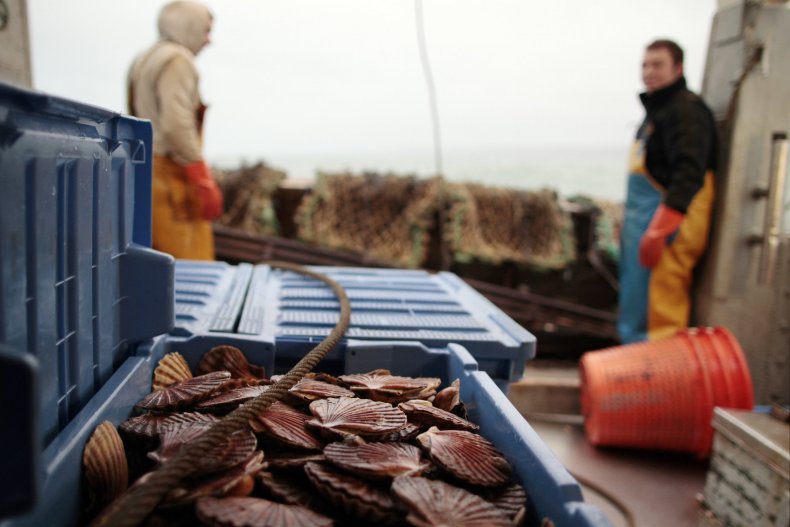 "U.K. vessels can enter that French zone, it's not illegal," SWFPA head Mike Park told BBC Scotland, noting that the Scottish fisher in the group of Brits is "fully entitled" to be there.
Britain's National Federation of Fishermen's Organisations have already asked for more protection, chief executive Barrie Deas said, noting that the Brits were "fishing legitimately. The deeper issues behind the clashes should be settled by talking around the table, not on the high seas where people could be hurt," Deas said.
Meanwhile, regional French fishery authorities have insisted that locals were only trying to desist British "pillaging" of "a primary resource" and a "flagship product of Normandy."
"We don't want to stop them from fishing, but they could at least wait until 1 October so that we can share," Rogoff said.