#WarOnThanksgiving Trends After Trump Claims 'Radical Left' Wants To Change Name of The Holiday
The hashtag #WaronThanksgiving was trending on Twitter on Wednesday morning after President Donald Trump claimed at his campaign rally Tuesday night that the "radical left" wants to change the name of the holiday.
By mid-morning, the hashtag was No. 3 in the United States trend list with more than 3,000 mentions.
During his rally in Sunrise, Florida, Trump accused the "radical left Democrats" of "trying to rip our nation apart." He claimed there are people trying to change the name of Thanksgiving.
"As we gather together for Thanksgiving, you know some people want to change the name Thanksgiving, they don't want to use the term Thanksgiving, and that was true also with Christmas, but now everybody's using Christmas again," Trump said during his rally. "Now we're going to have to do a little work on Thanksgiving. People have different ideas why it shouldn't be called Thanksgiving, but everybody in this room I know loves the name Thanksgiving and wouldn't change it."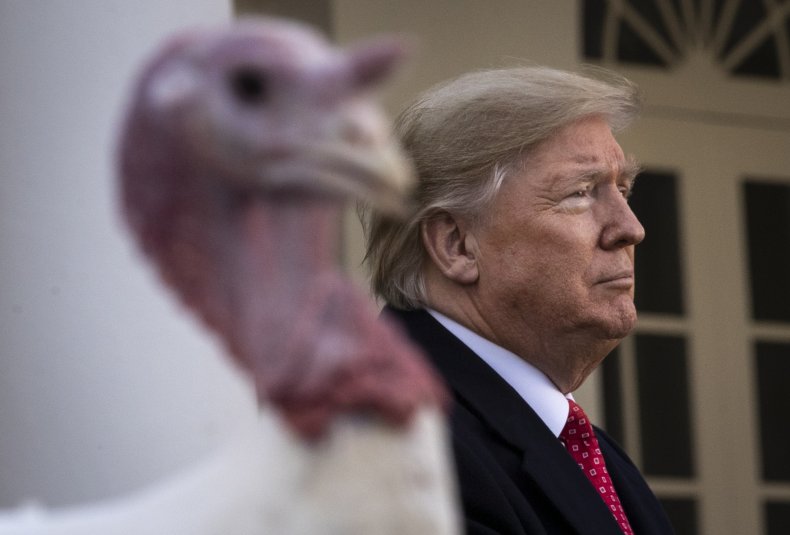 Todd Breasseale, who served as an assistant secretary at the Department of Homeland Security for the administration of former President Barack Obama, wrote a parody war note to his mother with the #WaronThanksgiving.
"My dearest Mother, I write from Cranberry Ridge, over the river and through the woods on Grandmother Mtn. The soldiers are weary, but their righteous fight - despite the shortage of gravy - is a just one and they will prevail over the liberals' #WarOnThanksgiving. Your son, Todd," Breasseale tweeted.
Writer and comedian Nick Jack Pappas also wrote a parody war note.
"Dear Martha, I hope this letter finds you well. Vegans are bombarding us with Tofurkey and we're down to cranberries still shaped like the can. Marshmallows. Marshmallows everywhere. #WarOnThanksgiving," Pappas tweeted.
Blondie guitarist Chris Stein shared a poster for the screening of a movie called "Thanksgiving" with a woman with blood splattered on her face, and the words, "It's coming..."
"#WarOnThanksgiving ramps up today," Stein tweeted.
Constitutional lawyer Casey Mattox referenced Trump's previous claim that there was a war on the name of Christmas.
"Ackshually, the #WarOnThanksgiving is lead by the early Christmas people," Mattox tweeted.
Author Tom Akel suggested that the "war on Thanksgiving" was so ridiculous it seemed like a scene out of the animated sitcom South Park.
"Looks like some folks in politics are watching just a little too much South Park #WarOnThanksgiving," Akel tweeted.
James Kosur, who describes himself as a "liberal" and "justice fighter," tweeted jokingly: "The #WarOnThanksgiving has begun. I just saw a turkey walking down the street with a shotgun. I knew it was only a matter of time before they sought revenge for the millions of comrades they've lost over the years. PROTECT YOUR LOVED ONES!!!"
The hashtag #WhatLiberalsCallThanksgiving was also trending on Twitter on Wednesday as users criticized Trump for ruling out changing the name of Thanksgiving.