In a War-Torn Middle East, Clinton's Legacy in Tunisia Is a Bit Brighter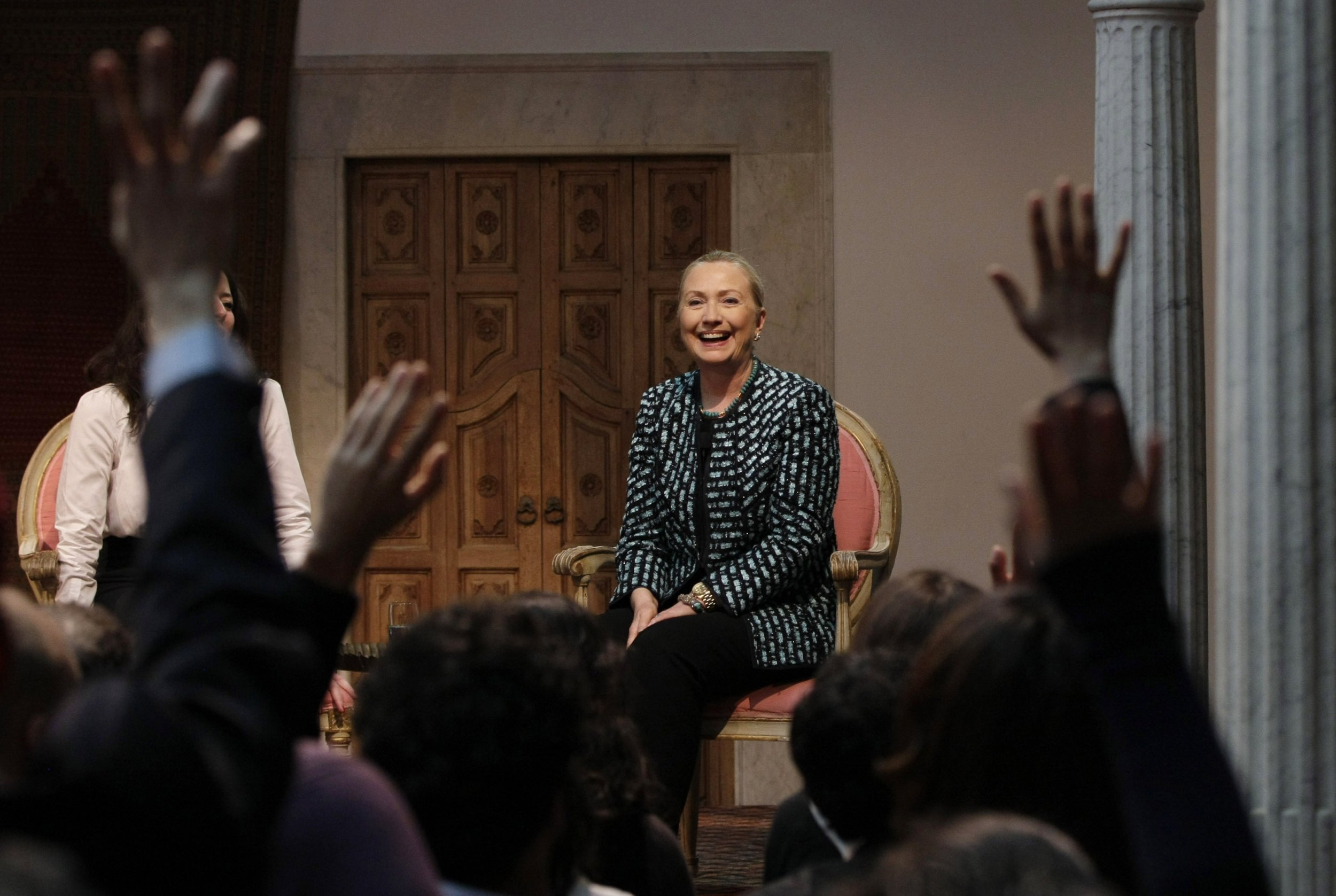 Hillary Clinton was secretary of state on December 10, 2010, when a street vendor named Mohamed Bouazizi set himself on fire, lighting a fuse that became the Arab Spring. When the new Tunisian president, Beji Caid Essebsi, visited the White House Thursday, the country remained the only real democracy left standing out of the uprisings across the Middle East and North Africa earlier this decade. As Essebsi observed in public remarks Wednesday in Washington, D.C., "There is actually no such thing as an Arab Spring. There is a Tunisian spring."
So, sure, Libya, Egypt and Syria didn't work out. But maybe little Tunisia is Clinton's State Department success story, the example of a foreign policy accomplishment that has proven so elusive, even to her supporters. Let's take stock.
Tunisia has never been a focus of American foreign policy the way, say, Egypt or Jordan have been. It's just not as important from a security standpoint, and its cultural and economic ties have traditionally been much stronger with Europe, which lies just across the Mediterranean. So when the uprising in Tunisia toppled dictator Zine el-Abidine Ben Ali in early 2011, sparking a wave of protests elsewhere in the region, Clinton and her team at the State Department had to scramble to respond.
According to the Congressional Research Service, the United States has allocated over $610 million in aid to Tunisia since 2011, equivalent to over 40 times what U.S. aid was in fiscal year 2009. Much of the early money was to stabilize the country and help with the democratic transition. But as Clinton, herself, pointed out during a visit to the country in March 2011, "It's not just about the politics, because what sparked the Tunisian contagion was a terrible incident of a young man taking his own life out of such desperation because he saw no future." Economic reforms, she said, were key, including "opening up the system, creating more entrepreneurs, people like those who started this station and more businesses, employ more young people who are educated."
Tunisia's economy, however, isn't in great shape. Economic growth, according to the African Development Bank, was just 2.6 percent in 2013, lower than projected and a dip from 2012. And many of the programs that Clinton and other Obama administration officials touted early on, saying they'd help kick-start the economy, are decidedly works in progress. Take the Tunisian-American Enterprise Fund, one of the signature efforts, which Clinton and others said would promote private investment in the country. The U.S. government has provided $60 million in funding, but has made just one $2.4 million investment, in a private equity fund, according to a Government Accountability Office report. Another early initiative was to submit Tunisia for a major grant through the Millennium Challenge Corporation, a U.S. aid agency. That never materialized amid criticism from the development community and Congress.
At a more general level, the United States has also struggled, under Secretary Clinton and her successor, John Kerry, to keep Tunisia on the front burner, despite its symbolism as the cradle of the Arab Spring. Middle East expert Amy Hawthorne, who worked at the State Department on the response to the uprisings until 2013, says it was apparent to her that "Secretary Clinton was quite interested in Tunisia." She signaled to staff there that "this is a priority; we need to put a spotlight on this country."
Clinton wasn't able to overcome some harsh realities, however. In an era of fiscal austerity, few politicians in Washington were eager to dump a lot of money into a North African country of just 11 million people. And with major conflicts exploding elsewhere in the region at the same time, Washington was consumed with crisis management. Tunisia, too, felt the impact of the chaos next door in Libya, with a steady flow of refugees, weapons and militants across its border (and some of the blame for that could arguably fall at Clinton's feet given her support for the invasion there). And then Tunisia, itself, was unstable, going through a series of interim governments.
None of those things are very conducive to economic rebirth. The fact is, the type of economic development Clinton and the State Department talked up are slow and grinding in the best of times. There "wasn't really an appreciation of how long these takes," says Hawthorne, now senior fellow at the Atlantic Council, a think tank. "These things were really oversold."
And yet, Tunisia is still standing. The country adopted a relatively liberal new constitution in January 2014 and held free and fair elections later that year, won by Essebsi and his secular Nidaa Tounes party. Its relationship with the United States is strong and growing stronger. During Essebsi's visit to the White House Thursday, President Obama announced his intent to designate Tunisia as a major non-NATO ally. The White House has proposed doubling foreign aid to Tunisia this year. The president and Essebsi also penned a joint op-ed in the Washington Post, hailing the fact that "democracy and pluralism are taking root" in the country.
As Hawthorne observes, "Whenever an authoritarian leader falls from power suddenly, it's really tumultuous. Tunisia is doing pretty well, but it hasn't been easy." There have been failures, and progress has come in fits and starts. But there are signs of progress, and that started during Clinton's tenure at State.