As the war in Ukraine enters its second month, Russian ally Armenia worries of a new front erupting on its own border with rival Azerbaijan amid a new row of unrest between the South Caucasus neighbors.
Like Russia and Ukraine, Armenia and Azerbaijan are two post-Soviet nations with a long history of deadly territorial disputes. Their most recent war erupted in September 2020 in the form of a bloody, 44-day conflict focused on the region of Nagorno-Karabakh, where ethnic Armenians established a separatist state called the Artsakh Republic three decades ago on land recognized internationally as part of Azerbaijan.
The latest all-out bout of hostilities in the century-long feud over this soil largely ended with an agreement that allowed Russian peacekeeping forces to enter the battlefield. but as Moscow focuses on what it has deemed to be a "special military operation" against Ukraine, reports are emerging of new conflict in Europe's southern boundary with Asia.
"Azeri forces are attacking Armenian soldiers in Artsakh at the moment while I'm speaking," Hayk Mamijanyan, a deputy of the Armenian parliament and secretary of its "I Have Honor" coalition, told Newsweek.
He called the recent attacks a "clear violation" of the ceasefire deal signed between the two sides on November 9, 2020 and, "though we're not really happy" with the agreement to begin with, "even that treaty is now violated."
Mamijanyan asserted that Azerbaijan was using the situation in Ukraine as "leverage" to renew its offensive, "to take advantage" of Russia's war with another neighbor.
"I really hope that the world won't be silent this time," Mamijanyan said. "The world, most of the international organizations were silent during the 44-day war, and I do hope that, despite the inefficiency of the Armenian government, international organizations, and the world will pay attention to the crimes Azerbaijan is conducting at the moment."
Azerbaijan initially downplayed the recent reports of clashes, which the self-proclaimed Artsakh Republic has said killed at least two Armenian troops so far.
The Azerbaijan Defense Ministry said in a statement Thursday that "the situation is artificially exaggerated by Armenian sources," later acknowledged that some sort of confrontation had taken place after its Russian counterpart announced that Azerbaijani forces had entered the peacekeeping zone and Russian Defense Minister Sergei Shoigu held a call with Armenia's own defense chief, Suren Papikyan, and then with that of Azerbaijan, Zakir Hasanov.
In a statement shared with Newsweek by Azerbaijan's embassy in Washington, the Azerbaijan Defense Ministry said that "members of illegal Armenian armed detachments attempted to sabotage the Azerbaijan Army Units" but were then "forced to retreat" as a result of countermeasures. And the ministry said Russia's own account of the events, which backed Armenia's narrative, "does not reflect the truth."
"We regret to inform you that the complete withdrawal of the remnants of the Armenian army and illegal Armenian armed detachments from the territory of Azerbaijan in accordance with article 4 of this Statement has not yet been carried out," the Azerbaijan Defense Ministry said.
"Therefore," the ministry said, "it is Armenia, not Azerbaijan, that violates the provisions of the Statement" reached as part of last year's ceasefire deal.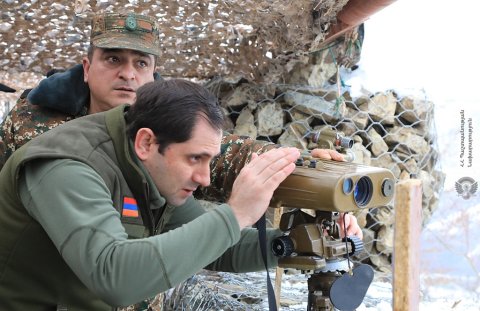 But many Armenians fear the latest clashes may be just the beginning of something more ominous, especially as the international community's sights are fixated on the explosive conflict in Ukraine.
"Of course, this coincidence with the Ukrainian crisis cannot be accidental," Kristine Vardanyan, also a deputy of Armenia's national assembly and a member of its "Armenia" bloc, told Newsweek.
She felt that, with Russian troops mired in Ukraine, Azerbaijan was looking to seize the opportunity to reignite an effort "to evict the Armenians from Artsakh by war, to deprive the Armenians of the opportunity to live in their homeland."
She referenced recent reports of the ethnic Armenian residents of Nagorno-Karabakh being cut off from utilities by Azerbaijan in addition to the more forceful measures allegedly being taken.
"This is not the only weapon that is used, terrorist tricks are used against about 120,000 people in Nagorno Karabakh every day, they are deprived of gas, electricity, and the internet," Vardanyan said. "Civilians are often fired upon, urging them to leave their homes, otherwise promising to seize them by force."
She also points to another important actor involved in the conflict. While Armenia is allied with Russia as part of the Collective Security Treaty Organization (CSTO), Azerbaijan shares a close political, cultural and military relationship with Turkey and she said Ankara "equally shares all the responsibility for what is happening."
The same Bayraktar TB2 drones being used by Ukrainian forces to target Russian convoys were previously used by Azerbaijan to take out Armenian positions with great effect. This very weapon was said to be involved in an attack Friday that killed two Armenian troops.
Since the latest conflagration, Vardanyan said "the Armenian side has more than 60 victims and dozens of wounded," marking "the most tense situation after November 9, when Azerbaijan uses heavy artillery."
Just two days before Russian President Vladimir Putin launched his nation's attack on Ukraine last month, he set out to bolster his country's relationship with Azerbaijan in a series of agreements signed with Azerbaijani counterpart Ilham Aliyev, upgrading their ties to another kind of "alliance." Baku has since taken a measured approach to the conflict and Ankara's role has proved even more influential.
While Turkish President Recep Tayyip Erdogan has sought to mediate between Kyiv and Moscow, Turkey's role in Ukraine's war represents yet another source of strained, yet complex ties between Ankara and Moscow. Turkey itself is a member of the North Atlantic Treaty Organization (NATO), a 30-state, U.S.-led alliance that is deeply involved in the Ukraine crisis, providing Kyiv with weapons and conducting a global campaign of sanctions against Moscow in response to its attack.
U.S. President Joe Biden wrapped up a four-day trip to Europe on Saturday that included meetings with fellow NATO leaders as part of a bid to unify the alliance's response to the conflict and its humanitarian consequences.
And while the summit was centered on Ukraine, Vardanyan warned the crisis there only highlighted how escalation between nations anywhere in the world could lead to catastrophe.
"Wars are disasters. They destroy states, sometimes entire nations, destabilize the region, the world in general," Vardanyan said. "Especially in the conditions of such close ties, when there are intensive communication, close cooperation in different spheres, in any part of the world, the crisis directly affects many people. We see the best example of that now in Ukraine."
"The world needs stability and predictability," she added. "There must also be stability in our region. But we must understand that this stability and peace must be based on justice."
Azerbaijan is also concerned about the potential return of turmoil to the region but sees its foes as primarily responsible for fanning the flames of war.
Azerbaijan's embassy tells Newsweek that the "concern of instability is unfortunately present due to a troika of threats: Armenian forces not withdrawing (though obliged by a trilateral agreement); Revanchism on the rise with some radical groups openly calling for aggression against Azerbaijan; Many political and military groups in Armenia try to involve outside powers on their side."
And here too a tie-in with the conflict in Ukraine and its surrounding geopolitics was established.
"Recent anti-Ukraine demonstrations by those groups in Armenia and within the Azerbaijani territories, where Russian peacekeepers are deployed express those sentiments," the embassy says.
The United States has sought to take a balanced role in the precarious situation between Armenia and Azerbaijan. Over the past week, Secretary of State Antony Blinken has spoken with Aliyev and Armenian Prime Minister Nikol Pashinyan, and State Department spokesperson Ned Price told reporters Friday that the U.S. has reiterated its position in follow-up conversations with officials of both sides as well.
The summary of the U.S. stance, according to Price, was "was calling both sides to show restraint and intensify diplomatic engagement to find comprehensive solutions to all of the outstanding issues."
"Armenia and Azerbaijan just need to use direct communication channels to immediately de-escalate," Price said.
Price added that the U.S. "remains deeply committed to working with the sides to achieve a long-term political settlement of the conflict" as a member of the Organization for Security and Cooperation in Europe (OSCE) Minsk Group, also co-chaired by France and Russia.
Putin has spoken with the Armenian premier twice in recent days and the Russian Foreign Ministry issued a statement Saturday also calling for de-escalation.
"We urge the parties to exercise restraint and ensure strict compliance with the existing trilateral agreements reached at the highest level," the Russian Foreign Ministry said.
And just as both Kyiv and Moscow have portrayed their battle as one of not only territorial dispute but of civilizations, those representing the Armenia-backed Artsakh Republic, too, see themselves as being on the front line of a larger conflict in history.
Both Russia and Ukraine have set out to portray the other as fascistic, with Putin going so far as to justify his war as part of an effort to achieve the "de-nazification" of Ukraine. The Russian leader has accused Ukraine of targeting ethnic Russians, especially in the Moscow-backed separatist states of Donetsk and Luhansk, which took up arms against Kyiv after a 2014 uprising that saw a pro-West government take power in Ukraine.
In a similar vein, Artsakh Foreign Minister David Babayan argued Azerbaijan and Turkey were channeling Nazi Germany techniques in an alleged attempt to force out ethnic Armenians from their separatist state.
Now, Babayan told Newsweek that "Azerbaijan is indeed using Russian war in Ukraine as an opportunity to maximize its goals and plans in the region" as part of a project to establish a "pan-Turkic empire."
"Besides, the Azerbaijani-Karabagh conflict is a challenge to the civilized world, too," Babayan told Newsweek. "Here we see a dilemma between values and price, ideals and interest. Artsakh was on a brink of destruction, we faced genocide and existential threats, but we have not seen appropriate international response. This is because 'price' prevails over 'values,' interest prevails over ideals.
"But this formula sooner or later, it will lead either to degradation or destruction," he added, "as the result of aggression by those whose aggression was tolerated as the result of the above-mentioned dilemma."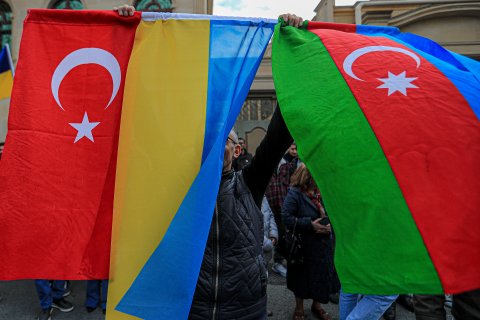 This article has been updated to include a reference to a series of agreements signed between Russia and Azerbaijan on February 22 and comments from Azerbaijan's embassy in Washington as part of additional reporting to match the print version to be featured in the April 8, 2022 edition of Newsweek Magazine.