'Warframe' Cinematic Director Dan Trachtenberg Wanted to "Honor the Source Material"
A brand new cinematic for Warframe was just unveiled at TennoCon 2019 in London, Ontario. Developer Digital Extremes wowed a live crowd of fans of the free-to-play shooter — and hundreds of thousands watching on Twitch — with a cinema quality short.
Daniel Trachtenberg, director of 10 Cloverfield Lane and the pilot for the unreleased The Boys Amazon series, co-wrote and directed the short because he was a fan of the game.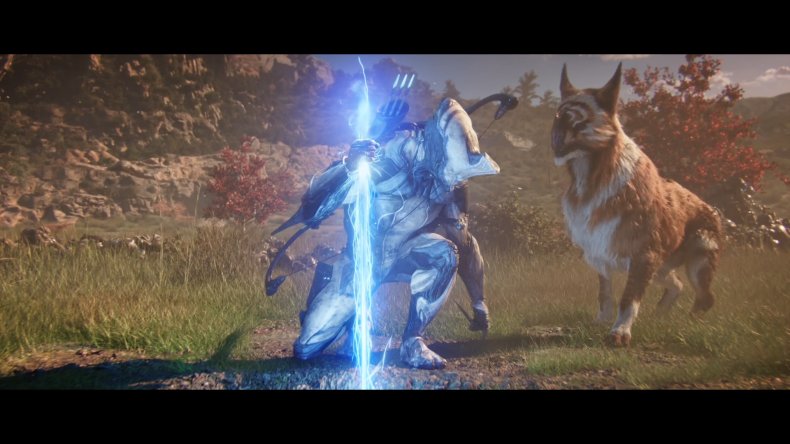 "While shooting 10 Cloverfield Lane, I brought my PlayStation 4 to feel closer to my friends," Trachtenberg told Newsweek. "We started playing and I was hooked."
With over 200 hours of experience in Warframe and a Mastery Rank (the game's progression system) of 17, Trachtenberg has put his time in. After gushing about his love for the game on Twitter, the Warframe Twitter account started following the director on the social media platform. At E3 2017, he set up a meeting with Game Director Steve Sinclair and Community Director Rebbeca Ford.
"I mentioned to them that I was trying to get friends to play with me and there was a challenging entry point and the idea of an intro came up," Trachtenberg said.
The original script contained the Warframes Ivara (because it was Trachtenberg's favorite) and Banshee "looking down the scope of a sniper rifle." After some back and forth with Digital Extremes, the script settled on using the starter Warframes Excalibur, Volt and Mag that would be the first sight new players starting to play would see.
The young girl was also added at this stage, treating her origin like a mystery. Similar to how the Jedi act in the new Star Wars trilogy, Trachtenberg wanted players to wonder "are they a myth or are they real?"
From there, the script went to storyboarding and was then brought to life with animatics. Digic Productions worked on cinematics for Riot Games' League of Legends and Bungie's Destiny 2. The company did the motion capture for the short, trying to accurately capture the feel of Excalibur slashing throats and Volt frying the mutated enemy Grineer. Trachtenberg, who was still working on The Boys pilot in Toronto, managed to find time to comb through every piece of captured footage that was sent to his DropBox.
To Trachtenberg, the process of creating a virtual cinematic was very similar to his work in movies and television, with the main difference being that you can "control every nook and cranny of the frame."
Creating assets, like sets and character models, still required time, effort and money. "It isn't totally unbridled, but you have more control and are only limited by your imagination," Trachtenberg said.
Working on nerdy properties, like The Boys and Warframe, has become a central aspect of Trachtenberg's brand. The director said he believes he "encapsulates a certain aspect of nerd culture" and is "able to decide what's something fans will want and what might not be so precious."
Directing commercials and working on the video podcast "The Totally Rad Show" from 2007 to 2012, Trachtenberg's popularity soared after directing the fan film "Portal: No Escape," based on the popular Portal video game property from Valve.
"The goal is to honor the source material and to create something for fans that might not care about it that much," Trachtenberg said. "I've observed so many great and terrible versions over the years so I've tried to learn lessons from those mistakes, though I'm sure I won't be able to avoid all of them."
Warframe is playable on PC, PlayStation 4, Xbox and Nintendo Switch.