'Warframe' Switch Hands-On: Familiar Mech Action, Now With Joy-cons
Digital Extremes has been working with Panic Button, who worked on the Nintendo Switch versions of DOOM and Wolfenstein: New Order, to develop the hybrid console's port of Warframe , set to release on Nov. 20. The game has been completely optimized for the handheld console, with the all of the traditional space ninja exploits you know and love. Your Tenno might not look as gorgeous on the Switch as they do on your monster computer, but it's similar enough to the PS4 or Xbox.
If you've played a lot of Warframe, than you know exactly what you're getting. Up to four intergalactic fighters can team up to complete missions ranging from enemy destruction to controlling the point. If you're looking for a game where you can just mindlessly mow down hundreds of nameless A.I. soldiers with Warframes like a fire-breathing dragon or a necromancer exosuit, then it's the game for you. It's still completely free-to-play; items can be earned by grinding or by paying real-world money for platinum.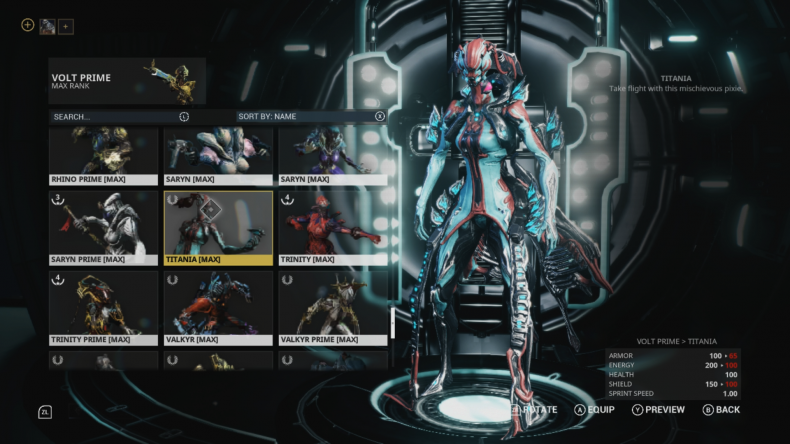 The biggest difference between the Switch version of Warframe and other versions is the inclusion of motion controls. Panic Button has implemented Joy-Con functionality in nearly all of their Switch ports; it adds an extra level of immersion to the game. For Warframe, players can activate motion controls from the settings menu. Fishing, mining, shooting and fighting can all be controlled with the flick of the wrist. If you're a fan of this sort of content, then you'll love these controls. The rest of us can just leave them off.
At launch, Warframe on Switch will be slightly behind all the other platforms in terms of updates. Fortuna, the latest update full of hoverboards, ice-planets and fishing, will come to the Switch as soon as it's ready. The developers eventually want to have the Switch version on the same update schedule as the Xbox One and PlayStation 4 versions, which they hope to get ready by 2019.
Warframe players with a PC account will be able to port their save files to the Switch for a limited time after launch. Those who play on PlayStation 4 or Xbox One will sadly not be able to access their save files on Nintendo's console. There also won't be any cross-play between platforms; Warframe has never allowed it.
On the brighter side, you won't need a Nintendo Switch Online account to play. Digital Extremes and Panic Button have been working very closely with Nintendo tomake Warframe on Switch run as smoothly as possible. Unfortunately, there will not be any Nintendo-exclusive content when the game launches. That's not to say there won't be any Fox-branded Warframes, but it seems the house that Mario built is a bit reluctant to slap their IPs on M-rated franchises. For the time being, anyway.