'Warframe': 'Operation: Plague Star' Event Details and Rewards
A new update for Warframe is launching today, ushering in the return of the popular "Operation: Plague Star" event, and a brand-new warframe for players to unlock.
What Is 'Operation: Plague Star' in 'Warframe'?
Having first debuted back in 2017, "Operation: Plague Star" cycles in and out of the constantly updated Warframe on a periodic basis. It was most recently active back in January 2020 and then went dormant for over 18 months.
The open-world event is now returning for a three-week interval, meaning that players will only have a limited amount of time to participate (and collect all the associated rewards) before it phases out of rotation once more.
In a nutshell, the "Operation: Plague Star" event tasks players with working together to defend an in-game area known as the pains of Eidolon. Here, an infested meteorite has crash-landed on the surface of the planet, and hordes of zombified enemies are pouring out of it.
The idea is that a "boil" within the vessel regrows every few months, which is what causes the event to trigger over and over again.
It is your job to protect Eidolon from the meteorite's infested swarm, by procuring a unique toxin. You will then have to follow a series of complicated steps to administer this poison into the boil to save the day.
To initiate the "Operation: Plague Star" event in the first place, you will need to talk to Konzu in the plains of Eidolon.
'Operation: Plague Star' Rewards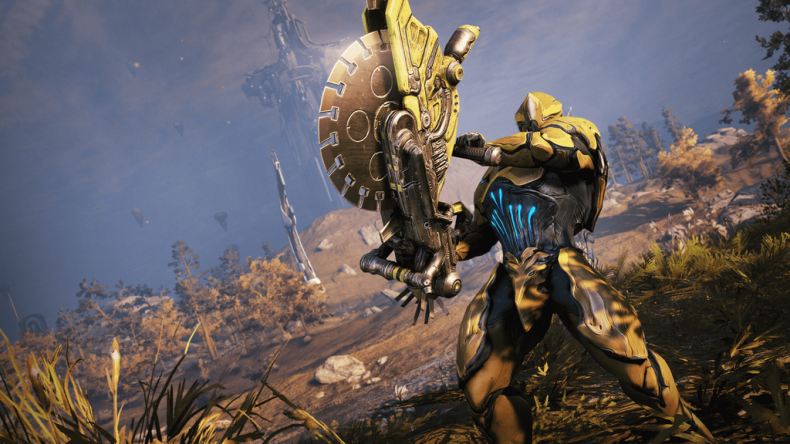 The main draw for the latest iteration of "Operation: Plague Star" is that players will be able to earn the blueprint and requisite crafting components for the Ghoulsaw.
Resembling an enormous circular power tool, this newest (and long-awaited) addition to the Warframe arsenal will enable players to rip through foes using a variety of aerial attacks, slide moves and devastating melee combos.
To entice you further, the weapon also serves as a bizarre traversal method, allowing players to ride it around the environment like a push bike.
In addition to the Ghoulsaw itself, players will be able to unlock its corresponding "Butcher's Revelry" stance through the "Operation: Plague Star" event.
Not only that, but there is also an opportunity to earn valuable relics as part the September update, which will in turn grant you access to a brand-new "Nidus Prime" warframe.
Players can unlock this armour variant (and its powered-up weapons) either by participating in "Operation: Plague Star", completing void missions or by purchasing the relevant microtransaction packs.
When Will 'Operation: Plague Star' Finish?
The "Operation: Plague Star" event will be running in Warframe from Wednesday, September 8 through to Thursday, September 30.
Newsweek has prepared a beginner's guide to Warframe for those who find all of this information a little overwhelming.
Warframe is free to download right now on, PC, PlayStation 4, PlayStation 5, Xbox One, Xbox Series S and Xbox Series X. A Nintendo Switch version was also released in 2018.