Warnock Campaign, Allies Try to Squeeze Out More Latino Voters for Runoff
For the second cycle in a row, Georgia voters need overtime to decide the winner of a critical U.S. Senate seat, with incumbent Senator Raphael Warnock facing off against Republican challenger Herschel Walker.
This time, however, Senate control does not hang in the balance as it did in 2020, when Democrats swept two races, thrusting Jon Ossoff and Warnock into the Senate.
In this year's November midterms, Democrats maintained control of the Senate after winning key races in Pennsylvania, Arizona and Nevada. But an extra Senate seat would give them important flexibility and make it less likely that Kyrsten Sinema of Arizona and Joe Manchin of West Virginia could once again hijack the party's agenda, or at least hold it for ransom.
Warnock led Walker on election day by just 37,675 votes, but a runoff was triggered when neither candidate surpassed 50% of the vote, due to a third-party candidate who amassed over 81,000 votes.
In an effort to squeeze out every possible vote, Warnock and allies are pushing to engage and turn out Latino voters, who made up 6% of the Georgia electorate in November while supporting Democrats 58% to 39%, according to exit polls.
The runoff is December, 6 and early voting began this week in several Georgia counties, and will include the Saturday after Thanksgiving, a voting day that survived a court challenge.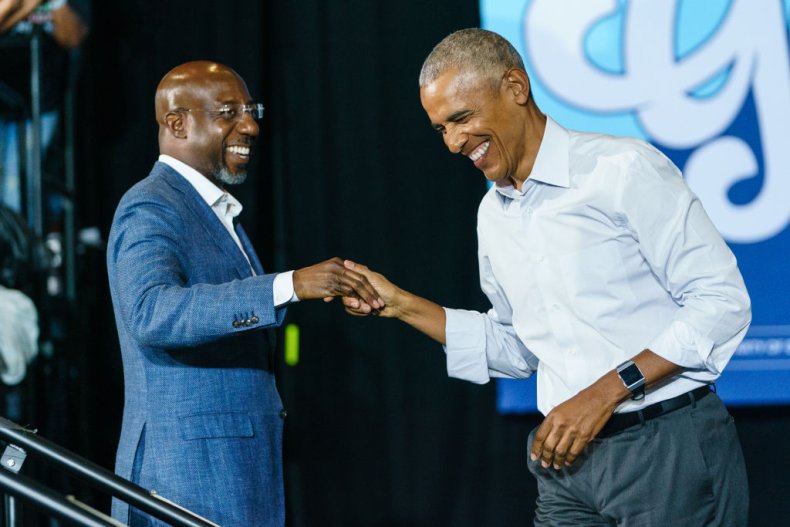 Warnock's campaign staff told Newsweek that Georgia's Latino community is a key part of his multi-racial coalition, and they touted the endorsement of CASA in Action, a respected Hispanic organization.
The campaign's paid staff and organizing efforts are focused on mobilizing over 100,000 Latino voters through outreach on their phones and at their doors, and the plan is to contact them multiple times over the course of the runoff.
The campaign said it made a combined seven-figure investment in Spanish-language direct mail, TV, newspaper, and digital ads for the general election and runoff, but would not clarify what kind of investment it would be making specifically for the runoff.
It did, however, tout a robust booking operation featuring Latino surrogates, including former congresswoman Debbie Mucarsel-Powell and Latino celebrities from Spanish-language radio and TV programs, as well as print stories discussing how to vote and the importance of Latinos voting in the runoff.
While the level of turnout in a runoff is always uncertain, Warnock may have an edge over Walker when it comes to ticket-splitting among Georgia voters.
The Senator received 1,945,929 raw votes, more than the 1,813,637 votes tallied for the high-profile gubernatorial candidate Stacey Abrams, who lost for a second consecutive time to Governor Brian Kemp. Conversely, Walker badly underperformed Kemp, receiving just 1,908,222 votes to Kemp's 2,111,510 votes.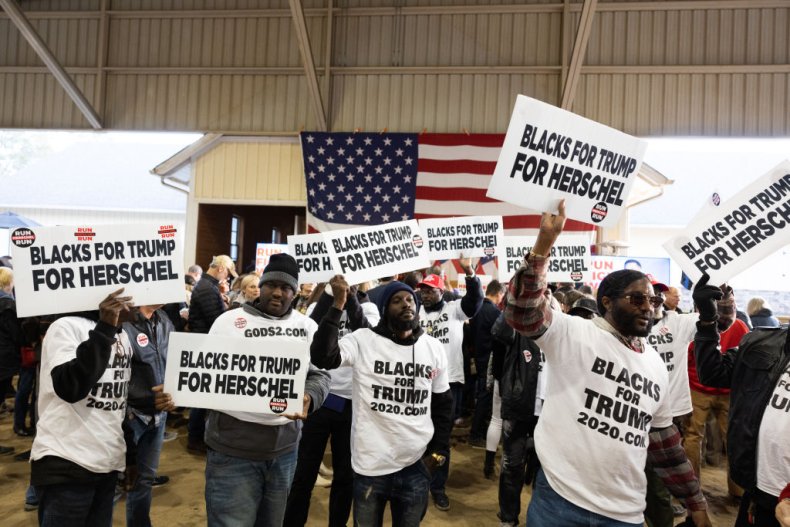 The Warnock campaign is being aided by two national Latino groups in Voto Latino and Mi Familia Vota, as well as a respected local organization, who are all working to energize Hispanics, including young Latinos.
During a Zoom call previewing the Georgia runoff, Voto Latino co-founder Maria Teresa Kumar said the largest group of Latino voters in the state was in the 18-to-29 age bracket. Asked by Newsweek to detail the scale of the investment, she said the group is raising $1 million for an effort that will include texts, digital, radio and influencers, with a universe of "175,000 voters for a Latino-focused get-out-the-vote campaign."
Mi Familia Vota is zeroing in on 10,000 doors it will hit twice in Dekalb, Gwinnett, and Cobb counties, along with 300,000 phone calls and 300,000 texts. The goal is to target progressive Latinos who may have voted in previous elections, as well as low-propensity voters.
Jesus Rubio, the Mi Familia Vota Georgia state director, said while its "Basta Walker" campaign aims to highlight the ways in which "Walker is out of step and out of line with where the majority of the community is" in the state, they also want to boost Warnock around health care, because he pushed to cap the cost of insulin and sought to incorporate more drug negotiation into the Inflation Reduction Act.
Both groups also mentioned the importance of abortion as an issue to voters, as well as casting Warnock as a "DACA ally," citing the Obama-era policy that allowed young undocumented immigrants brought to the country as children to remain in the U.S. legally and work.
Mi Familia Vota CEO Héctor Sánchez Barba, who is heading to Georgia before the runoff, told Newsweek the state has become a place where his organization now has year-round efforts that go beyond elections to build leadership advocacy efforts and focus on Latino youth.
After election deniers lost across the country, Sánchez Barba said Georgia is another place his organization is putting a stake in the ground to declare that "MAGA extremists have no place in our democracy."
Walker has courted controversy throughout the Senate race, stating that he never heard Trump question the 2020 election, defending his use of an "honorary" police badge which he pulled out during a debate with Warnock, and for saying he wants to ban abortion in all cases, despite reports that in 2009 he paid for his then-girlfriend to get an abortion.
The GALEO Impact Fund, a group with a long history of working with Latinos in Georgia, is door-knocking in targeted counties with robust Latino populations, including Gwinnett, Cobb, Dekalb, Hall and Whitfield counties.
"I still continue to think Walker is an embarrassment," Jerry Gonzalez, the group's founder and CEO, told Newsweek. He said his group is doing everything it can to help elect Senator Warnock, because Walker "doesn't approach his level of experience or trustworthiness to be a senator."
GALEO is also bringing cultural competency to its door visits, releasing a Loteria game card featuring Warnock that says EL PASTOR, for the pastor the group believes is respected in Hispanic households.
"We do have some digital ads coming out and some video with the theme of Loteria, because many families will be playing during Thanksgiving," Gonzalez said, of the game sometimes referred to as Mexican bingo.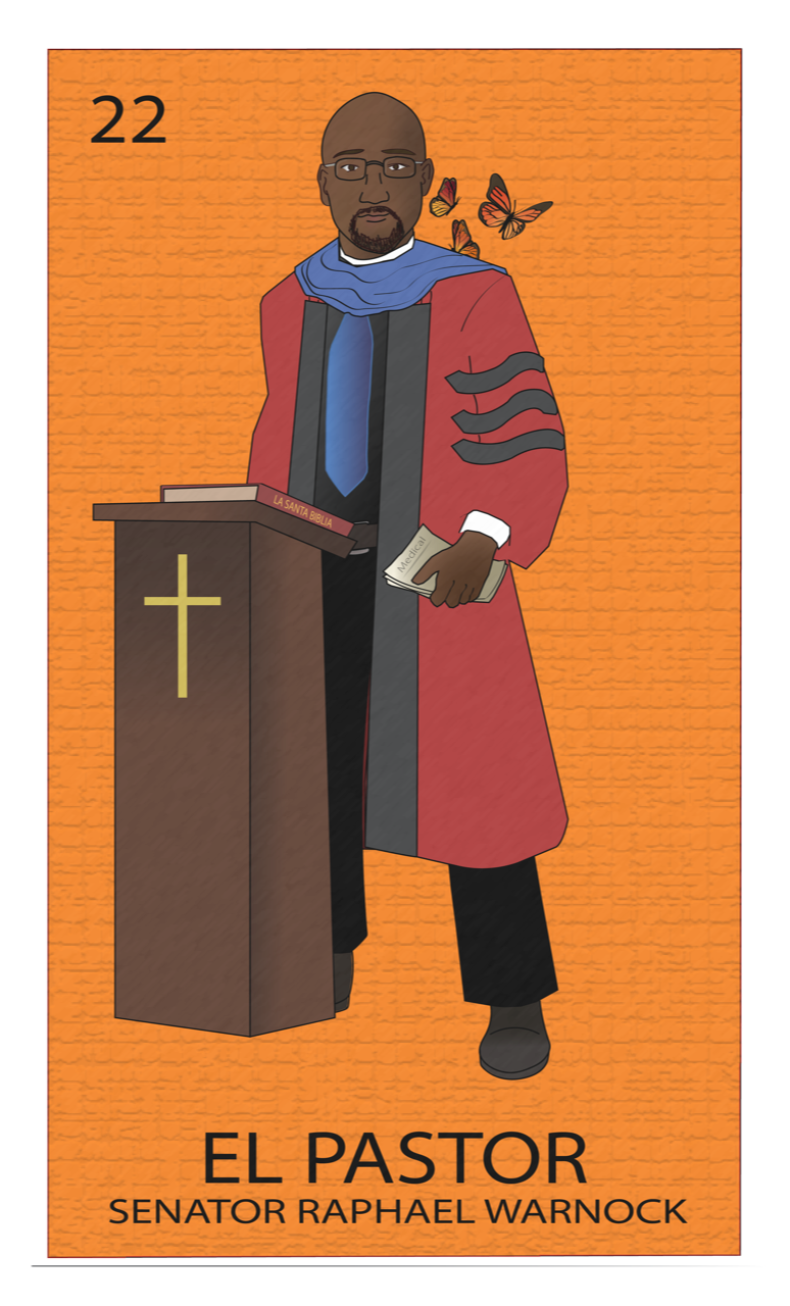 Republicans are working to elect Walker, but do not appear to be offering him a similarly robust level of support.
The National Republican Senatorial Committee's Hispanic press secretary Juan Arias told Newsweek that they have 15 full-time staffers assisting with Hispanic GOTV efforts in the state and their "Operación ¡Vamos!" is committed to helping Walker have a big win on December 6.
The LIBRE Initiative Action, a conservative grassroots group that is active in key battleground states, told Newsweek it is engaging Hispanics on the Georgia runoff with a "laser-focused economic contrast between the candidates on jobs and the economy" and why they believe Warnock does not hold the right policy positions to take the community on the best economic path forward.
Experts say the razor-thin general election margin ensures Hispanics can play a critical role in the runoff, which is just two weeks away.
"With Latinos making up 6% of the Georgia electorate in an election that is going to come down to the smallest of margins, they absolutely are going to be the decisive vote this cycle," Kristian Ramos, a Democratic consultant and Latino vote expert in Washington, told Newsweek.
"We know from the past they are anti-MAGA," he added, "but we have to make sure they are aware how extreme Walker is."
Correction 11/23/2022@ 12:25 ET: This article was updated to indicate that early voting began this week in several Georgia counties.