Warnock Has Spent 38 Times More on Facebook Ads Than Kelly Loeffler in Georgia Runoff
As Republicans dominate the airwaves in Georgia, Democratic Senate candidates Jon Ossoff and Raphael Warnock are outspending their Republican opponents in Facebook ads with just two weeks until the two runoff elections.
Facebook lifted its post-election ban on political ads last week, and the four Senate candidates wasted no time reaching out to voters. However, they've elected to spend vastly different sums of money, with Senator Kelly Loeffler spending about $3,360 as of Saturday and Warnock spending $128,557.
Of the four candidates, Ossoff is the second-highest spender with regard to Facebook ads, spending $87,707 between Wednesday and Saturday, according to the Facebook Ad Library. Ossoff's spending is about $17,000 higher than the Republican he's trying to unseat, Senator David Perdue, who has put up $70,281 into Facebook ads.
The gap between the Democratic and Republican candidates in Facebook ad spending widens when looking at how much they may be spending as of Tuesday. When designing a Facebook ad, candidates can choose a range of how much they're willing to spend and then are charged based on the number of impressions an ad receives during a designated time frame.
Warnock's spending on his active ads could cost more than $430,000, and Ossoff may spend upward of $114,000, according to the Ad Library. Compared with the Democratic candidates' strong push on Facebook, Loeffler and Perdue are looking at paying up to $5,600 and $3,999, respectively, for their current ads.
Although Facebook lifted its political ad ban, there are conditions as to what can be advertised and whom can be targeted. The social media giant announced it would reject any ads that target people outside of Georgia or are not directly related to the runoff elections.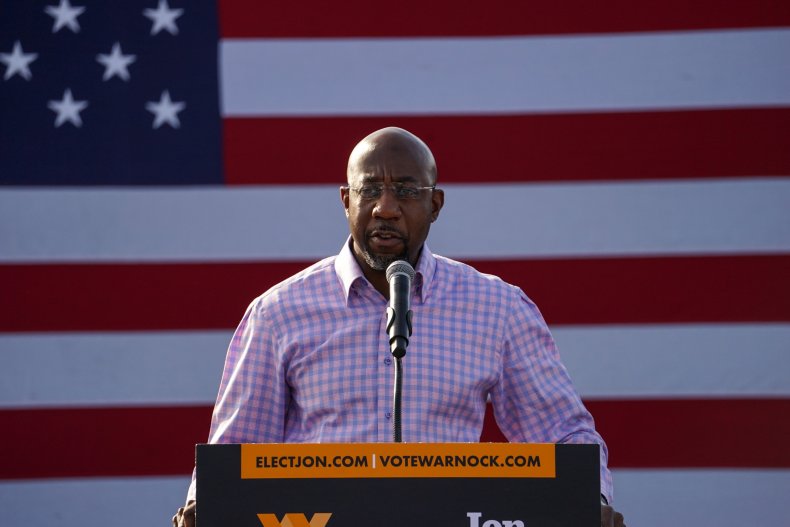 As Democratic candidates outspend their opponents on Facebook ads in Georgia, the GOP has an advertising advantage when it comes to connecting with voters via television. GOP super PACs have spent $56 million more on TV spending, Politico reported.
"We are taking nothing for granted to ensure every Georgia voter understands the monumental consequences of this election," Steven Law, president of the Senate Leadership Fund, told Politico. "Saving America by defeating socialism in Georgia will be worth every cent."
Runoff elections rarely get the kind of attention that's on the two Georgia races right now, but both parties have a great interest in the outcome of the January 5 contests. If Loeffler and Perdue secure a win, Republicans will maintain control of the Senate, albeit by a slim majority of 52 seats to 48.
However, if Warnock and Ossoff are able to oust the Republican incumbents from office, the result will be a 50-50 split in the Senate. But the Democrats will effectively have control because in the event of a tie vote, Vice President-elect Kamala Harris, as the president of the Senate, will break it.
Having Democratic control of both chambers of Congress will be a huge advantage for President-elect Joe Biden as he enters office. He's campaigned for the Democratic candidates in Georgia, pushing people to cast ballots as if their lives "depend on it." Biden has encouraged voters to support the Democrats because having Ossoff and Warnock in office will help move economic relief measures, as well as other legislation, through Congress.
Vice President Mike Pence has also gone to the Peach State to help get voters excited about the upcoming elections. He urged people to not let their disappointment over the outcome of the general election dissuade them from casting their ballots in the runoffs. Sending Loeffler and Perdue back to Washington is vital, Pence said, to counteracting the agenda coming from the "radical left."
"A Republican Senate majority could be the last line of defense to preserve all that we've done for our country," Pence said. "If you don't vote, there could be nothing to stop [Senator] Chuck Schumer and [Speaker] Nancy Pelosi from advancing their radical left agenda."
Loeffler is also focused on the fight against the "radical left" and a "socialist takeover" in her messaging to voters, with nearly all of her ads using one of those two key terms.
In November, Loeffler trailed Warnock by 7 points, and she was ahead of Representative Doug Collins, another Republican who was on the ballot, by that same figure. This time around, Collins won't be an option for voters, so it's possible Loeffler could garner votes from his supporters, although polls indicate it'll be a close race.
Perdue eked out a win in November, besting Ossoff by only 1.8 points, but he fell just shy of the 50 percent vote threshold needed to win. Polls indicate he's headed for an equally or more competitive race in the runoff. Although there is only limited data, what is available indicates that the Republicans' historical advantage in Georgia runoff elections may not apply this time.