In Georgia Senate Runoff, Loeffler and Warnock Battle over Health Care
Democrat Reverend Raphael Warnock and GOP Senator Kelly Loeffler have clashed over health care policies as they continue to battle it out in the Georgia runoff.
Incumbent Loeffler unveiled a new policy framework on Friday, in which she pledged to "modernize" health care and attacked the left for trying to "socialize medicine", before reiterating this stance in a tweet on Sunday.
But Warnock, who is seeking to flip the seat blue, soon responded by telling CNN that Loeffler's policies could leave hundreds of thousands if not millions without health care.
It comes after Republicans launched a series of aggressive attacks on the Democrat last week, releasing several adverts portraying him as an anti-law enforcement Marxist.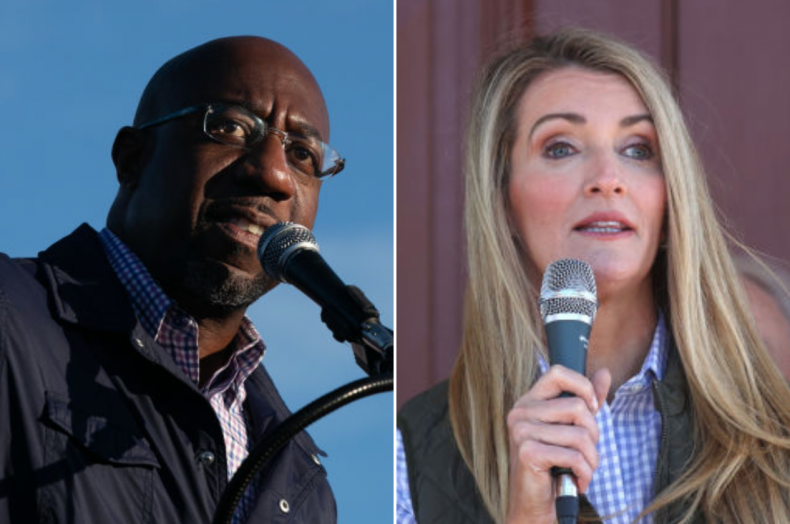 Their runoff—one of two in the state—will help to determine Senate control and either secure or diminish Democrat President-elect Joe Biden's ability to get things done as he enters the White House.
Republicans have 50 seats going into the next Congress and Democrats have 48, meaning the latter must win both of the January 5 runoffs in Georgia to have a shot of controlling the upper chamber next year.
Loeffler currently leads the race with 49 percent to Warnock's 48 percent, according to polling data from FiveThirtyEight.
What Kelly Loeffler said
Loeffler summed up her stance towards health care in a Tweet on Sunday.
She said: "We should cover pre-existing conditions. We should lower health care costs. We should give patients more options. We should NOT socialize medicine — and I will NEVER let that happen."
The incumbent senator also shared a report from Town Hall, which outlined the key points she made in her health care framework.
"The Left wants to socialize our nation's health care, turning it into a government-run system that would limit choice, lower the quality of care and take away private health insurance from roughly 180 million Americans.
"Throughout the pandemic, I have advocated for a patient-centered approach to health care and greater telehealth services and fought against increasing drug prices and a socialist health system, and this plan will continue to build on those efforts."
What Reverend Raphael Warnock said
On the other hand, Warnock, who supports the Affordable Care Act (ACA) and a government-run public option, shared an interview on Twitter a few hours later, saying that Georgians with pre-existing conditions could lose their access to health care if Loeffler wins the seat.
Warnock said: "I'll tell you what's on the ballot, health care is on the ballot, access to affordable health care. We've got 500,000 Georgians in the Medicaid gap. We've got 1.8 million Georgians with pre-existing conditions.
"If Kelly Leoffler has her way then people who have asthma, people who have hypertension, diabetes—these are folks in my family, they're my church, folks who are survivors of cancer—may find themselves without health care.
"And that's what this race is about and that is why I will contain a lift up even as I move across the great state of Georgia.
"People are responding to that message and that's why we're in such a strong position."
Among his health care policies, Warnock has pledged to listen to experts on the coronavirus pandemic, protecting and improving the ACA, defending protections for pre-existing conditions, providing comprehensive access to reproductive and mental health services and encouraging Medicaid expansion.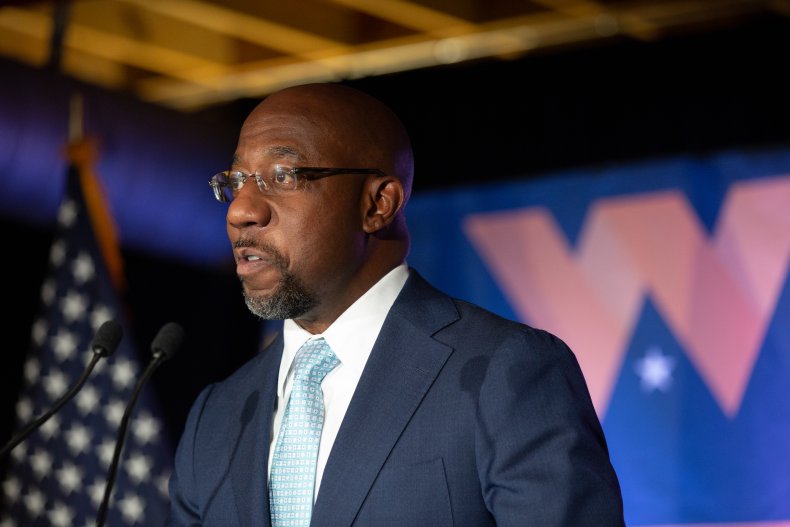 Warnock v. Loeffler runoff heats up
The latest clash comes after the GOP tried to frame Warnock as an anti-law enforcement Marxist last week.
Loeffler sunk over a million dollars on two new attack ads against her Democratic opponent, portraying Warnock, who has led Martin Luther King Jr.'s historic church in Atlanta for 15 years, as an "anti-American" component of the "radical left."
The first Loeffler attack ad against Warnock, released Thursday, resurfaced the Democrat's defense of the controversial Reverend Jeremiah Wright in 2008. The second ad insisted that "the radical left" would control the Senate if Warnock is elected and included images of "defund the police" and mobs of people.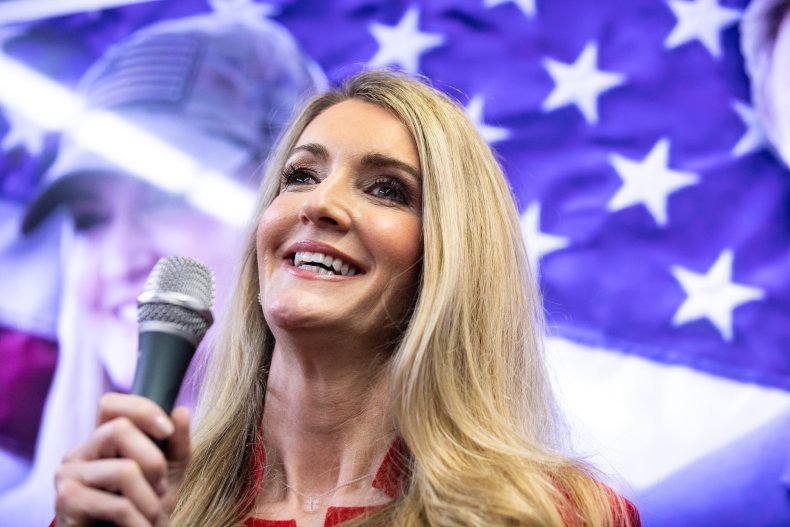 Warnock called the attacks "misleading" in a Friday CNN interview and vowed not to "allow himself to be distracted by Kelly Loeffler." The Democrat accused Loeffler of trying to deflect attention from her opposition to the ACA and welcoming support among "bigots."
"If you don't really have an agenda for working families, I guess you have to distract working families," Warnock said this week.
"I intend to stay focused on making sure that every Georgian has access to affordable health care, that workers share in some of the profits that they're creating and that they are able to retire with dignity."