Elizabeth Warren Unscathed After Bruising Fourth Democratic Debate, Survey Finds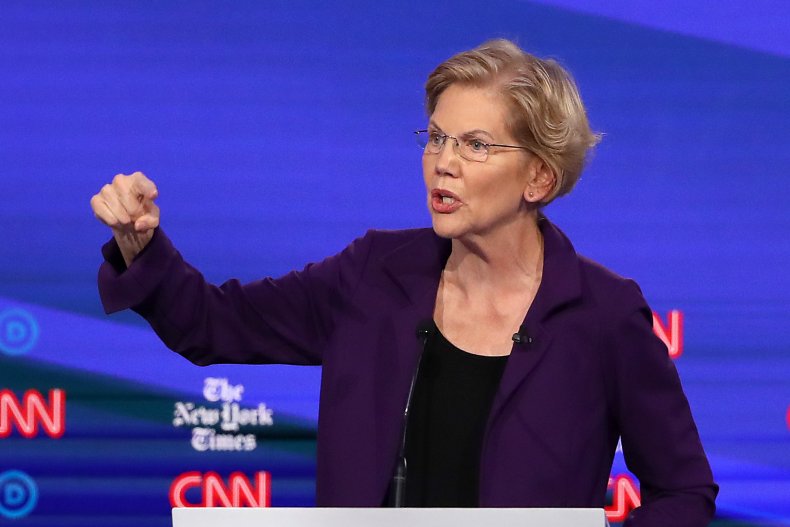 Despite pointed barbs from fellow candidates during the fourth Democratic debate in Westerville, Ohio, Senator Elizabeth Warren seems to have emerged unscathed, according to a new Morning Consult survey.
The Massachusetts senator came under attack from the other 2020 aspirants on a crowded stage after reports showed her rising to the top of several primary polls since the last primary debate in September.
Morning Consult found that support for Warren among Democratic voters remained unchanged after Tuesday's debate. Although former Vice President Joe Biden, who used to be the lodestone for marginal candidates' potshots, still remained atop the roster at 31 percent. Warren currently stands at 21 percent, followed by Senator Bernie Sanders at 18 percent.
On Tuesday, Warren faced shots from multiple candidates seeking to challenge her unabashedly progressive approach to health care and outspoken position within the field. South Bend, Indiana, Mayor Pete Buttigieg tried to press her about whether taxes would increase for the average American under a Medicare for All system, which she supports. He called her evasive response to moderator Marc Lacey's prompt a "yes-or-no question that didn't get a yes-or-no answer."
"Look, this is why people here in the Midwest are so frustrated with Washington in general and Capitol Hill in particular," Buttigieg said. "Your signature, Senator, is to have a plan for everything, except this."
Minnesota Senator Amy Klobuchar took pains to invoke Warren in various disagreements, including whether Warren's wealth tax proposal should be the gold standard for progressive economic policy.
"I want to give a reality check here to Elizabeth, because no one on this stage wants to protect billionaires," Klobuchar fired off, responding to the insinuation that other candidates' economic policies were not sufficiently progressive. "Not even the billionaire wants to protect billionaires. We just have different approaches. Your idea is not the only idea."
Morning Consult has also shown that earlier debates more strongly influenced primary voters than the more recent displays. After the first debate in June, there were large swings in support for Senator Kamala Harris and Biden after a confrontation between the two went viral. Biden lost around five points in a subsequent survey, and Harris gained around six.
The following debate in July produced some additional volatility, with Harris sinking a few points and Warren gaining a couple herself. But each subsequent debate has not moved the needle in terms of support for the top candidates as much as prior matchups.
Despite Warren's apparent strength in overcoming multiple broadsides during Tuesday's performance, those who sought to leverage her position to raise their own stock may have earned tangible gains.
A FiveThirtyEight post-debate tracking poll found that Klobuchar and Buttigieg both outperformed the expectations of primary voters and expanded their theoretical bases of support more than anyone else in the crowded field.
The day-after Morning Consult survey has a margin of error of two points. While it provides good initial insight into the thinking of voters after the debate, the ultimate impact of Tuesday's performances does not necessarily trickle through the electorate as quickly.
Elizabeth Warren Unscathed After Bruising Fourth Democratic Debate, Survey Finds | Politics