New Poll Puts Biden Ahead of Warren as Democratic Front-Runner, Largely Because of One Key Demographic
Former Vice President Joe Biden and Senator Elizabeth Warren are fast pulling away from the rest of the 2020 primary field, a new NBC News/Wall Street Journal poll has found.
According to the survey, conducted in the days after the Democratic Party's third primary debates in Houston, Texas, Biden is leading the pack with 31 percent support among Democrats, and Warren is on his coattails at 25 percent. This represents a major realignment in support among the party's top contenders since the campaign began in earnest earlier this year.
Independent Senator Bernie Sanders now stands at just 14 percent, in third place, followed by South Bend, Indiana, Mayor Pete Buttigieg, who accrued just half of the support Sanders earned from the party's base.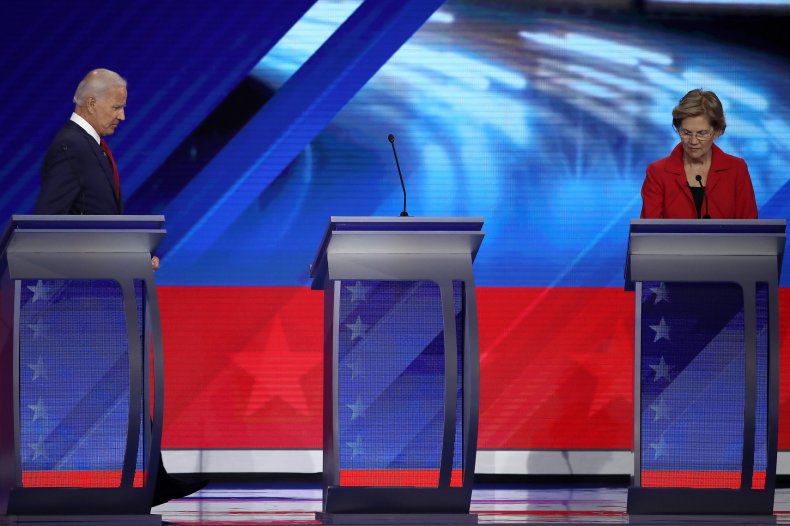 Just months ago, Biden was in a tier of his own, well ahead of the second-place slot, which, at the time, was comfortably held by Sanders. But several debates and town halls later, Warren appears to have overshot Sanders' placement and is quickly approaching Biden's formerly insurmountable lead.
Biden has retrenched his place as the party's most likely 2020 nominee despite a series of gaffes that have led media critics to wonder whether the Democratic electorate is largely forgiving of his campaign blunders or if the media frenzy created in their wake is not generally being consumed by the average voter.
As Warren's star rises within the party, her favorability among black voters may continue to present a constraint on her future growth, according to Tuesday's survey. White Democrats actually prefer Warren to Biden by an incredibly thin margin, while black primary voters overwhelmingly prefer Biden, at 49 percent to Warren's 13 percent.
African Americans made up 27 percent of the Democratic primary electorate in 2016, according to Public Opinion Strategies, a public opinion research firm. And black voters are widely seen as a gateway to the nomination through the all-important primary state of South Carolina.
In a nod to Warren's potential for ascension within the party's 2020 roster, the Massachusetts senator continues to hold the lead in "enthusiasm" among primary voters — 35 percent are enthused about her candidacy, compared with 23 percent for Biden.
What's most notable, perhaps, about the way the primary lineup has shifted in recent months is the descent of Senator Kamala Harris, whose breakout performance during the party's first debates thrust her into the top of the pack, often in the same tier as Warren and Sanders. Now Harris sits at just 5 percent, two points below Buttigieg, the party's fourth-highest-ranking competitor.