Warren Buffett Appears to Blame Donald Trump After Berskhire Hathaway Posts Worst Annual Profit Since 2001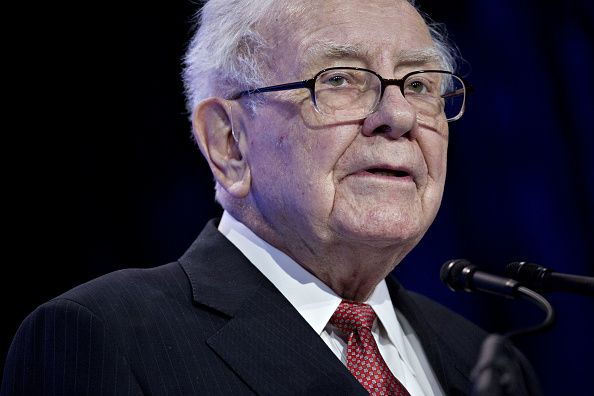 Berkshire Hathaway Inc. reported its lowest annual profit since 2001 and billionaire investor Warren Buffett seems to be putting some of the blame on President Donald Trump.
Buffett appeared to put the president on blast in his annual letter to Berkshire Hathaway shareholders on Saturday. While he never mentioned Trump by name, he seemingly chastised the president for boasting about his role in the country's economic success.
"It is beyond arrogance for American businesses or individuals to boast they they have 'done it alone,'" Buffett wrote. "The tidy rows of simple white crosses at Normandy should shame those who make such claims."
Trump has repeatedly taken credit for creating new jobs and turning out record-low unemployment numbers, bragging on Twitter that his economy is the "best ever." In fall 2018 Trump slammed former President Barack Obama for suggesting that the country's economic upturn began during his administration.
"Had I not won, we would have been in negative — we wouldn't be at 4.2 percent. We would have been in negative numbers. We were going down. We were low, and we were headed down," Trump said during a rally last September.
Warren also seemed to criticize the president for slamming the success of international markets like China.
"There are also many other countries around the world that have bright futures. About that, we should rejoice: Americans will be both more prosperous and safer if all nations thrive. At Berkshire, we hope to invest significant sums across borders," he wrote.
Warren's letter documented how falling stock prices and mounting troubles from Berkshire's holdings in Kraft Heinz caused in a $25.39 billion fourth quarter loss, which resulted in the company having its lowest yearly profit in almost two decades.
The 88-year-old business tycoon also lamented the fact that current market conditions are making it difficult for Berkshire to acquire big companies, writing that "prices are sky-high for businesses possessing decent long-term prospects."
He also said he is on the lookout for an "elephant-sized acquisition" in 2019. He added that "just writing about the possibility of a huge purchase has caused my pulse rate to soar."
Amid growing anxiety about the growing federal deficit (estimated to approach $1 trillion this year), Warren encouraged shareholders to continue to invest in the economy through the stock market.
In closing, Warren gave credit to the "American Tailwind," writing: "We are lucky - gloriously lucky - to have that force at our back."