Warren Buffett's Animated Series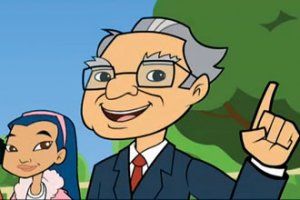 When capitalists of every stripe descended on Omaha for the Berkshire Hathaway annual meeting, shareholders were treated to the premiere of Warren Buffett's long-gestating animated series for kids, Secret Millionaires Club. In it, a multicultural trio of wealthy kids—Elena, Jones, and Radley—hang out with the Oracle of Omaha in an underground lair, talking strategy on earning and saving money.
Kids might not mind cartoons about sterile subjects (the Disney Channel has a 'toon set on a British sheep farm, after all), but a half-hour econ lesson might be a slog at any age. Secret Millionaires Club is a fun and well-executed series, produced in bite-size chunks to be watched on the Web. The first installment barely cracks the five-minute mark and in that time relays a basic business concept—it's all about location, location, location. Elena's friend Brittany isn't getting much business at her lemonade stand. The team does a sort of case study and concludes that putting the stand in an alley wasn't a great idea. It's an easily applied microlesson that kids can retain, and Buffett, whose 2-D avatar is quite the silver fox, applies the message to non–lemonade sellers, too. "When you're in a classroom, it's best to sit in a place where you can listen to the teacher," he says. (We should add that Buffett sits on the board of directors of The Washington Post Company, NEWSWEEK's parent.)
Though the ideas are mostly solid, SMC may run into the same problem that hinders all educational animation targeting older kids. School is for learning; cartoons are for zoning out. And then there's Buffett's title. Who wants to be a "secret millionaire"? As a kid, I watched Silver Spoons and Diff'rent Strokes, and while they didn't teach me where to put a lemonade stand, they did show how awesome it is to be rich. Kids want to be secret agents, secret superheroes, perhaps, but secret millionaires? That sounds like pure Buffett fantasy to me.