Warren G. Harding Was a Much Better Erotic Letter-Writer Than President
On a 2011 trip to the Warren G. Harding Home in Marion, OH, halfway through a summer-long research venture on presidential historic sites, I learned more than anyone needs to know about our 29th president. I learned about his newspaper career with the Marion Daily Star, about the porch from which he campaigned successfully for the presidency in 1920, about the "death clock" that supposedly stopped ticking in the house precisely 50 years after Harding's death.
But I learned nothing about the expansive collection of erotic—okay, fine: steamy—love letters a very married President Harding wrote to his longtime mistress, Carrie Fulton Phillips, in the ten years before he was elected president in 1920.
That's not an accident. The correspondences, newly excerpted by The New York Times Magazine, were sealed up by the Library of Congress in 1964 as part of an agreement between Harding's family and the historian Francis Russell, who had uncovered them. That agreement was in effect for 50 years—and now it has expired.
But Sherry Hall, site manager for the Harding home, says the former president's adulterous relationship with Phillips, who was the wife of one of his closest friends, has never been much of a secret—even in Marion.
"What we try to do here at the site is give people the most accurate information we can," Hall said in a phone conversation Tuesday. "It's a known fact. It's not a new story here. I know it is for the rest of the nation, but it's not for us."
Hall said the affair was a popular gossip item in Marion when he was alive. "He was a human being like anyone else," she said. "It's nothing that anybody tries to hide or anything. It's part of the fabric of his life."
What is a new story, then, is the particularly juicy nature of Harding's letters to his beloved: They are indecent, explicit and astoundingly erotic. "I love your poise / Of perfect thighs / When they hold me / In paradise," the Ohioan rhymes in one pining missive. "Wouldn't you like to make the suspected occupant of the next room jealous of the joys he could not know?" he teases in another.
It gets racier. High school students will have learned of the Teapot Dome scandal in their AP American history courses (Harding's administration is widely considered one of history's most corrupt), but they will not have been informed of Harding's nickname for his penis—Jerry. Nor will they have sampled the long-dead president's dirtiest thoughts.
"Wish I could take you to Mount Jerry," he mused to Phillips in 1919. "Wonderful spot." But didn't she already know that?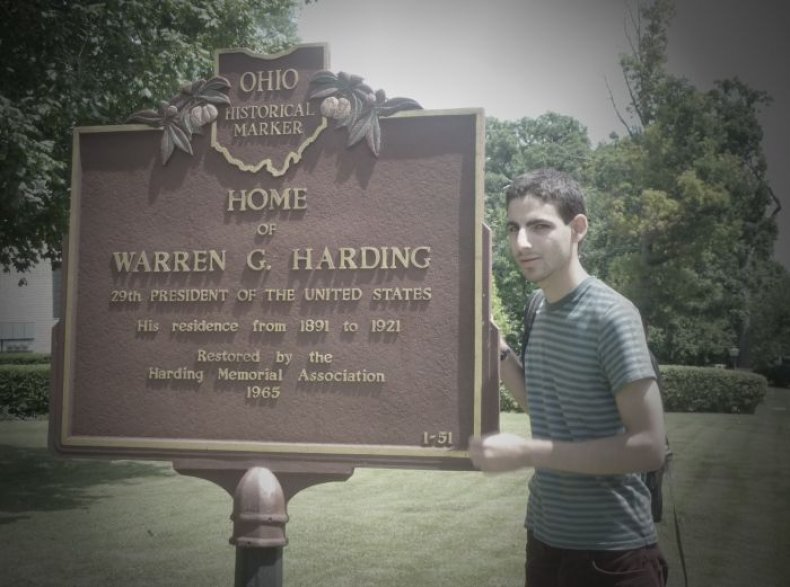 "When I first started reading, it was almost embarrassing—I felt like a voyeur," said Jim Robenalt, who published a book about the relationship, The Harding Affair: Love and Espionage During the Great War, in 2009 and so had an early glimpse at the correspondence. "After a while I realized that these two had a very open, love-of-his-life, 15-year relationship. This was no Monica Lewinsky."
It helps that Robenalt sought historical value in the letters beyond Harding's raging libido. Most controversially, he makes the case that Phillips was a spy. She made no secret of her pro-German sympathies during World War I, during which time she and her husband attracted FBI attention.
More broadly, Robenalt investigated whether the clandestine pairing changed the course of world history. "And I think there's a case that it did," he said, "because she persuaded him not to run for president in 1916." That was the year Woodrow Wilson sought, and narrowly won, reelection on the slogan "He kept us out of the war."
"It's a world-changing event," Robenalt added.
In due time, Harding, a Republican, would rise to the top office and put a halt to the progressive impulse of the Roosevelt and Wilson era. His was a corrupt and arguably incompetent administration, and though it ended prematurely when he died of an apparent heart attack in 1923, he is frequently ranked among the worst American presidencies.
Might he then have been better served by steering clear of politics altogether and pursuing the writerly instinct he showed early in life, when he entered journalism?
"He was a person who expressed himself through his writing," Hall said. "He always did. He was a newspaper man."
She added, "It doesn't surprise me that he would put his most uninhibited, private thoughts in words. That's very much in his character."