Warren, Buttigieg, Klobuchar See Largest Gains After Democratic Debate: Survey
Following the fourth Democratic presidential debates in Westerville, Ohio, on Tuesday, Senators Elizabeth Warren and Amy Klobuchar and South Bend, Indiana, Mayor Pete Buttigieg appear to have reaped much of the initial political gains, according to an analysis from FiveThirtyEight.
FiveThirtyEight, the political data crunching organization, partnered with Ipsos to conduct a Democratic focus group-style tracking survey of the debate performances. Primary voters reported that Warren delivered the most effective debate performance, followed by a near tie for second place between Buttigieg and Sanders.
While Warren was seen more favorably by these same voters even before the debate began, the survey measured the candidates' performances relative to their pre-debate popularity. Warren surpassed what would be considered statistically expected of her, given her favorability ratings leading in to Tuesday's event.
On the other hand, former Vice President Joe Biden, a favorite to win the nomination, performed comparatively poorly considering his second-place favorability status. Senator Bernie Sanders slightly outpaced his expected performance, the survey found.
But among the lower-tier candidates, Klobuchar and Buttigieg performed significantly ahead of expectations. Although Klobuchar managed to eke out a relatively successful performance, she was still ranked as having made a "somewhat bad" showing overall.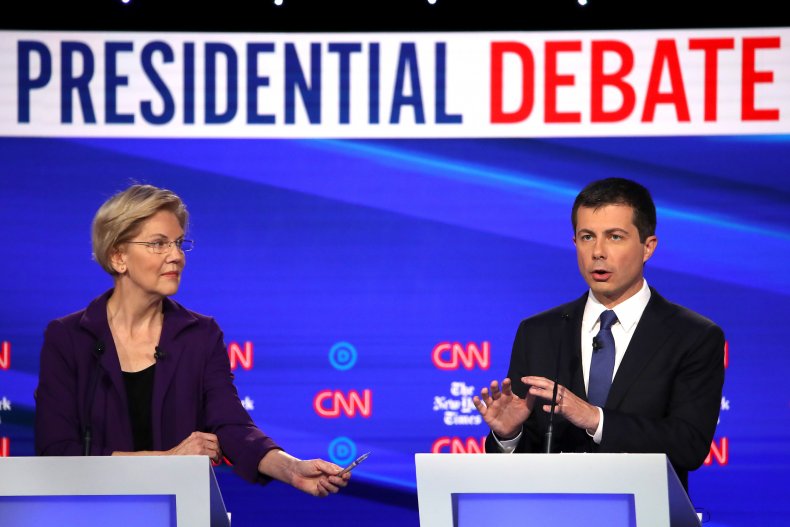 Despite Biden's lower favorability, he still tops the list of candidates for whom voters are considering casting their ballot. Fifty-seven percent in the survey said they would consider voting for him following the debate, compared with 52 percent for Warren.
Buttigieg and Klobuchar, who earned consideration from 25 percent and 10 percent of the focus group after the debate, respectively, demonstrated the most significant gains. This represents an increase in support by 22 percent for Buttigieg and 55 percent for Klobuchar.
The South Bend, Indiana, Mayor staked out perhaps his most distinct strategy during the debate by instigating several confrontations with Warren. Klobuchar, too, appeared to enjoy drawing contrasts with Warren, who was generally treated as the front-runner by the other candidates.
After Warren evaded a direct question about taxation related to a Medicare for All system, Buttigieg seized on the moment, proclaiming to the audience that "we heard it tonight."
"A yes-or-no question that didn't get a yes-or-no answer," he said. "Look, this is why people here in the Midwest are so frustrated with Washington in general and Capitol Hill in particular. Your signature, senator, is to have a plan for everything, except this."
For her part, Klobuchar criticized those who find fault with her more moderate approach to healthcare reform, which consists of strengthening the Affordable Care Act and implementing a public option. She expressed her frustration with those who seek to cast her views as Republican talking points, and wielded that criticism against Warren's support for Medicare for All.
"You are making Republican talking points right now in this room," she fired off at Warren. "I think there is a better way that is bold, that will cover more people."
The contentious approaches taken by Buttigieg and Klobuchar, by far the most confrontational on the stage, appear to have paid off, at least initially, according to FiveThirtyEight. The pair secured net gains in consideration from primary voters and grew their favorability ratings well enough to offset much more modest gains in unfavorability.
Warren, Buttigieg, Klobuchar See Largest Gains After Democratic Debate: Survey | Politics