Warren Leads Democratic Primary Field by 8 Points in California as Biden Drops to Third: Poll
Senator Elizabeth Warren is leading the Democratic primary field by eight points in California, according to a new poll released Monday.
The new survey, conducted by Political Data, Inc. on behalf of Capitol Weekly, shows Warren leading the field by eight points with 29 percent among those likely to vote in the March primary election. Senator Bernie Sanders and former Vice President Joe Biden trailed behind in second and third place, garnering 21 percent and 18 percent respectively.
Senator Kamala Harris came in fourth place with 11 percent. She was the only other candidate to poll in the double digits, but her position shows her slumping in her own home state.
South Bend Mayor Pete Buttigieg followed behind with seven percent, while former entrepreneur Andrew Yang received 4 percent of votes in the state.
Hawaii congresswoman Tulsi Gabbard and former Texas congressman Beto O'Rourke were the only other candidates to poll above one percent, with both garnering two percent.
Warren also came out on top in follow-up questions about second choices, which candidates voters are interested in learning more about and who voters would back if electability wasn't a concern.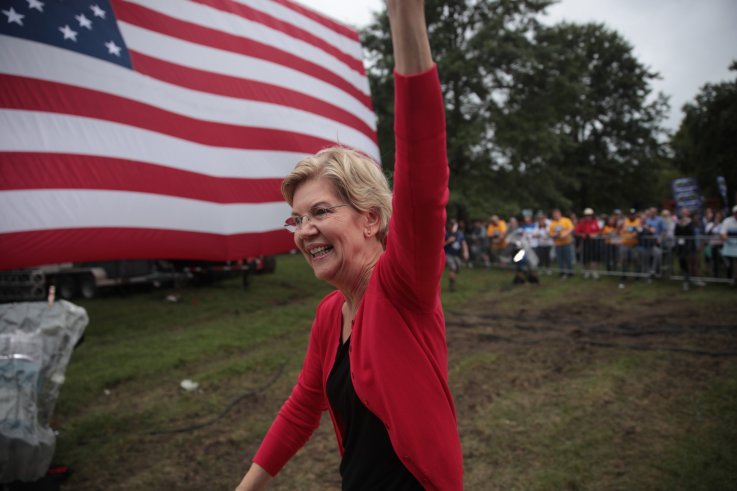 The poll surveyed 599 Democratic, minor party and independent voters who are likely to participate in the March primary between September 1 and 13. Unlike previous surveys, this poll was weighted. Of those surveyed, 77 percent were Democratic, while the remaining 23 percent consisted of primary qualified independent and minor party voters.
Warren has experienced a series of favorable polls in recent weeks as she continues her steady rise to the top of the Democratic primary field. In the latest Des Moines Register/CNN/Mediacom Iowa poll released this weekend, Warren surged ahead of Biden by two percentage points with 22 percent of likely Democratic voters pointing to her as their choice to receive the 2020 Democratic nomination.
Biden narrowly fell behind with 20 percent, while Sanders slipped to 11 percent in Iowa. No other candidates polled in the double digits.
The Iowa 2020 Caucus, which will take place on February 3, 2020, is the first nominating contest in the U.S. presidential primary process.
As Warren's profile continues to grow, she's attracted more attention from Biden, who criticized her Medicare for All plan on Friday. "It's going to cost a lot of money and she's going to raise people's taxes doing it," the former vice president told voters in Cedar Rapids in Iowa.
Warren Leads Democratic Primary Field by 8 Points in California as Biden Drops to Third: Poll | Politics