A strong majority of Senator Elizabeth Warren's own constituents did not think she should run for the White House in the 2020 presidential election, according to results of a new poll released Thursday. The results could be telling for Warren and Democrats as voters prepare to head to the polls for the fall's midterm elections in less than two months.
Fifty-eight percent of "likely" Massachusetts voters said they believed Warren should not run for the highest office in the land with only 32 percent supporting a potential Warren run the Suffolk University Political Research Center/Boston Globe poll showed.
Instead, the poll showed Massachusetts voters somewhat preferred former governor Deval Patrick run in 2020. Patrick, who left office in 2015 and had long been linked to a potential 2020 campaign, earned 38 percent support for a presidential run from his former voters while 48 percent were against his potential candidacy.
But Massachusetts voters pushing back on Warren proved to be a surprise to the pollsters.
"This was a shocking finding to me, given that Democrats like her so much, and she has been making moves to run for president. I would have expected her to be leading this list of potential Massachusetts presidential candidates," the poll's director David Paleologos said.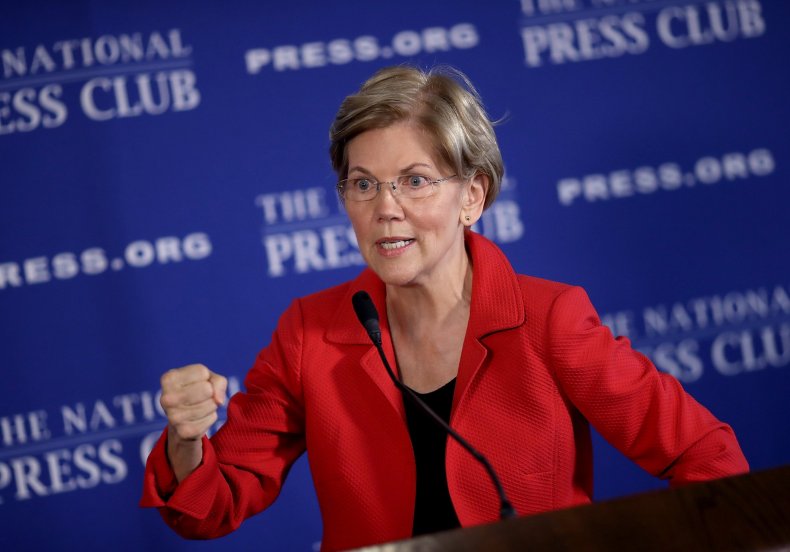 The results were particularly striking given Warren's popularity in her state. A Morning Consult poll conducted between April and June of this year pegged Warren as the 14th most approved senator in the country with 53 percent approval and 36 disapproval ratings from her current constituents.
Warren claimed her current post with 53.7 percent of the vote in 2012 while unseating then-incumbent Republican Scott Brown, and she's widely expected to win re-election in the fall.
But when it comes to a national election, one Massachusetts voter told the Globe that some were still skeptical about a woman serving as commander-in-chief and Warren's prospects of winning.
"Part of the reason has to do with gender politics. I think there are still some people out there who won't vote for a woman, and I would hate for that to be the reason why Donald Trump will be in the White House for four more years," Eva Olsen from Watertown said.
Warren is one of several prospective candidates likely vying for the Democratic nomination in 2020. She's joined by assumed frontrunners former Vice President Joe Biden and Senator Bernie Sanders of Vermont, as well as Senator Kamala Harris of California, Senator Cory Booker of New Jersey and Senator Kirsten Gillibrand.