Elizabeth Warren Was Praised After Debates, But Biden Dominates Polling Among Democratic Voters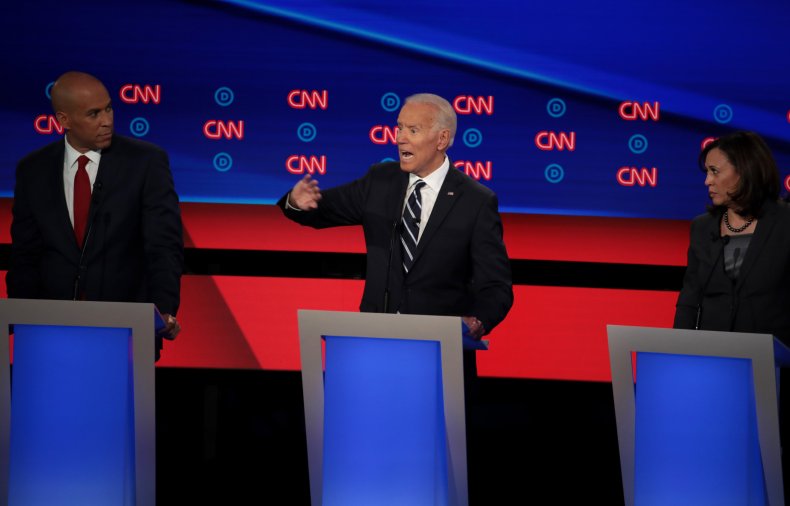 Despite a no-holds-barred Democratic primary debate where leading 2020 candidate Joe Biden fended off attacks from nearly every corner of the stage in Detroit, the former vice president has not lost his unshakable grip on the primary electorate, according to a new post-debate survey from Morning Consult.
During Wednesday's second-round debate, Biden appeared bruised by unrelenting attacks on his long record in the U.S. Senate and in the White House, but he ultimately emerged unscathed, topping out the poll with 32-percent support among Democratic voters.
Senator Elizabeth Warren, who paired with Senator Bernie Sanders to defend a broadly progressive 2020 agenda against skeptical moderates on the outskirts of the debate stage lineup, did not appear to benefit from her centrality during Tuesday's first-round debates. She remained in her familiar third-place slot at 15-percent support, trailing Sanders by three points.
Senators Kamala Harris and Cory Booker, who took turns railing against Biden, did not appear to have reaped significant gains from their performances either. Booker is still middling at 3 percent in the polls, and support for Harris continued to sit at 10 percent.
The poll was conducted on Thursday among Democratic primary voters, giving respondents two days to have absorbed the impact of the first debate and one day for the latter.
Warren and Sanders received more speaking time than any other candidate during the first debate night, at around 18 minutes and 17.5 minutes respectively. Trailing them was South Bend, Indiana, Mayor Pete Buttigieg, who was able to speak for just over 14 minutes. Despite this pronounced attention on his historic candidacy, Buttigieg remains at six percent in the polls, according to Morning Consult.
Biden received more speaking time than any other candidate, on either night, a partial result of the numerous criticisms lobbed against him which the CNN format afforded him time to respond to. Both Harris and Booker, at around 17.75 and 13 minutes respectively, spoke the most, after Biden, during night two.
Colorado Senator Michael Bennet mentioned President Donald Trump more than any of his colleagues did on either night, but that apparent strategy did not translate to any noticeable support. Bennet remained at zero percent in Friday's poll.
Self-help guru Marianne Williamson had a breakout night during the first debate round, garnering attention for her pointed, impassioned soliloquies against broader thematic issues plaguing American society. Williamson's performance made her the most Googled candidate after the Detroit debates. Despite this influx of attention, she continues to poll at 1 percent among Democratic primary voters.