Elizabeth Warren to Mitt Romney: Bring 'Your Binders Full of Women' to Trump Meeting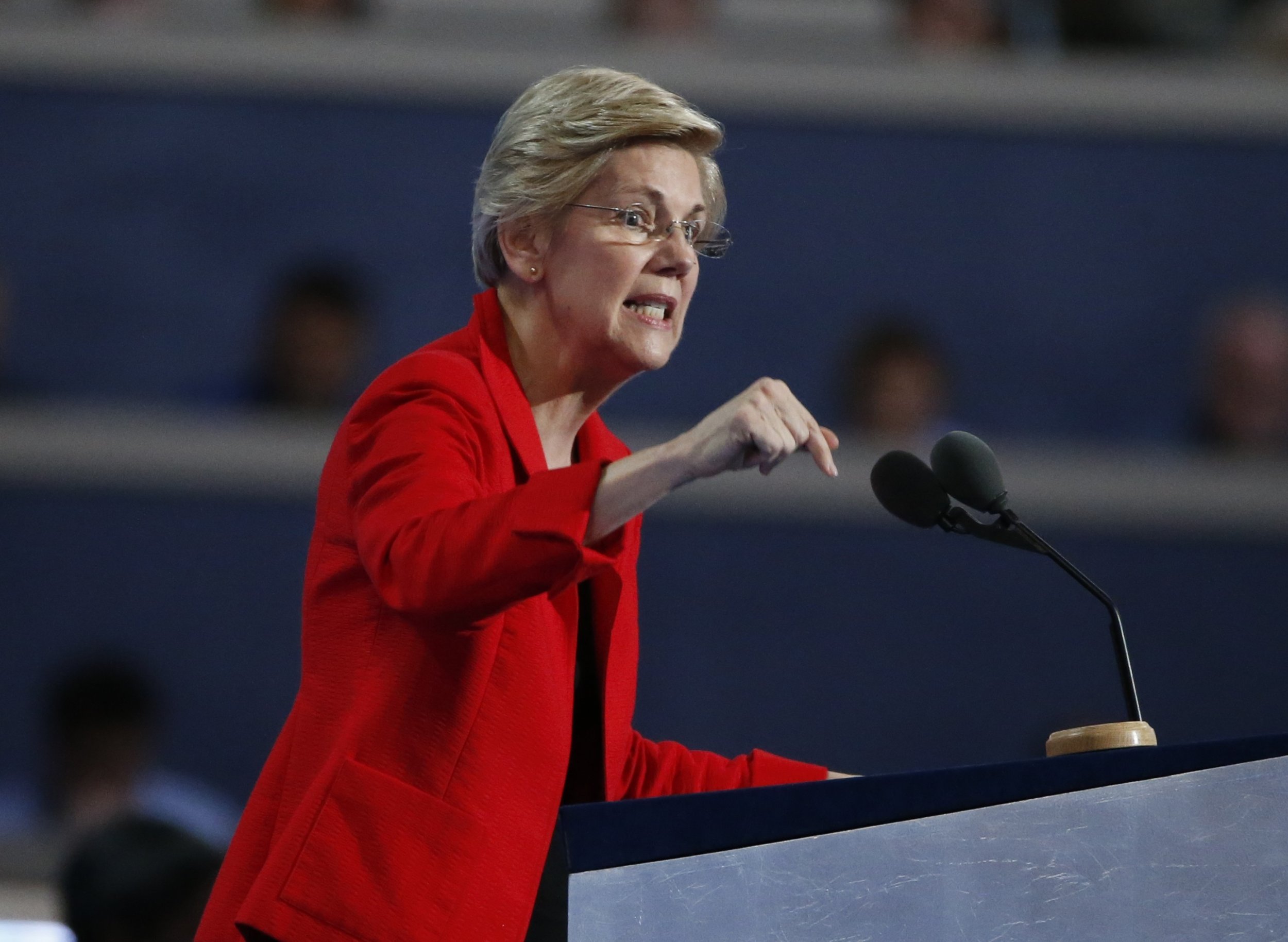 Democratic Senator Elizabeth Warren of Massachusetts continued with her attacks against the transition to the Donald Trump White House on Friday by advising Mitt Romney to bring his "binders full of women" to his weekend meeting with the president-elect.
Her tweet refers to a comment Romney made during the 2012 election season, when he was the GOP presidential nominee. During a debate, Romney described how he had requested "binders full of women" as governor of Massachusetts because he wanted to avoid having his Cabinet composed entirely of men. The phrase went viral, and critics said it showed how out-of-touch the candidate seemed about women and their rights.
Now, as Trump works to fill his administration in the days following his stunning election victory last week, some are criticizing him for a lack of diversity—both gender and racial—in his choices. His handful of picks so far have all been men. Warren's tweet shows a composite image of the current Cabinet shortlist, and it includes only five women—South Carolina Governor Nikki Haley, former Arizona Governor Jan Brewer, former GOP vice presidential nominee Sarah Palin, Equal Employment Opportunity Commissioner Victoria Lipnic and departing New Hampshire Senator Kelly Ayotte.
Warren, who earlier this week was tapped for a leadership role among Senate Democrats, and Trump frequently taunt each other in speeches and on social media. She previously has tweeted messages calling him "weak" and a "thin-skinned fraud," while he has repeatedly said she is goofy and has called her "Pocahontas" and "the Indian," sarcastic references to her claims of Native American ancestry.
Throughout the election season, Romney pleaded with fellow Republicans to rebuff Trump, labeling the billionaire businessman a "phony" and a "fraud" whose promises "are as worthless as a degree from Trump University." He publicly declared support for former Trump rival Ted Cruz, refused to vote for the former reality TV star in the general election and sought to find a conservative third-party candidate. Trump responded via Twitter messages, calling him "stiff" and a "failed presidential candidate" who "choked."
Some media reports have speculated that the weekend meeting with Romney, one of many Trump will have in the next two days, is meant for the men to discuss Romney's potential nomination as secretary of state. Others say it could serve simply as way for the former foes to make amends before Trump takes over the White House. The men hold starkly different views, especially on foreign policy. Romney in 2012 considered Russia one of the biggest threats to the U.S., while Trump in 2016 has said he can get along with President Vladimir Putin.
Trump's first Cabinet picks are Kansas Representative Mike Pompeo for CIA director and Alabama Senator Jeff Sessions for attorney general.