Warren as a Running Mate Would Make Biden Unstoppable in the Midwest | Opinion
The next president will walk into one of the most fraught governing challenges in modern American history. Even into 2021, epidemiologists predict that COVID-19 will continue to threaten lives across the country. And for those whose lives it spares, it threatens livelihoods. Economists are already forecasting a "Greater Depression."
To lead in a crisis of this magnitude, we need ideas and courage at their scale. We need to massively overhaul our health care system, which has left tens of millions without health care because they've also lost their jobs. We need to rebuild an economy so that it insulates Americans from shocks like these, rather than leaving them to fall off its slippery edge because it's been architected to insulate major corporations instead of the taxpayers who've been forced to subsidize them. And we'll need a society-wide commitment to take on the likeliest source of the next major disaster—climate change.
Reeling under the pressure of this pandemic, and starved of any semblance of leadership, the American people crave this kind of bold action. It's why, since the pandemic started, support for Medicare for All is nearing an all-time high, with a majority of Americans supporting it. It's also why voters support a Green Stimulus agenda by wide margins.
To win in November, Joe Biden will have to telegraph that kind of bold action to the country. He will also need to build the kind of coalition that swept Barack Obama to the presidency in 2008 and 2012. That coalition will have to include young people and progressives—particularly in swing states—who demand this boldness and have remained reticent to support him.
That's why Biden's choice of a running mate is so critical. To both win in November and to govern in January, Biden must choose a strong progressive running mate. Of all the potential nominees being considered, nobody makes a better case for being that progressive partner than Elizabeth Warren.
Warren's career in government began during the Great Recession, holding corporations accountable on the Congressional Oversight Panel overseeing that era's corporate bailouts. Out of that experience, she created the Consumer Financial Protection Bureau to make sure Americans had someone looking out for them against the corporate lobbyists waiting around every corner to exploit calamity. As a senator, she distinguished herself through legislation to limit corporate power and reel in massive inequality in favor of worker protection and economic support for poor and working people. Nobody in government today could bring to the next administration the level of rigor and expertise she has on building a more equitable economy amidst severe economic crisis.
Beyond her leadership on corporate accountability and economic justice, her work on Medicare for All, housing rights and climate change have prepared her to help rethink the many systems of American life that have left us so vulnerable to this pandemic in the first place. Whether rethinking the health care system that left Americans without health care and hospitals without resources in the midst of the worst pandemic in over a century, or securing a roof over the heads of every family, or tackling climate change which threatens the next great calamity, she is well-prepared to serve alongside the president to provide the leadership we need to build the future, not just correct the past.
Warren is also best placed to help the ticket win. Though ultimately unsuccessful, her campaign for the Democratic nomination for president was one of the most original. Her "plans for that" were rich in detail and insight—and her ability to communicate both the broader ideals and the intricate nuances was impressive. Warren also delivered some of the most memorable moments of the primary debates, whether putting John Delaney in his place or eviscerating Michael Bloomberg. The promise of what her verbal rapier would carve into the wooden caricature that is Mike Pence will draw attention, which is something the Biden campaign could really use more of right now.
In a national poll of Democrats, 71 percent supported a Warren candidacy, with broad appeal among both moderate Democrats and independents. But what's critical here isn't just broad support—it's very specific support: To win in November, Democrats have to win in the swing states. Though it is conventional wisdom that choosing a nominee from one of these states, like Amy Klobuchar from Minnesota, might improve the ticket's chances there in the fall, we ought to be more nuanced about which swing state voters a candidate must swing. A running mate who excites the same pool of voters as the presidential nominee is, after all, less helpful than a running mate who complements the nominee's appeal.
History is instructive here: Hillary Clinton and Tim Kaine lost my home state of Michigan by just less than 11,000 votes in 2016. Jill Stein took 51,563 votes there. Don't assume that couldn't happen in 2020. A recent poll of Bernie Sanders supporters suggests that while the strong majority will support Biden in November, a sizable minority may not. These voters are particularly important in swing states like Michigan and Wisconsin, with strong progressive bases. Midwest moderates, who attract the same voters as Biden, won't help much with voters who might stay home or vote third party—but Warren might.
To be sure, Warren was the favored choice overall in a recent poll of Democratic voters in Michigan and Wisconsin. But her appeal sharpens when you focus on progressives. I asked members of Southpaw Michigan, a progressive political action committee I chair, whom they preferred. Among the 394 who answered, Warren was the clear favorite (34 percent), followed by Stacey Abrams (16.2 percent), Kamala Harris (12.7 percent) and Gretchen Whitmer (8.6 percent). And among those who favored Warren, they're assessment of how important the running mate was to their choice to vote for the Democatic ticket in November was higher on average than those supporting other named candidates.
In hindsight, this should be obvious: Warren's progressive bona fides are well established, having earned endorsements during the primary from the Working Families Party and Representative Ayanna Pressley, among others. Her support for Medicare for All, a Green New Deal, and curbing corporate power speaks for itself.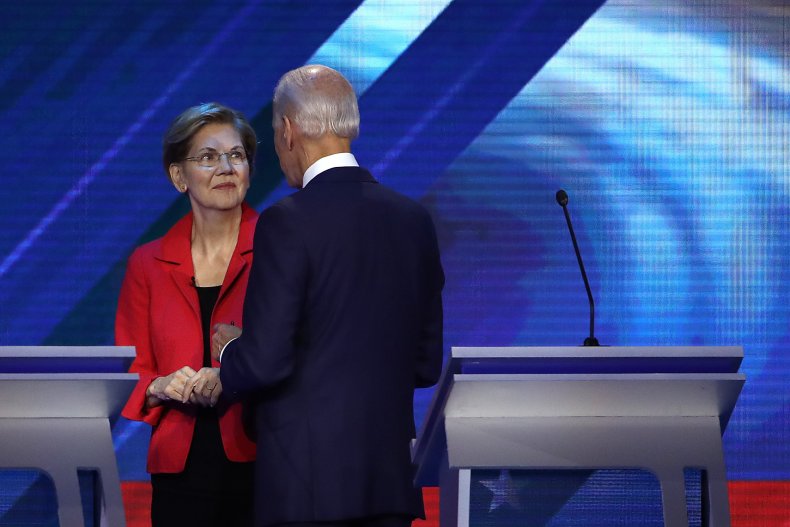 Though I believe Warren makes the strongest case, both Harris and Abrams would make exceptional vice presidents as well. And both offer the critical opportunity for representation for black communities, who have been hit hardest by COVID-19. Harris has a strong national profile and proved herself a deft debater—something Biden learned all too well. Similarly, Abrams has built an impressive national profile of her own through her run for governor in Georgia and could help swing that state for Democrats in November.
And yet Warren still offers something others cannot. She is a progressive in a campaign that absolutely must win progressive voters. And she has the kind of expertise and experience that will be absolutely critical to governing in a crisis.
Along with Sanders, the Biden team has created six Unity Task Forces staffed by a mix of leaders from across the ideological spectrum of the party. Together, they will hammer out critical policy platforms to lead our country through this crisis and unite the party toward November. These are a critical step toward bringing progressives into Biden's coalition. But an open question many on the left continue to ask is how they can be sure that a newly forming Biden administration won't just chuck the platforms out the window after they win.
There is no better answer to that question than a commitment to progressive personnel—particularly at the very top of the ticket. Warren offers that opportunity for Biden, for progressives and for America.
Abdul El-Sayed, M.D., D.Phil., is the chair of Southpaw Michigan, a member of the Unity Task Force on health care and author of the book Healing Politics: A Doctor's Journey Into the Heart of Our Political Epidemic.
The views expressed in this article are the author's own.