Warren, Sanders Trade Accusations in Post-Debate Confrontation: 'You Called Me a Liar'
After the closing statements of the seventh Democratic debates were made on Tuesday night in Des Moines, Iowa, the candidates moved from their positions to shake hands with each other. But as Senator Elizabeth Warren approached her progressive rival Senator Bernie Sanders, the two old friends did not shake hands. Instead, a tense and dramatic exchange broke out, with Warren accusing Sanders of calling her a liar. Sanders responded by reminding Warren that she had done the same to him.
The rare moment was caught in the last 30 seconds of CNN/Des Moines Register's livestream of the debate. It showed Warren walking over to Sanders and refusing his outstretched hand. As she reached him, she clasped her hands together and leaned in for what appeared to be a heated discussion, during which their fellow candidate, billionaire Tom Steyer, waited to shake Sanders' hand.
Though on the original broadcast, the microphones were not live, the audio of their exchange was released in an exclusive CNN report.
"I think you called me a liar on national TV," Warren said.
"What?" Sanders replied.
"I think you called me a liar on national TV," she said again.
"You know, let's not do it right now. If you want to have that discussion, we'll have that discussion," Sanders said. Warren replied that she'd have that conversation "anytime."
"You called me a liar," Sanders continued. "You told me—all right, let's not do it now."
Steyer, who had been waiting near Sanders and Warren, then said "I don't want to get in the middle. I just want to say hi, Bernie."
Newsweek reached out to the Warren and Sanders campaigns for comment, but did not receive a response in time for publication.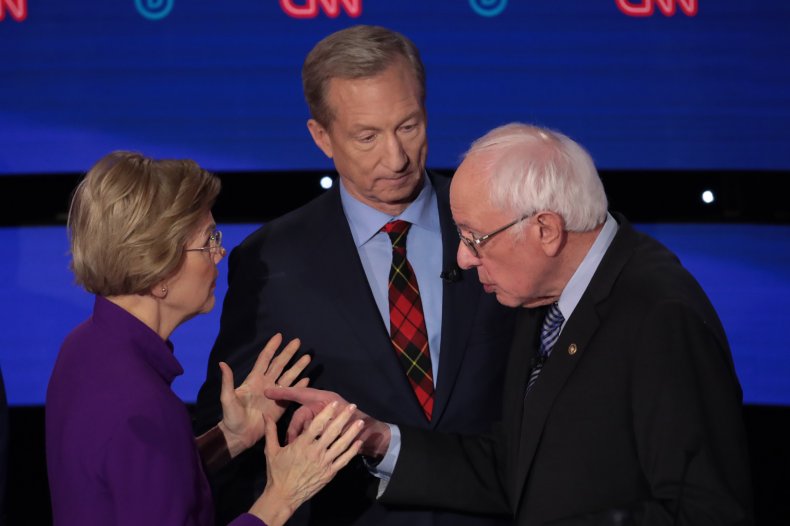 While the two senators, seen as the two most progressive out of the 2020 Democratic candidates, are longtime friends, this week has been a strain on both. On Monday, CNN reported that during a private meeting in December 2018, Sanders told Warren that a woman could not win the presidency against Donald Trump. Sanders has repeatedly denied making the comment.
Warren released a statement on Monday, confirming the meeting took place, and alleging that Sanders had told her a woman couldn't be president.
"Bernie and I met for more than two hours in December 2018 to discuss the 2020 election, our past work together and our shared goals," she said in a statement. "Among the topics that came up was what would happen if Democrats nominated a female candidate."
"I thought a woman could win; he disagreed," Warren continued. "I have no interest in discussing this private meeting any further because Bernie and I have far more in common than our differences on punditry."
In a response, Sanders again denied making the claim.
"It is ludicrous to believe that at the same meeting where Elizabeth Warren told me she was going to run for president, I would tell her that a woman couldn't win," Sanders said. "It's sad that, three weeks before the Iowa caucus and a year after that private conversation, staff who weren't in the room are lying about what happened."
He added: "What I did say that night was that Donald Trump is a sexist, a racist and a liar who would weaponize whatever he could. Do I believe a woman can win in 2020? Of course! After all, Hillary Clinton beat Donald Trump by 3 million votes in 2016."
During the debate, CNN White House Correspondent Abby Phillip asked both candidates about the comment. Sanders denied making it, calling the claim "incomprehensible." Phillip then asked Warren how she felt when Sanders told her a woman couldn't be president.
"I disagreed," Warren replied. "Bernie is my friend and I am not here to try to fight with Bernie."