Warren Sapp Just Admitted Buying Sex Toys For NFL Network Co-Worker Live on Air
Warren Sapp went on the radio on Wednesday evening to defend himself from allegations of sexual harassment made by Jami Cantor, a former stylist at the NFL Network.
In a lawsuit brought in Los Angeles and revealed for the first time by Bloomberg earlier this week, Cantor alleges that Sapp, a Super Bowl winner with the Tampa Bay Buccaneers, repeatedly gave her sex toys as Christmas presents, showed her photos of naked women and once urinated in front of her while she was working in the men's bathroom.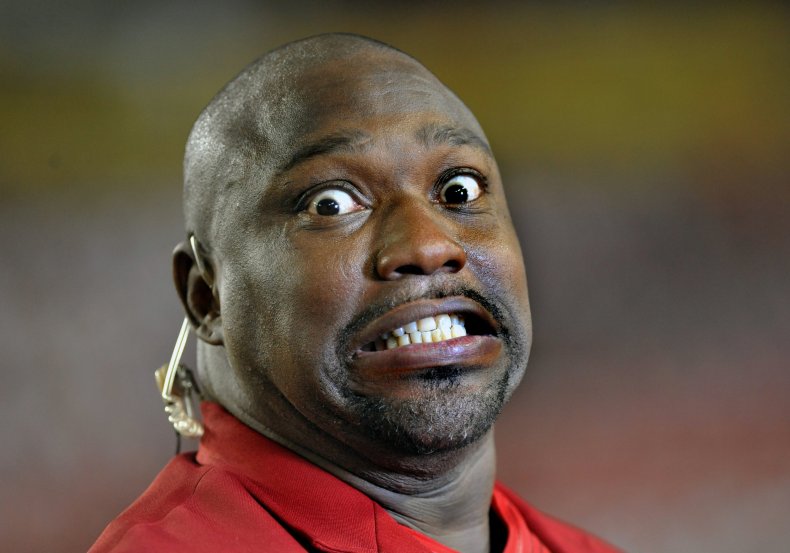 Sapp, whose NFL Network contract was terminated in February 2015 after he was arrested in Arizona on a charge of soliciting prostitution—the charges were dropped in May of that year—denied Cantor's allegation that he urinated in front of her but appeared to admit that he had bought sex toys "for the makeup ladies".
"We were sitting there around Christmas time and everybody brought a Christmas gift, a little holiday joy for everybody," Sapp told WINZ-AM via USA Today. "So, my man had made a little novelty thing that looked like mascara, eyeliner and different things. Little toys for ladies that move around a little bit. I showed them pictures and [the makeup employees] said bring me some, so I brought them some for the makeup ladies."
Sapp, the 44-year-old former NFL defensive tackle who made the Pro Bowl seven times, denied that his behavior amounted to sexual harassment. "I'm still tying to figure out where's the sexual harassment?" He said. Sapp also admitted to being in the same bathroom as Cantor but denied urinating in her presence. "I did walk in the bathroom, but I did not urinate in front of her," he said.
The NFL Network has suspended three current employees and former NFL players mentioned in Cantor's lawsuit against NFl Enterprises, in Marshall Faulk, Heath Evans and Ike Taylor. Donovan McNabb and Eric Davis have been suspended by ESPN while Eric Weinberger, a former executive producer at the NFL Network, has been placed on " indefinite leave " by the Bill Simmons Media Group.