In a virtual town hall on Tuesday, Senator Elizabeth Warren said in a tweet that her administration would prioritize dueling issues of the opioid epidemic: substance use disorders and the availability of prescription opioids for patients who need them.
The statement was in response to a participant concerned about "forced tapering," the premature or otherwise aggressive removal of opioid patients from their medications, diminishing people's quality of life—making the Massachusetts senator the first top candidate to address this issue in the 2020 presidential race.
"This is exciting news for chronic pain sufferers. Senator Warren is one of few inside the Beltway who understands the dire situation in which chronic pain patients find themselves," said Michael Schatman, a pain psychologist and adjunct faculty member at Tufts University School of Medicine.
The origins of that "situation" can be traced, in part, to a now-tempered guideline released by the Department of Health and Human Services in 2016, experts say; doctors took it out of context and removed droves of patients from their medicine.
In response, HHS clarified in October that, for chronic users, "any abrupt change in the patient's regimen may put the patient at risk of harm" and should include a thorough case review and discussion before changing dosage.
It couldn't come soon enough, according to one study published in JAMA (formerly The Journal of the American Medical Association), which noted that the number of patients removed from opioids doubled between 2008 and 2017, often at rates that far exceed the HHS guideline—causing pain, withdrawal, distress and sometimes altogether removal from day-to-day activities.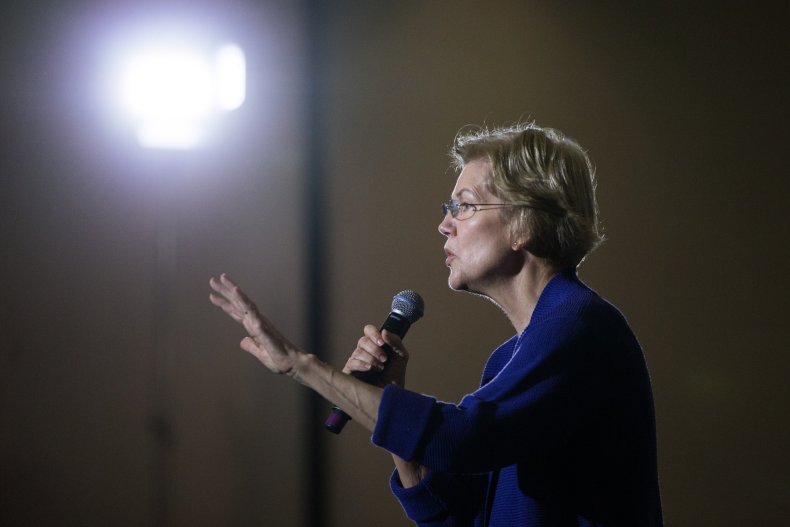 Still, protecting patients often invites the "unfair charge" that officials don't recognize harms done by 20 years of excessive prescribing, according to Stefan Kertesz, a professor at the University of Alabama at Birmingham in the division of preventive medicine.
"We are dealing with a crisis brought on in good part by excess opioid prescribing. That makes it quite difficult for any public figure to acknowledge a pressing need to protect patients who receive these medicines on a long-term basis," he said in an emailed statement to Newsweek. "I'm appreciative that a candidate would say we need to act with care and caution for patients who have been caught in the cross-fire," Kertesz added, though he doesn't endorse any particular candidate.
Warren's "town hall" on Tuesday was organized by three individuals with disabilities, Gregg Beratan, Andrew Pulrang and Alice Wong. They launched the campaign "#CripTheVote" during the 2016 election, when that cycle largely ignored issues pertaining to the disability community, Beratan said in an emailed statement to Newsweek. Crip, short for cripple, is meant in the reclaimed sense of the word, not the pejorative sometimes used to insult people with disabilities.
They originally planned to feature a couple of talks and live tweet the debates, but the hashtag took on a life of its own. Folks with disabilities began sharing their opinions about policy and tweeting at candidates, Beratan continued. Today's "candidate chat" with Warren allowed people to ask her questions over Twitter using their hashtag.
Most politicians are talking about the "opioid crisis," Beratan said, but many people with disabilities have been trying to get them to pay attention to the "pain crisis."
"Disabled people with legitimate chronic pain struggling to have their pain addressed [are] often treated as criminals or drug seekers for trying to get help from the health care system. So when a major presidential candidate recognizes that we have a system in place that exacerbates this pain crisis, it's important," he added.
Uncommon Knowledge
Newsweek is committed to challenging conventional wisdom and finding connections in the search for common ground.
Newsweek is committed to challenging conventional wisdom and finding connections in the search for common ground.