Warren Targets Buttigieg in New Iowa Campaign Ad: Here's a Timeline of Their Feud
Senator Elizabeth Warren's campaign released an advertisement last Friday geared at tackling corruption in Washington without "big-dollar fundraisers," a strategy used by rival Pete Buttigieg that she's repeatedly slammed on and off the debate stage.
"I'm not doing big-dollar fundraisers. I'm not selling ambassadorships to donors. I'm not cozying up to super PACs," Warren says in the commercial, which is slated for Iowa audiences, The Hill reported. "And my first priority as president will be to pass the biggest package of anti-corruption reform since Watergate."
The Massachusetts senator doesn't name Buttigieg outright, but she leveled near-verbatim criticism of the South Bend, Indiana, mayor in last week's debate in Los Angeles. At the time, she said, "Billionaires in wine caves should not pick the next president of the United States." In response, Buttigieg argued that any and all donations are welcome in the fight against President Donald Trump.
The Buttigieg campaign told Newsweek that the recent Buttigieg-Warren interactions are better characterized as "disagreements between two competitors" rather than a feud. It's true they've steered clear of personal attacks—but when it comes to policy, Buttigieg and Warren are each other's harshest critic in the Democratic presidential field.
It's possible these criticisms have paid off for the Buttigieg campaign. His more aggressive posture in debates—which largely began in October with his attacks on Warren's health care proposal—may have appealed to moderate voters and led to his ascension toward the top of the Democratic field, recent polling shows.
Coincidentally, Warren and Buttigieg are also competing for a similar slice of the electorate, at least in Iowa: educated white voters who pay close attention to presidential elections, according to The New York Times. For now, Buttigieg leads in that state, but trails Warren in most national surveys.
Whatever their reasons, here's a timeline on the candidates' disagreements, debate scuffles and thinly veiled criticisms over the past few months.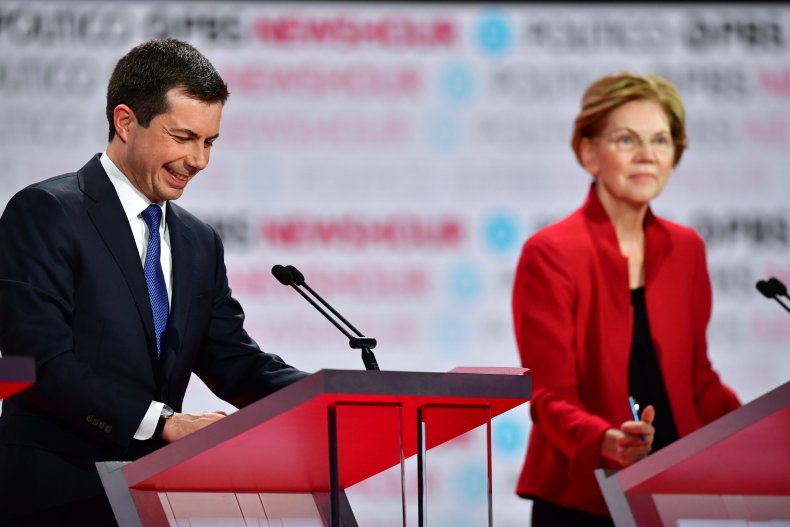 September 15, 2019: Buttigieg began speaking out against the "Sanders-Warren vision" for health care on Twitter. Days later, he said Warren was being "evasive" on CNN because she hadn't yet released details on how her administration would finance Medicare for All.
October 15: In the fourth Democratic debate, Buttigieg joined several candidates in criticizing both the merits and funding of Warren's health plan, saying, "I don't think the American people are wrong when they say that what they want is a choice."
The next day on CNN, Buttigieg said Warren has been "more specific and forthcoming about the number of selfies she's taken than about how this plan is going to be funded."
November 3: When Warren answered widespread calls to explain how she would fund Medicare for All, Buttigieg told ABC News that her math was "controversial" and hardly the only solution to the soaring cost of health care.
December 5: Warren levied her first public critique of Buttigieg by calling on the mayor to "open up the doors" of his private fundraisers, one of which was held in the Hall Rutherford wine caves in California's Napa Valley earlier this month.
"Those doors shouldn't be closed, and no one should be left to wonder what kind of promises are being made to the people that then pony up big bucks to be in the room," Warren told reporters in Boston, according to the Times.
A few days later, the Buttigieg campaign announced that the press would be invited to private fundraisers from then on. He later released a partial list of top financial supporters, followed by a full one.
December 16: Warren finally pushed back on Buttigieg's health care proposal, which promises to offer a public option but stops short of Medicare for All: "His plan is still about high deductibles, about fees, about co-pays and about uncovered expenses," Warren told reporters in Iowa. "What I'm offering is full health care coverage."
December 19: The two candidates' disagreements culminated in several heated exchanges in the most recent debate. Warren doubled down on her criticisms of the Buttigieg campaign's large donations from billionaires, which Axios recently reported could be associated with emailed opportunities to get on the mayor's "radar."
"People who can put down $5,000 to have a picture taken don't have the same priorities as people who are struggling with student loan debt or who are struggling to pay off medical debt," said Warren, who accepted large donations until recently, from the debate stage in Los Angeles.
"Well, can't help but feel that might have been directed at me," Buttigieg said, adding, "This is our only chance to defeat Donald Trump. And we shouldn't try to do it with one hand tied behind our back."