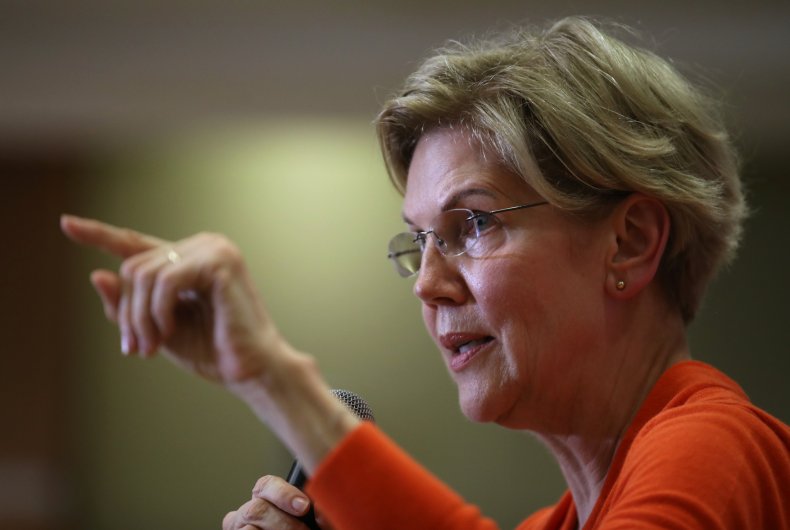 Senator Elizabeth Warren is ascendant in a new poll of 2020 Democratic candidates, reaching the second-tier status long dominated by Senator Bernie Sanders. However, the two remain perched behind perpetual frontrunner, former Vice President Joe Biden.
Warren and Sanders are both sharing the second-place slot at 16 percent, according to the NBC News/SurveyMonkey poll released Friday. Biden continues to sit atop the field at a comfortable 25 percent, somewhat lower than earlier polls but still well ahead of his nearest competitors.
Following Warren is Senator Kamala Harris, a result of her breakout debate performance in June, which recent polling, including Friday's NBC News survey, apparently reflects. Harris earned a 14-percent share of support among Democratic voters, the last candidate in the crowded 2020 field to receive double-digit support.
South Bend, Indiana, Mayor Pete Buttigieg, at 8 percent, was the next-highest ranking candidate.
The survey was conducted in the aftermath of the first Democratic primary debates in Miami, continuing through Tuesday of this week. Recent polling has reflected this same arrangement of the top four competitors, but Warren and Harris appear to be closing a gap that once cemented Biden and Sanders as untouchable.
According to the online survey, 51 percent of registered voters disapprove of the way President Donald Trump is handling his job, compared with 48 percent who approve. Although the number of voters who feel strongly about this is heavily weighted on the side of disapproval. Among those who feel strongly about Trump's job performance, the president is underwater by nine points.
But this position still represents some amount of progress for the president. Compared with September of last year, according to the same survey, Trump's approval rating has increased by three points.
When asked about the issues most important to them during the upcoming presidential election, voters chose immigration, healthcare and the economy as their top issues in roughly equal measure. Despite the quickly escalating conflicts between the U.S. and countries like Iran, North Korea and China, voters thought foreign policy was among their lowest concerns.
Voters remain confident in the condition of the economy. Sixty-eight percent believe the economy is doing well, compared with just 30 percent who believe the economy is doing poorly. This belief provides Trump with significant tailwinds while he heads into his re-election campaign as an historically unpopular president.
Former Representative Beto O'Rourke, Senator Cory Booker, former Secretary of Housing and Urban Development Julián Castro, Senator Amy Klobuchar and Senator Kirsten Gillibrand all earned three percent or less in the survey.