Donald Trump Embraces Dictators, Aligns With Authoritarian Regimes and Is Threat to Democracy, Says Elizabeth Warren
Democratic senator and possible 2020 presidential candidate Elizabeth Warren had a grim start to her Thursday afternoon speech at American University Law School in Washington, D.C., quickly berating President Donald Trump and jumping into topics like authoritarian regimes, wealth inequality and threats to democracy.
"Let's start with a serious problem," the Massachusetts senator said just moments into her speech. "Around the world, democracy is under assault. Authoritarian governments are gaining power. Right-wing demagogues are gaining strength. Movements toward openness and pluralism have stalled and begun to reverse. Inequality is rapidly growing, transforming rule by-the-people into rule by-wealthy-elites."
Warren said that in the U.S., many politicians "seem to accept – even embrace – the politics of division and resentment."
After briefly expressing her opposition to the president's newly negotiated trade deal with Mexico and Canada, the United States-Mexico-Canada Agreement (USMCA), which replaced NAFTA, Warren took direct aim at Trump.
Appearing as though she were already a 2020 presidential candidate railing against the president, Warren rebuked the president's foreign policy, accusing him of embracing dictators, aligning with authoritarian regimes and threatening democracy.
The two politicos are no stranger to one another. Taking aim at her Native American heritage, Trump has continued to call Warren "Pocahontas." A DNA test showing she has distant Native American ancestry has brought forth ridicule by both the president and Native American tribes.
"President Trump's actions and instincts align with those of authoritarian regimes around the globe," Warren said. "He embraces dictators of all stripes. He cozies up to white nationalists. He undermines the free press and incites violence against journalists."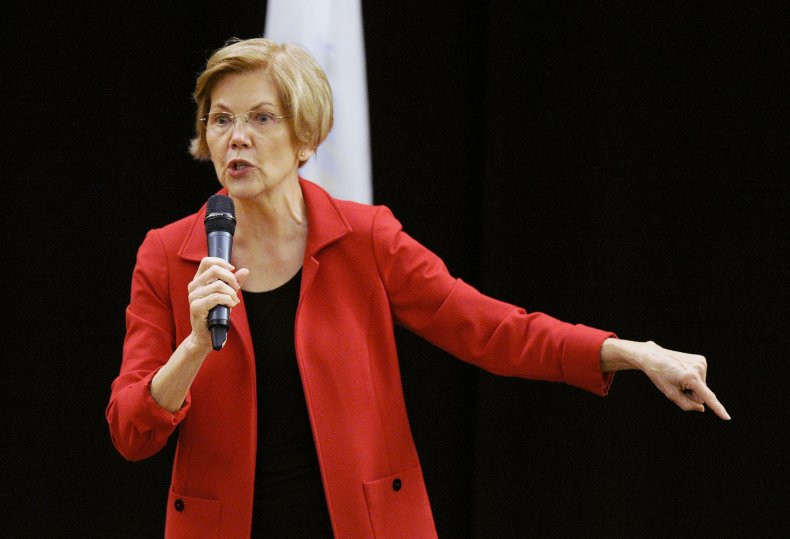 Throughout his presidency, Trump has praised authoritarian world leaders such as Russian President Vladimir Putin, Philippine President Rodrigo Duterte, North Korean leader Kim Jong-un, Chinese President Xi Jinping, Egyptian President Abdel-Fattah el-Sissi and Turkish President Recep Tayyip Erdogan.
Following last year's white nationalist rally in Charlottesville, Virginia, where a woman was killed after a white nationalist allegedly drove his car into a group of counter-protesters, Trump said there were "very fine people on both sides."
On the campaign trail, both before and during his presidency, Trump has used devisive rhetoric toward the media, labeling them as "fake news" who are the "enemy of the people." He praised Republican Congressman Greg Gianforte for body slamming a reporter, an act that resulted in the lawmaker pleading guilty to assault charges.
"He attacks the independence of our Judiciary," Warren went on, referring to his recent public back-and-forth spats with Chief Supreme Court Justice John Roberts.
"He wraps himself in the flag and coopts the military for partisan purposes – but he can't be bothered to visit our troops in harm's way," said Warren.
Despite touting his support for the military, Trump has not visited U.S. troops in active war zones since he took office. A report by The Washington Post earlier this month suggested Trump was "afraid of those situations. He's afraid people want to kill him," a former senior White House official said.
"He is aided and abetted every step of the way by Republican politicians in Washington too pleased with his judicial appointments and tax cuts for the wealthy to stand up for fundamental American values," Warren continued.
The liberal senator rounded out her speech to students by saying that the time for "holding back" was over and suggested that "patriots of every political persuasion must stand up to this."
"Americans must demonstrate to this President and to the world," Warren said, "that we are not sliding toward autocracy—not without a fight."