The National Organization for Women (NOW) has urged Massachusetts Sen. Elizabeth Warren not to endorse Vermont Sen. Bernie Sanders in the 2020 Democratic race.
Announcing that she would be ending her presidential campaign on Thursday, following disappointing Super Tuesday results, Warren said she would not be rushing to a decision on whether to endorse one of her former rivals.
While the Massachusetts senator ran a progressive campaign that paralleled Sanders in more ways than one, Warren said she wanted to "take a deep breath" and "spend a little time" deliberating over whether to throw her support behind him, according to The Associated Press.
Her silence comes as moderate Democratic contenders who have dropped out of the race, including former New York City Mayor Mike Bloomberg, Minnesota Sen. Amy Klobuchar and former South Bend, Indiana Mayor Pete Buttigieg, have promptly thrown their weight behind fellow moderate former Vice President Joe Biden.
While many progressives will look to Warren to add weight to Sanders' campaign, NOW appears to have sided clearly with Biden in what is quickly looking to become a two-man race.
In an interview with Associated Press, NOW President Toni Van Pelt urged Warren not too "rush into" anything.
"She has a lot of leverage right now. We do trust her to make the right decisions on how to proceed. But we'd like her not to rush this," Van Pelt said.
"We think that our constituents, our members, will not necessarily think of Sanders as the best choice," the NOW chief continued.
After all, she said, "we wouldn't have the Violence Against Women Act if it wasn't for Biden's leadership."
Indeed, Biden was instrumental in seeing VAWA, which has been credited with being a main driver behind a significant decline in the rate of domestic violence in the U.S., brought into effect, having introduced the Act in 1990.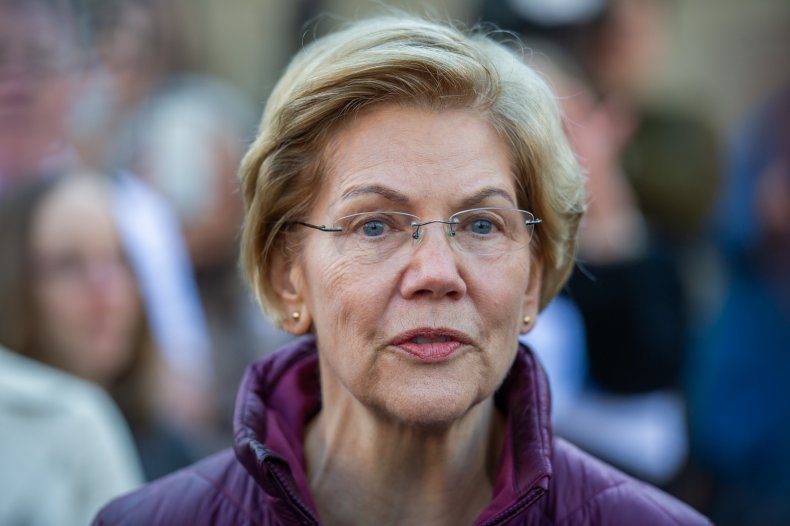 While Biden's record with VAWA is clear, with the former Vice President urging lawmakers to renew the legislation just last year, Van Pelt asserted that "Sanders doesn't have a record."
"He's really, as far as we know, done next to nothing for women and for our issues," the NOW chief claimed.
In a statement sent to Newsweek, Rosemary Boeglin, a spokesperson for the Sanders campaign, said, "No attempt at revisionist history can change the basic facts: Bernie Sanders is the only presidential candidate who has consistently stood on the side of women."
"Joe Biden has for decades voted to defund Planned Parenthood, criminalize abortion and undermine women's right to choose. Even when it wasn't popular, Bernie Sanders has never wavered. His record shows he's been an unflinching ally of women and their fundamental rights for decades," she said.
Sanders' campaign team also pointed to Biden's record on access to abortion care, with the former vice president having supported the Hyde Amendment, which prohibits federal funding for abortion under programs such as Medicaid, as recently as June 2019.
Sanders, on the other hand, has repeatedly voted against the amendment, the Vermont senator's campaign team noted.
Biden also voted for the Partial Birth Abortion Act of 2003, which was reported to risk overturning Roe v. Wade, the landmark decision enshrining a woman's right to an abortion in the U.S., by criminalizing procedures after the first trimester.
While Sanders has garnered some support in Congress, he has failed to see the sweeping endorsements that Biden has in recent weeks.
Speaking to AP, California Rep. Ro Khanna said on Thursday that Sanders had likely been struggling to garner congressional endorsements because "he was seen as such a long shot" originally.
Warren's endorsement, Khanna said, would be "a game-changer." He added that whether or not to support Sanders is "her decision to make."
Newsweek has contacted NOW and representatives for Warren for comment.
Updated: This article has been updated with a statement from Sanders' campaign team.