Elizabeth Warren's Massive New Plan to Rein In Wall Street
Presidential hopeful Senator Elizabeth Warren on Thursday unveiled a new plan intended to rein in unsavory practices on Wall Street, following her sweeping proposal in June to implement a program of "economic patriotism" by creating a new cabinet department focused on the American worker.
The plan Warren released on Thursday would restrict many of the speculative and harmful practices that Wall Street banks and private equity firms engaged in leading up to the 2008 financial crisis — practices that some banks continued with even after that economic disaster.
Warren's chief complaint is that at the same time as "Wall Street has grown bigger and financial sector profits have gone from 10% to 25% of total corporate profits," everyday Americans have "lived through a generation of stagnant wages and sluggish economic growth."
The senator from Massachusetts said she blames the decoupling of financial firms from retail banking services as a primary factor for Wall Street recklessness.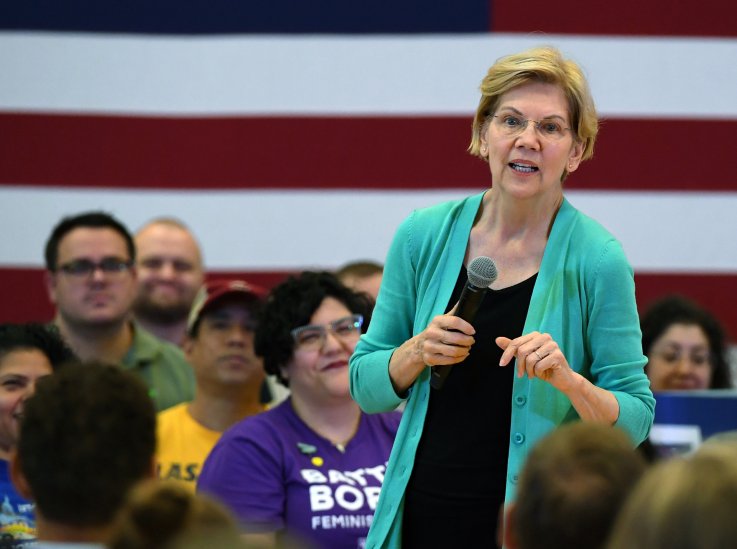 Warren's plan, if put into action, would seek to address a key part of the U.S. economy: private equity-backed businesses. According to The Wall Street Journal, in 2013, private equity firms owned or backed more than 17,000 companies, employing around 7.5 million workers.
These kinds of firms have a controversial record of corporate governance, and the 2014 book Private Equity at Work, which compiled data about private sector employment, found that when private equity firms acquire a company, wages tend to fall, despite the fact that productivity often rises.
Warren believes the wage growth lost in private equity acquisitions amounts to "legalized looting," and would seek to put in place a host of new restrictions on how these firms can treat the workers and companies they take over. Some of her reforms include making firms liable for debt they incur on behalf of their acquisitions, forcing owners to retain more responsibility for worker pensions and closing the highly unpopular "carried interest" loophole.
Another plank of Thursday's plan calls for the passage of Warren's 21st Century Glass-Steagall Act, which she says will rebuild "the wall between commercial banks and investment banks," a barrier that was gutted after the original Glass-Steagall law was repealed in 1999. Resurrecting Glass-Steagall would require Congress to act, meaning Warren's ability to fulfill this promise would hinge not only on her being elected, but also on the makeup of both chambers of Congress.
The overarching design of the Warren plan is to move the financial industry more towards retail and consumer-facing banking, which Warren describes as the industry's "core mission," and away from the speculative practices that bring returns for a stagnating share of American households.
As part of this mission, Warren said she would appoint regulators who will empower the U.S. Postal Service to engage in postal banking, which would provide access to low-cost, basic banking services for the 25 percent of American families who don't have adequate access to the banking sector.
Warren closes out her plan with a proposal that could have an outsize effect on corporate accountability in the United States. She argues for the passage of her recently-introduced Accountable Capitalism Act, which would attempt to radically remake financial incentives for corporate directors. Aaron Klein, the policy director for the Center on Regulation and Markets at the Brookings Institution, wrote when her bill was first unveiled that these reforms could "result in real changes to corporate behavior and decisions," though he argued that without enough of a backbone, corporate boards could still succumb to irresponsible management from company executives.
Elizabeth Warren's Massive New Plan to Rein In Wall Street | Politics