'Warrior Nun': What the Episode Title Bible References Mean
Warrior Nun is the Buffy the Vampire Slayer of the Bible, with Ava (played by Alba Baptista) playing a women on the Netflix show who is chosen to fight the forces of evil when she has a magical halo implanted in her back. The series takes place in a world of angels, demons and convents, and the episode titles feed into this religious feel.
Each of the first 10 episodes takes its name from a Bible verse, which gives a hint at what will happen in that episode. The first installment, for example, which sees Aba gain her halo, is titled "Psalm 46:5." That verse reads: "God is within her, she will not fall; God will help her at break of day."
This verse has clearly inspired the episode. The summary for "Psalm 46.5" reads: "Confused but excited by her newfound abilities, Ava soon realizes she's in over her head, but her need for a helping hand may be a blessing in disguise."
As Ava's powers develop, so too do the Bible quotes seem to match her gaining of strength. The Bible for quote for Episode 3, for example, starts, "put on the full armor of God," and it is in this episode that Ava really starts to develop her powers. The Bible quote for the final episode, meanwhile, begins: "Do not be afraid of what you are about to suffer," hinting at the epic battle to come.
Here are the Bible verses quoted in the Warrior Nun episodes:
Note: All Bible quotes are from the New International Version, except for Ecclesiasticus 26:9-10, which is from the King James Bible.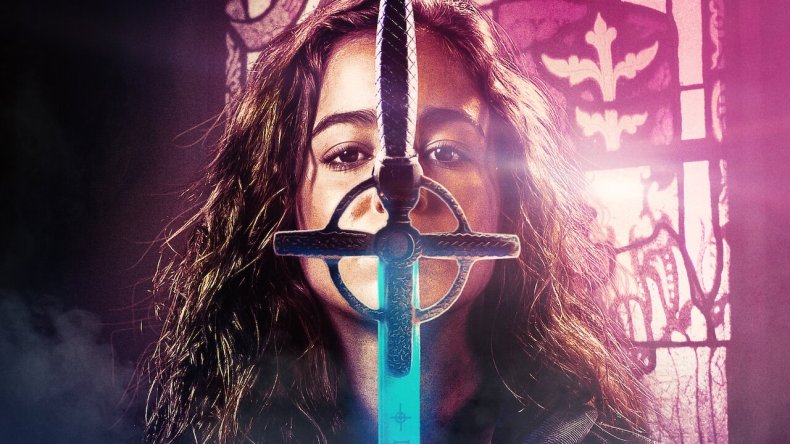 Episode 1: Psalm 46:5
"God is within her, she will not fall; God will help her at break of day."
Episode 2: Proverbs 31:25
"She is clothed with strength and dignity; she can laugh at the days to come."
Episode 3: Ephesians 6:11
"Put on the full armor of God, so that you can take your stand against the devil's schemes."
Episode 4: Ecclesiasticus 26:9-10
"The whoredom of a woman may be known in her haughty looks and eyelids. If thy daughter be shameless, keep her in straitly, lest she abuse herself through overmuch liberty."
Episode 5: Matthew 7:13
"Enter through the narrow gate. For wide is the gate and broad is the road that leads to destruction, and many enter through it."
Episode 6: Isaiah 30:20-21
"Although the Lord gives you the bread of adversity and the water of affliction, your teachers will be hidden no more; with your own eyes you will see them. Whether you turn to the right or to the left, your ears will hear a voice behind you, saying, 'This is the way; walk in it.'"
Episode 7: Ephesians 4:22-24
"You were taught, with regard to your former way of life, to put off your old self, which is being corrupted by its deceitful desires; to be made new in the attitude of your minds; and to put on the new self, created to be like God in true righteousness and holiness."
Episode 8: Proverbs 14:1
"The wise woman builds her house, but with her own hands the foolish one tears hers down.
Episode 9: 2 Corinthians 10:4
"The weapons we fight with are not the weapons of the world. On the contrary, they have divine power to demolish strongholds."
Episode 10: Revelation 2:10
"Do not be afraid of what you are about to suffer. I tell you, the devil will put some of you in prison to test you, and you will suffer persecution for ten days. Be faithful, even to the point of death, and I will give you life as your victor's crown."
Warrior Nun is streaming now on Netflix.