'Warrior Nun' on Netflix: What Comics the Show is Based On
Warrior Nun is one of the latest Netflix drama to storm the streamer's charts with legions of viewers tuning into the fast-paced supernatural series—and it's good news for fans who want more because there's a whole heap of comics out there which contain plenty of action from the Order of the Cruciform Sword.
Inspired by the Manga novels, Netflix's Warrior Nun follows around Ava (played by Alba Baptista), a 19-year-old woman who wakes up in a morgue with a new lease on life and a divine artifact embedded in her back.
She finds out she is now part of an ancient order that has been tasked with fighting demons on Earth, and powerful forces representing both heaven and hell want to find and control her.
As for the comics, the series is based on Warrior Nun Areala by Ben Dunn and published by Antarctic Press.
Volume one came out in December 1994 and revolves around Sister Shannon Masters, a member of the Order of the Cruciform Sword, a fictional military order of Warrior Nuns and Magic Priests in the service of the Catholic Church—and Warrior Nun's Ava does not appear in the comics at all.
Shannon Mattews is a character in the Netflix series played by Melina Matthews.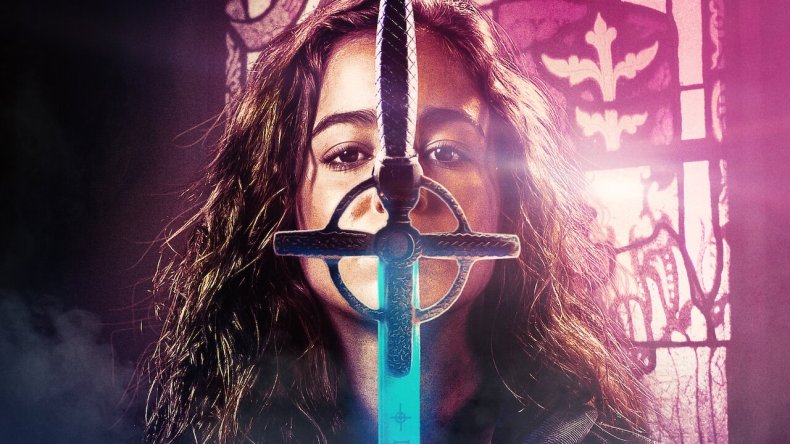 Speaking at Spain's 2019 Freakcon, showrunner Simon Barry said they merely used "the mythology of this universe to tell our story." So the Netflix series is more of a loose inspiration rather than a direct adaptation.
In fact, the comic actually garnered some criticism in the past due to its depiction of the central nun as this sexy yet pious figure, slaying demons while dressed in scant religious garb.
In 1997, Sister Mary Ann Walsh, a spokeswoman for the U.S. Catholic Conference in Washington, D.C. described, according to USA Today, Warrior Nun's costume as "offensive," because "the habit is something sacred."
Barry acknowledged this said: "It's 2019, and women cannot be represented this way."
As for the setting, the action in Dunn's comic takes place in New York in the comics but in the show, it is set in modern-day Spain.
A major character from the comics who found their way into the Netflix adaptation is Shotgun Mary, played by Toya Turner.
Other reimagined characters from the source material who are featured in the show include Lilith (Lorena Andrea), Mother Superion (Sylvia De Fanti, and Areala (Guiomar Alonso).
The show's protagonist Jillian Salvius (Thekla Reuten) is a gender-swapped version of the male comic character, Julian Salvius.
Warrior Nun is streaming now on Netflix.