'Warrior Nun' Season 2: 5 Plots You Should Expect From the Netflix Show
Warrior Nun is currently riding high in the Netflix charts, with the series currently the second most-watched show on the streamer behind Unsolved Mysteries. With so many people watching the show, many of them are likely to have made it to the final episode, which sets up an epic battle between Ava (played by Alba Baptista) and her new sword and Adriel (William Miller). However, this is not the only plot set up for Season 2 towards the end of the series.
5 plots we might see in Warrior Nun Season 2
WARNING: The following contains spoilers for the entirety of Warrior Nun on Netflix.
Divinium vs. demons
One plotline Warrior Nun will have to pick up is what happens directly after the Season 1 cliffhanger. Right at the end of the show, Ava has managed to recharge her halo and manifest a Divinium sword. Just as she does this, however, Adriel summons a batch of demons, and the battle between good and evil is set.
However, the show then cuts to credits, meaning that we never get to see the big fight the season has been building up to. This likely means that either Season 2 will begin with an epic fight, or that we will get a time jump, with what happened in that battle teased out in flashbacks over the entirety of the next set of episodes.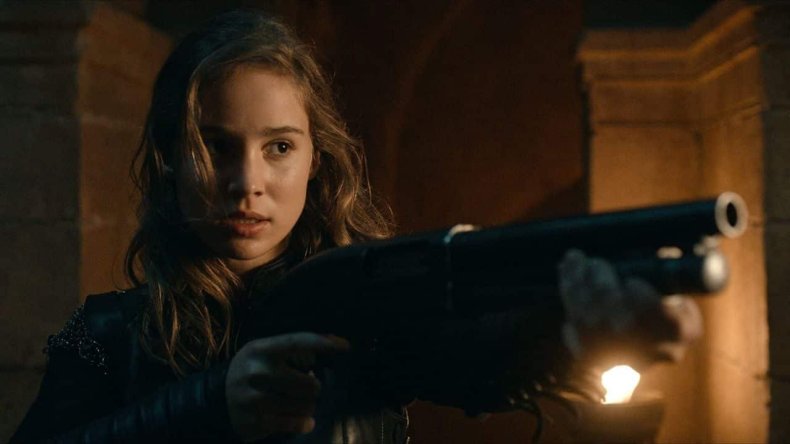 Michael's next steps
Apart from the adventures of Ava as she discovers what her halo can do, Warrior Nun's first installment told the story of Jillian Salvius (Thekla Reuten) and her dying son Michael (Lope Haydn Evans). He spends most of the season hearing the voices of angels, and is linked to a portal to a place where "death doesn't exist."
At the end of the season, he travels through this portal, but we never get to see where it leads. This means that Season 2 could introduce a new location, which possibly might be Hell itself, and which Michael is going to have to navigate alone unless the people left on this side of the portal can open it again.
Halo hijinks
Ava's power comes from a halo implanted in her back, which throughout most of the season is assumed to be of divine origin, however, at the end of the season we got an insight into its true provenance. In the finale, she learns that the halo is actually a demonic weapon that Adriel brought from Hell, meaning that Ava's powers are infernal rather than divine.
With this knowledge now out in the world, this seems to suggest that the biggest battle in Season 2 might not be between Ava and the demons unleashed by Adriel, but in Ava's own soul between her desire to do good and the dark and evil origin of her powers.
The possession of Shotgun Mary
One of the breakout characters of Warrior Nun's first run of episodes has been Shotgun Mary, the gun-toting badass. Her life is left in the balance at the end of the season, however as she takes on the people possessed by Adriel. Speaking to Hollywood Life, Mary actor Toya Turner teased her character's fate: "There are so many different things that can happen, right? She could be a goner. She could be possessed. I mean, they left it so open. She could be under Adriel's control. So many things could happen. Of course, I want it to be everything except for the death part."
With the character so popular among fans, it seems unlikely that the Netflix show will kill her off. However, her being possessed by Adriel seems like a fun idea for Season 2, which will show us a new side of the character and allow Turner to play a new version of her character.
Warrior Nun goes two-dimensional
Though the whole of the series has prominent religious elements, which suggests it takes place in a universe where Heaven and Hell are real, the Warrior Nun finale sees Jillian offer another theory: What we think is the afterlife are actually different dimensions. If she is correct, then this could mean we will see a whole host of new threats in Season 2: After all, if one portal exists to these dimensions, then other portals may exist, behind which are all sorts of hell-like horrors.
Warrior Nun is streaming now on Netflix.