Will Spurs 'Remember the Alamo' Against Warriors in Game 2?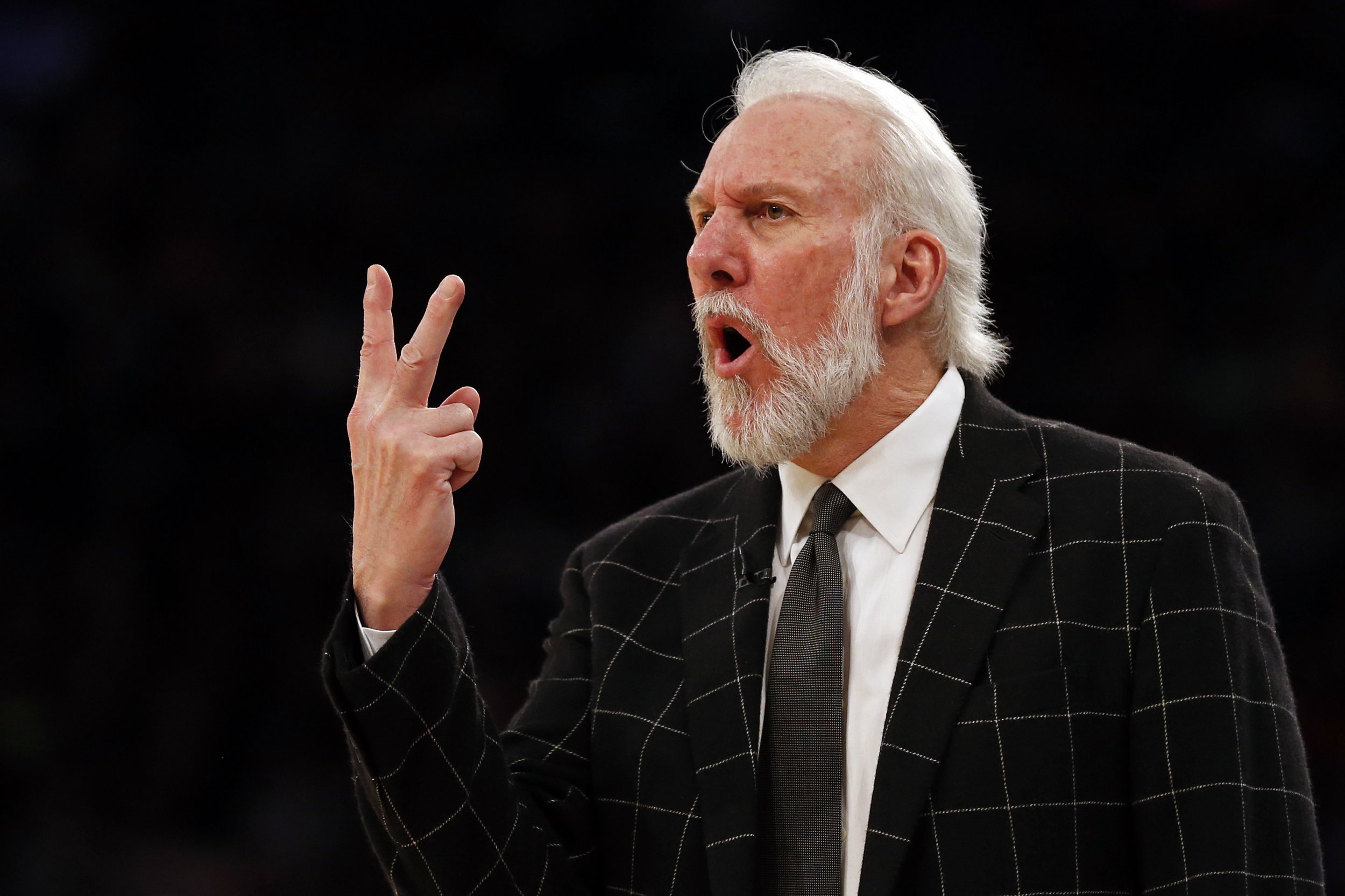 Before the arrival of the Spurs in 1973, San Antonio was a city widely known for nothing more than a terse call to arms: Remember the Alamo! That rallying cry was first uttered at the Battle of San Jacinto in April 1836. "Remember the Alamo!" served as an invocation for the Texan soldiers against their Mexican counterparts under General Santa Anna, who had overrun and slaughtered a garrison of Texas soldiers six weeks earlier.
Kawhi Leonard is not exactly Davy Crockett, although in his sixth season with the Spurs he has ascended to legendary status. In Game 4 of the Spurs' opening series against the Memphis Grizzlies, Leonard at one point scored 16 consecutive points and finished with 43 (San Antonio fell in four overtimes). Of the players still involved in the 2017 NBA postseason, only LeBron James is playing better basketball.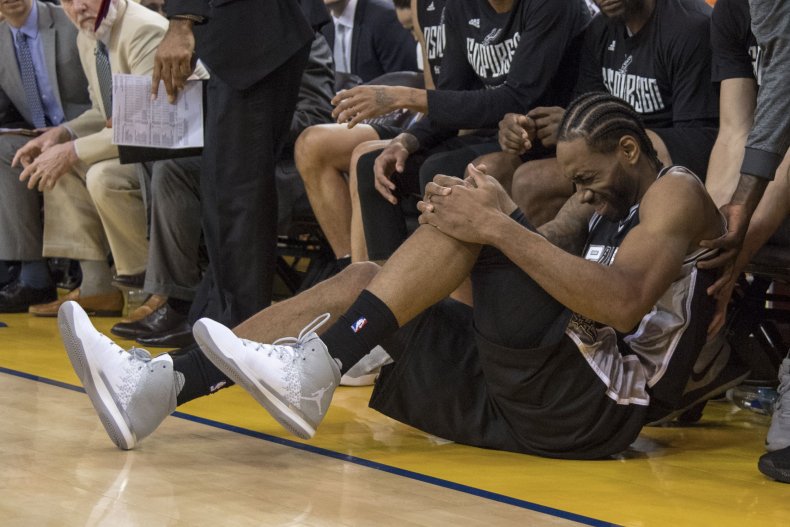 Now, at least for Game 2 of the Western Conference finals against the Golden State Warriors, Leonard is gone. The former San Diego State star will be a DNP, having aggravated an injury to his left ankle on Sunday (he had first hurt it in Game 5 of the Western Conference semis, versus the Houston Rockets, on May 9).
The nature of that second injury, which happened after a two-step close-out by Golden State center Zaza Pachulia as Leonard attempted a corner jumper with the Spurs up by 23 midway through the third quarter, still had Spurs coach Gregg Popovich salty on Monday. "The two-step, lead-with-your-foot close-out is not appropriate," Popovich said from inside the Spurs' team hotel Monday morning. "It's dangerous, it's unsportsmanlike, it's just not what anybody does to anybody else."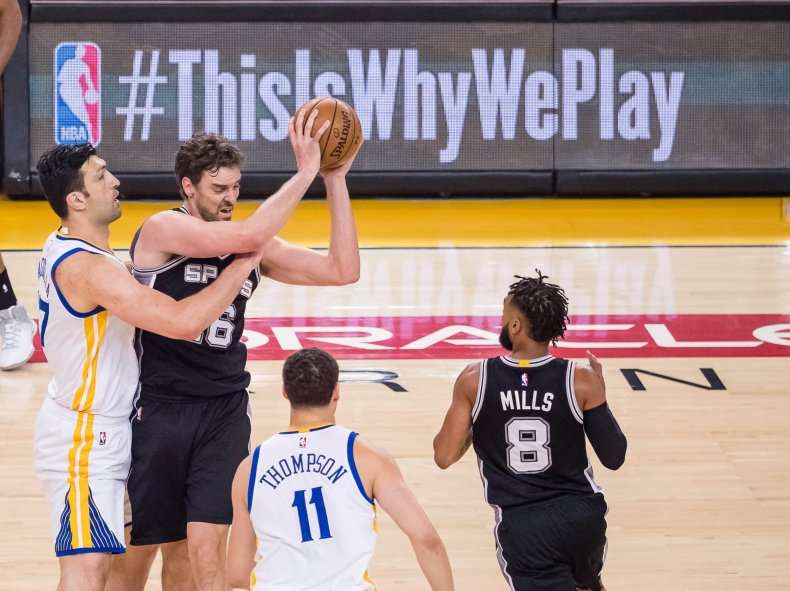 As the Spurs prepare to face the Golden State Warriors in Game 2 of the Western Conference finals without Leonard, their second game without the MVP candidate in the last three, the question becomes whether San Antonio will be able to muster the same type of inspiration that led them to rout the Rockets by 35 points in a close-out contest last week. "We're up 23 points against Golden State in the third quarter...and Kawhi goes down like that," said Popovich, not even mentioning that this was transpiring at Oracle Arena, where the Dubs own the NBA's best home record this season (41-5, including the playoffs). "And you want to know if our chances are less and you want to know how we feel. That's how we feel."
While Pachulia, a 6-foot-11-inch bruiser from the former Soviet republic of Georgia, vehemently denied that he tried to hurt Leonard by having the Spurs All-Star land on his foot ("I am not a dirty player"), Popovich channeled Perry Mason and insisted that intent had nothing to do with it. "Who gives a damn about what his intent was?" asked Popovich, who has embraced unbridled candor in the past week, calling the commander in chief a "game show" president over the weekend. (Popovich is an Air Force Academy grad who spent five years as an intelligence officer in Eastern Europe during the Cold War.) "You ever heard of manslaughter? You still go to jail, I think, when you're texting [while driving] and end up killing someone."
As widely respected as both Leonard and Popovich are, longtime NBA observers may feel as if karma has returned to sting the Spurs. Ten years ago Monday, in Game 4 of the Western Conference finals between San Antonio and the Phoenix Suns, the Spurs' Robert Horry checked two-time league MVP Steve Nash into the scorer's table, with the game already decided in Phoenix's favor. The ensuing fracas led to a pair of Suns' starters being suspended for Game 5; San Antonio won Game 5 in Phoenix and closed out the Suns at home in Game 6 before sweeping LeBron James and the Cleveland Cavaliers in the NBA Finals.
As for players who are notorious for stepping under the feet of long-range shooters, no player was more infamous for this than Bruce Bowen. A former defensive specialist who played nine seasons with the Spurs and on three NBA champions under Popovich, Bowen was frequently accused by opposing coaches and players of intentionally undercutting them (a plethora of YouTube videos support this accusation). Popovich ardently defended Bowen every time, often chastising opposing coaches for talking to him. For Pop to now assert that "it's just not what anybody does to anybody else" is either disingenuous or a sign of lapsed long-term memory.
The Spurs' chances of stealing home-court advantage and returning to San Antonio for Saturday's Game 3 with a 1-1 split seemed a certainty before Leonard crumbled to the court on Sunday (San Antonio led 78-55 with 7:54 remaining in the third quarter). Now it is likely that they will return home down 2-0 against a team that has not lost four out of five since last June's NBA Finals.
As a former military officer, Popovich understands that he will have three days to assemble his troops and hope that Leonard is combat-ready come Saturday. As for Tuesday night, all that he can do is put a starting five on the court and remind them of how they buried the Rockets in Leonard's absence a mere five days ago. Remember the Toyota Center!