What Do the Warriors Think of Donald Trump? The NBA Champs May Decide to Skip White House Visit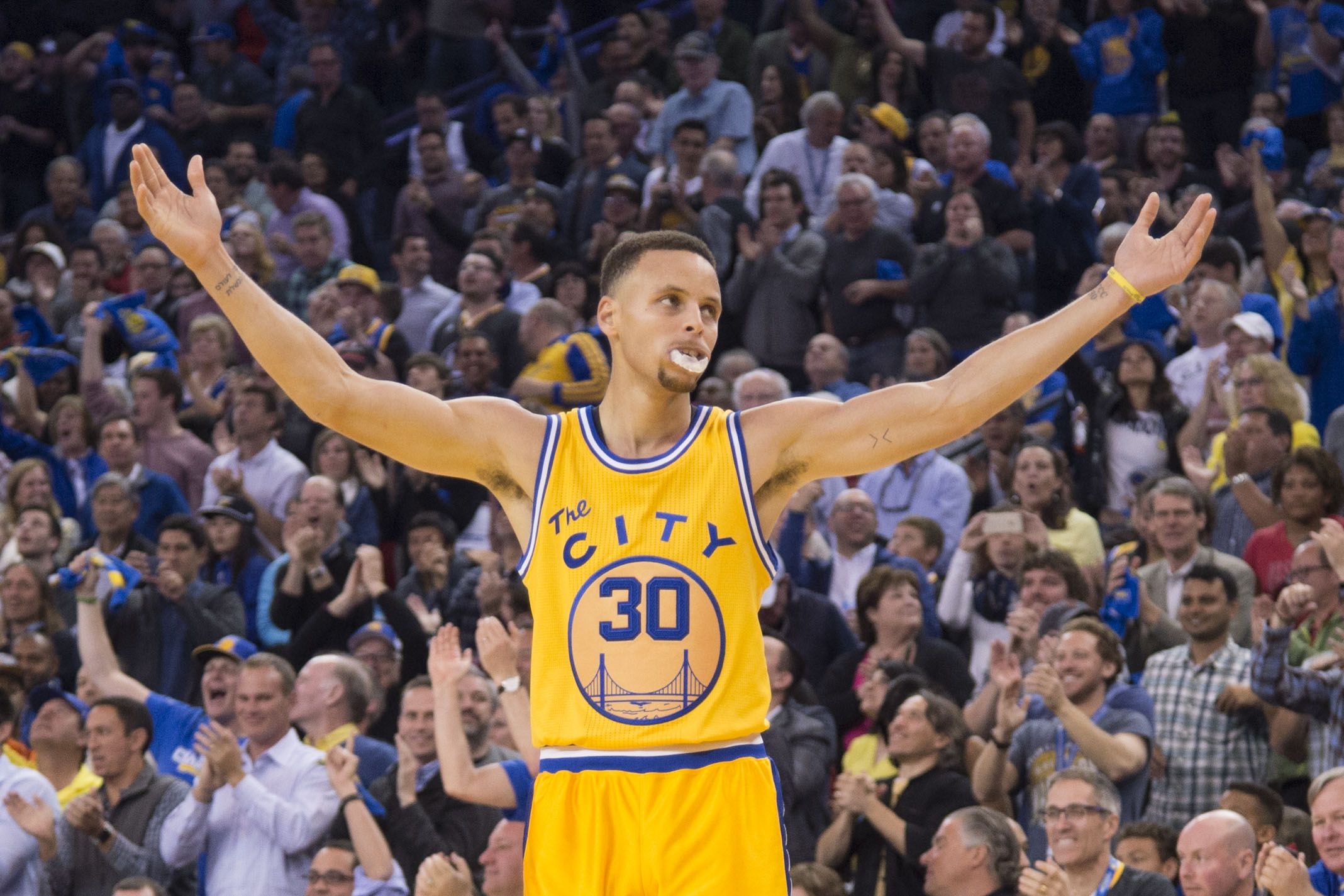 Updated | The Golden State Warriors said Tuesday they have not decided whether they will go to the White House following their NBA Finals victory. "Today is all about celebrating our championship," the team said in a statement. "We have not received an invitation to the White House, but will make those decisions when and if necessary."
Reports surfaced early Tuesday morning that the team had "unanimously" decided to forgo a visit to the White House, a tradition for the NBA championship-winning team. "I can't believe we're getting this question already," owner Joe Lacob said Tuesday. "But honestly, that's something we'll worry about at the time. That's a long time from now."
After the New England Patriots won the Super Bowl earlier this year, six players ended up announcing they would not be visiting the White House to celebrate the win with the president. Even President Donald Trump's favorite athlete, Tom Brady, dropped out at the last minute, which pretty clearly hurt the president's feelings.
Shortly after the Warriors won Monday night, sportswriter Richard Deitsch tweeted that "there is zero chance this @warriors team is going to the White House." Attached to the tweet was a quote from Warriors forward David West, who in January spoke out against Trump.
Related: The dueling politics of the NFL and NBA
"All the tactics he used to get elected are the very things that someone like me, who works with youth on a consistent basis, are the things we try to talk our young folks out of being," he said. "We try to talk our young people out of being bullies. We try to talk our young men out of disrespecting women. We try to talk our young people into being accepting of other people's opinions and other people's walks of life."
West isn't the only member of the Warriors to speak up. Stephen Curry, the team's clean-cut superstar, voiced his opinion on the president after Under Armour CEO Kevin Plank called Trump "a real asset" to the nation. Curry is the brand's marquee endorser, but he doesn't quite agree with its CEO. "I agree with that description," Curry said of Plank's comments, "if you remove the 'et' from asset."
In February, guard Shaun Livingston said he "definitely wouldn't go" to the White House if the team were to win the championship. "I really feel that my views would keep me from going and visiting," he continued. "Just with everything that's going on right now. I just don't agree with a lot of stuff that's happening."
Livingston also said that the decision to visit the White House would ultimately rest in the hands of head coach Steve Kerr. "At the end of the day, it would be his decision, and I think we would talk about it as a team, as we usually do. We would come together, and it would be a panel of us, and we would really sit down and talk about it," he said. "Everybody would give their own opinion and have their own side, and I think he would leave that up to each individual."
As the NBA season has coincided with Trump's election and first few months in the White House, the league has emerged as staunchly anti-Trump. The prevailing sentiment seems to be one of opposition, and two NBA figures have led the charge, San Antonio Spurs coach Gregg Popovich and Kerr. Both have been refreshingly outspoken in their views on the president, delivering rant after rant when asked by reporters about Trump's latest news-making decision.
"I have no idea what kind of president he'll be because he hasn't said anything about what he's going to do," Kerr said after the election. "We don't know. But it's tough when you want there to be some respect and dignity and there hasn't been any. And then you walk into a room with your daughter and your wife, who have basically been insulted by his comments, and they're distraught. Then you walk in and see the faces of your players, most of them who have been insulted directly as minorities, it's very shocking. It really is."
After Trump announced his travel ban plan, Kerr spoke about his father's killing by gunmen in Beirut (Islamic Jihad, a precursor of Hezbollah, claimed responsibility) but said he disagreed with the president. "If we're trying to combat terrorism by banishing people from coming to the country, we're really going against the spirit of what our country is about, and [we're] creating fear. It's the wrong way to go about it. If anything, we could be breeding anger and terror. I'm completely against what's happening. It's shocking. It's a horrible idea."
In May, Kerr called Trump a "blowhard" who "couldn't be more ill-suited to be president."
There's little doubt that his comments have emboldened his players to take stands of their own. Athletes are conditioned to be tight-lipped to the media, especially when it comes to politics. Trump's divisiveness has made it more acceptable for players to voice their opinions. It shouldn't come as a surprise if other speak up when asked about the team's potential decision to forgo the traditional victory trip to the White House, and it isn't hard to imagine the team "unanimously" coming to that decision enthusiastically over some champagne in the early hours of Tuesday morning.
This story was updated with the Warriors' statement that they have not decided on a White House visit following their NBA Finals victory​.