Are the 2017 Cavaliers Irrelevant? Warriors Seem More Worried By Kyrie Irving's Streaking Celtics
On Thursday night at TD Garden the NBA's apparently unstoppable winning streak meets the league' provably unstoppable offense, when the Boston Celtics host the Golden State Warriors.
Already—and yes, almost certainly prematurely—it feels like a preview of the NBA Finals. The Houston Rockets may yet have lots to say to that in opposition, but their defensive problems were exposed by the Raptors on Tuesday in an eye-opening 129-113 defeat at Toyota Center that snapped a six-game winning streak. It has to be a worry for the Rockets that James Harden can produce 38 points, 11 assists and six rebounds and still end up on the losing side—comprehensively so—against a very good, not-quite-great, team. "Each one of their [the Raptors'] sets down the stretch was run to attack Harden's statuesque defence," the Raptors HQ blog wrote in its postgame wrapup. Which is to say, the Rockets may have the leading M.V.P. candidate as of November 15, 2017 but they remain unbalanced in the direction of a pyrotechnic offense.
The same cannot be said of the Warriors—or the Celtics. The NBA champions, who have shot to 11-3 after a sluggish start, possess the league's best offense with an average of 119.57 points per game. The Celtics, meanwhile, extended their streak to 13 wins in a row on Tuesday night by beating the Brooklyn Nets in New York City. Kyrie Irving, returning after missing a game with a minor facial fracture and playing in a mask, scored 25 points and was met throughout by chants of "M.V.P.," according to ESPN. For all of the offensive punch that Irving has added, though, it's the Celtics' team-orientated defensive efforts that have helped Brad Stevens's team to the NBA's best record after 15 games. The Celtics rank first in the league in defensive efficiency, giving up 94.5 ppg according to ESPN. Irving, in particular, has surprised many reasoned observers with his efforts on defense so far this season. He no longer looks so much like the lavishly gifted but defensively fallible foil to LeBron James that he was in Cleveland.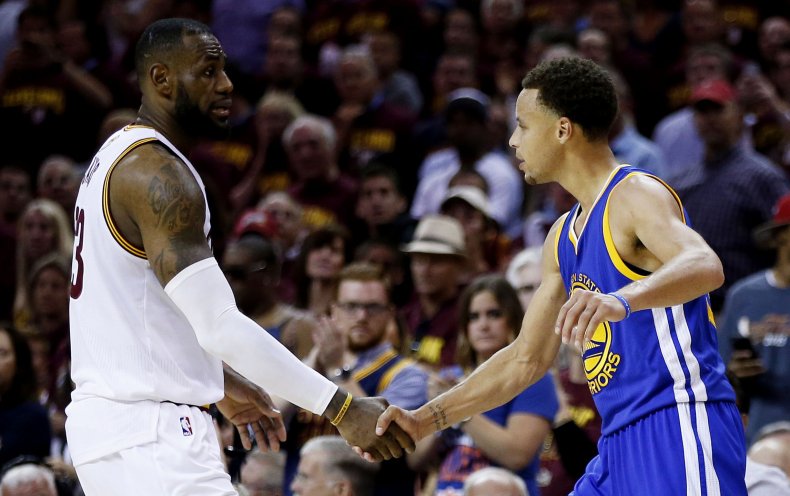 The Celtics' early-season excellence has caught the attention of Steve Kerr, the Warriors head coach. "It sure looks like Boston is the team of the future in the East, with the assets that they still have and their young talent and their coaching, and Kyrie [Irving] is amazing," Kerr said after practice on Tuesday in quotes reported by ESPN.
You could, if you so wished, interpret it as a tangential dig at James's Cavaliers, who have spluttered to a 7-7 record and sit in the middle of a collection of fringe playoff contenders, at best, in the East. Or you could conclude that there is more realism than snarkiness to Kerr's comments. It is a fact lost on no one, least of all James, that the Cavaliers have been abysmal defensively so far this season, ranking above only the Nets and the Phoenix Suns in average ppg allowed. With James able to test free agency in the summer of 2018, with Isaiah Thomas still recuperating from hip problems and with a starry but old or infirm supporting cast—Dwyane Wade and Derrick Rose have been problems this season as well as solutions—it feels like without James's transcendence, the Cavaliers could slip back into the pack. So—again, perhaps a premature conclusion that will return to haunt us—Thursday night in Boston has the feeling of a shift in the NBA's long-established order.