In Wars Across the Globe, Grave Children's Rights Violations Are Increasing | Opinion
I would like to think that children today are safer from the scourges of war than they were at the end of the Second World War. But I believe the world is now a more dangerous place for children living in conflict zones than it was in 1945. And it is getting worse.
Despite decades of advocacy with parties to conflict and those who influence them —as well as enhanced monitoring, reporting and response mechanisms for grave rights violations—children continue to bear the brunt of war. Each day, girls and boys living in areas under conflict endure unspeakable horrors that no one should ever experience.
They are injured or killed. They are recruited to support or directly participate in fighting. The schools they attend and the hospitals they visit are threatened, attacked or occupied by armed actors. They and their communities are denied humanitarian assistance. They are exposed to violence and suffer psychological distress or trauma, the consequences of which can last a lifetime.
There is a longstanding protection crisis for children in war and the rate of grave rights violations committed against them is not abating. If anything, it is increasing.
The United Nations (U.N.) has verified 266,000 cases of grave violations against children in more than 30 conflict situations across Africa, Asia, the Middle East and Latin America over the past 16 years. This includes more than 104,100 children killed and maimed, 93,000 children recruited and used in fighting and support roles, 25,700 children abducted and another 14,200 child victims of sexual violence.
The use of explosive weapons, particularly in populated areas, is a persistent and growing threat to children and their families. In 2020, explosive weapons and explosive remnants of war were responsible for nearly 50 percent of all child casualties, resulting in more than 3,900 children killed and maimed.
In many instances, children fall victim to multiple grave rights violations—as was the case for at least 2,000 children in 2020. During that year, 37 percent of abductions verified by the U.N. led to the recruitment and use of children in war, with such instances surpassing 50 percent in Somalia, the Democratic Republic of the Congo and the Central African Republic.
This year has also seen a spate of violations in both protracted and new conflicts.
Afghanistan had the highest number of verified child casualties since 2005, at more than 28,500—accounting for 27 percent of all verified child casualties globally. Meanwhile, the Middle East and North Africa region had the highest number of verified attacks on schools and hospitals since 2005, with 22 such attacks verified in the first six months of this year.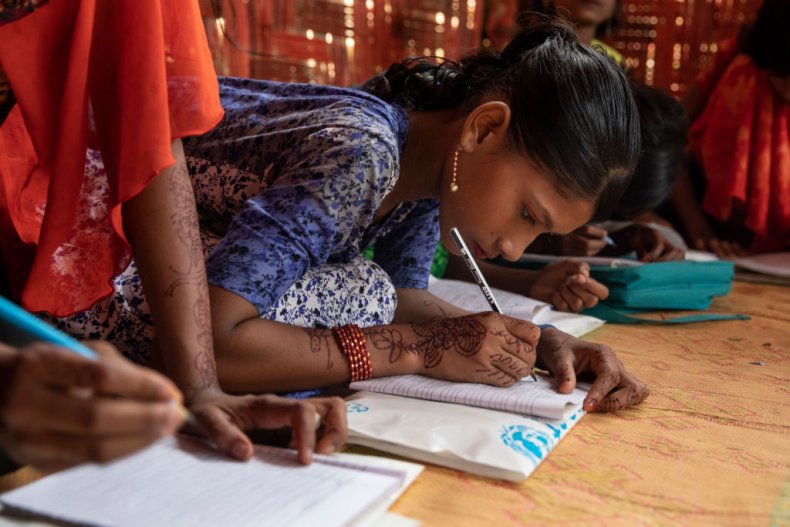 Away from the headlines, the U.N. verified violations in countries like Burkina Faso, Cameroon, the Democratic Republic of the Congo, Libya, Mozambique and Nigeria.
Through these ongoing violations, parties to conflict are demonstrating a dreadful disregard for the rights and well-being of children. Children are suffering and dying because of this callousness. These parties must be held to account for their actions.
Beyond that, parties to conflict—including the 61 listed in the annexes of the 2021 secretary-general's annual report on children and armed conflict—should commit to formal action plans and take concrete measures to protect children. These include preventing grave violations from occurring in the first place, releasing children from armed forces and groups, protecting children from sexual violence and stopping attacks on hospitals and schools.
Just 37 such plans have been signed by parties to conflict since 2005—a shockingly low number given the stakes for children.
UNICEF and our partners are on the ground in conflict zones across the globe. We are working to protect children and their families from the impacts of war and to provide them with essential services.
Ultimately though, children living through war will only be safe when parties to conflict take concrete actions to protect them and stop committing grave violations.
As we approach the end of 2021, I call on all parties to conflict to end attacks against children, uphold their rights and strive for peaceful political resolutions to war.
Henrietta Fore became UNICEF's seventh executive director on Jan. 1, 2018. She has worked to champion economic development, education, health, humanitarian assistance and disaster relief in a public service, private sector and nonprofit leadership career that spans more than four decades.
From 2007 to 2009, Fore served as the administrator of the U.S. Agency for International Development (USAID) and director of United States Foreign Assistance. The first woman to serve in these roles, she was responsible for managing $39.5 billion of U.S. foreign assistance annually, including support to peoples and countries recovering from disaster and building their futures economically, politically and socially.
The views expressed in this article are the writer's own.